For Kids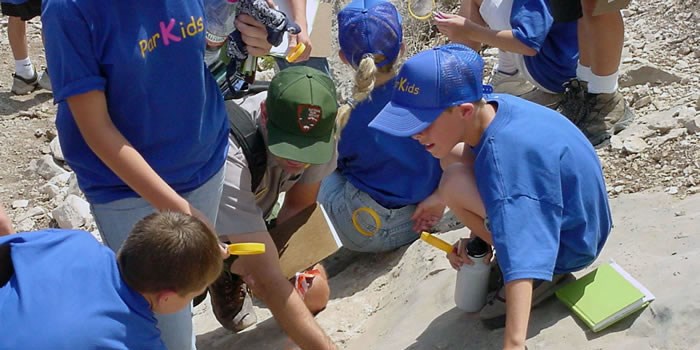 Big Bend's diverse habitats—the Rio Grande river corridor, the Chihuahuan Desert and the Chisos Mountains—are all rich with plants, animals, and stories of human history that offer a variety of learning opportunities for children of all ages.
There are several easy hikes in the park that kids of all ages can go on, including the Window View and the Basin Loop trails in the Chisos Basin. For older children, the Lost Mine Trail provides a good challenge and is an excellent day hike. Other hikes children may enjoy include the Chihuahuan Desert Nature Trail at Dugout Wells, the Rio Grande Village Nature Trail (with a boardwalk across a beaver pond), and the Boquillas Canyon Trail (with a sand dune by the river).
Kids may also enjoy viewing fossils and exhibits about dinosaurs at the Panther Junction Visitor Center and the Chisos Basin Visitor Center has an excellent mountain lion exhibit and information about bears.
The park offers a variety of ranger-led programs. These include guided hikes, evening slide programs, bird walks, and guided explorations of various park features. Stop by one of the park's visitor centers for a current program schedule.

Become a Junior Ranger!
To make the most of your visit, complete a Junior Ranger Activity Book to earn a badge or patch!

Become a WebRanger!
WebRangers is the online extension of the Junior Ranger program. It's a website for kids of all ages. Join the Fun! Participate on-line to learn about our national parks!
more...

Distance Learning
Explore Big Bend National Park virtually! We offer fun, free, and interactive distance learning programs open to all ages/groups. Our programs are offered year-round.

Every Kid Outdoors
Hey Fourth Graders: You and your family get free access to hundreds of parks, lands, and waters for an entire year.
Earn a pass to all of your national parks
.


Last updated: September 24, 2019