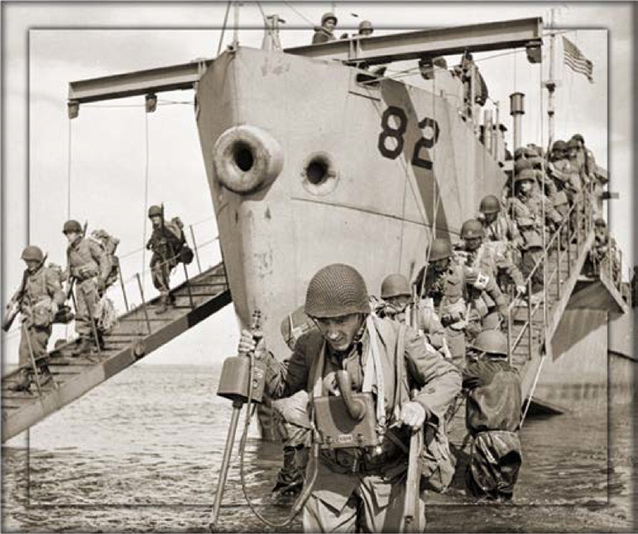 This resource guide is designed to aid students and teachers in researching Alaska's World War II history. Alaska's role as battlefield, lend-lease transfer station, and North Pacific stronghold was often overlooked by historians in the post-war decades, but in recent years awareness has been growing of Alaska's wartime past. This renewed interest generates exciting educational opportunities for students and teachers researching this chapter in the history of our state. Few people know that the only World War II battle fought on U.S. soil took place in Alaska or that Japanese forces occupied two Aleutian Islands for more than a year. Still fewer know of the Russian pilots who trained in Fairbanks, the workers who risked their lives building the Alaska Highway, or the Alaska Scouts who patrolled the Bering Sea coast. The lives of Alaskans were forever changed by the experience of war, and the history of that dramatic era is still being written.
A map of important World War II sites, followed by a summary of Alaska's World War II experience is included. Information about National Historic Landmarks and Monuments related to World War II in Alaska is also included. The selected bibliography that follows is divided into twelve parts to aid student researchers in selecting topics:
War Comes to Alaska
Aleutian Campaign
Alaska Highway and Canol Pipeline
Wartime Construction
Native Defenders
Warplanes and Seacraft
Aleut Evacuation
Canadian Participation
Japanese-American Internment
Lend-Lease Program
Japanese Naval Power
Branches and Units
This bibliography includes books, journals, and videotapes that can be found in Alaska's libraries or obtained through interlibrary loan. The articles cited were selected for their relevance to a specific theme and can be found (with some exceptions) in Alaskan periodicals. The bibliography is not meant to be comprehensive, but is instead intended as a gateway to further research.
Information regarding Alaska's libraries and museums follows, with descriptions of collections relevant to Alaska's World War II history and a list of on-line resources. The individual museums and libraries are organized by city. The resource guide concludes with an introduction to the National History Day program and History Day in Alaska.