Place
Dutch Harbor Naval Operating Base and Fort Mears, U.S. Army National Historic Landmark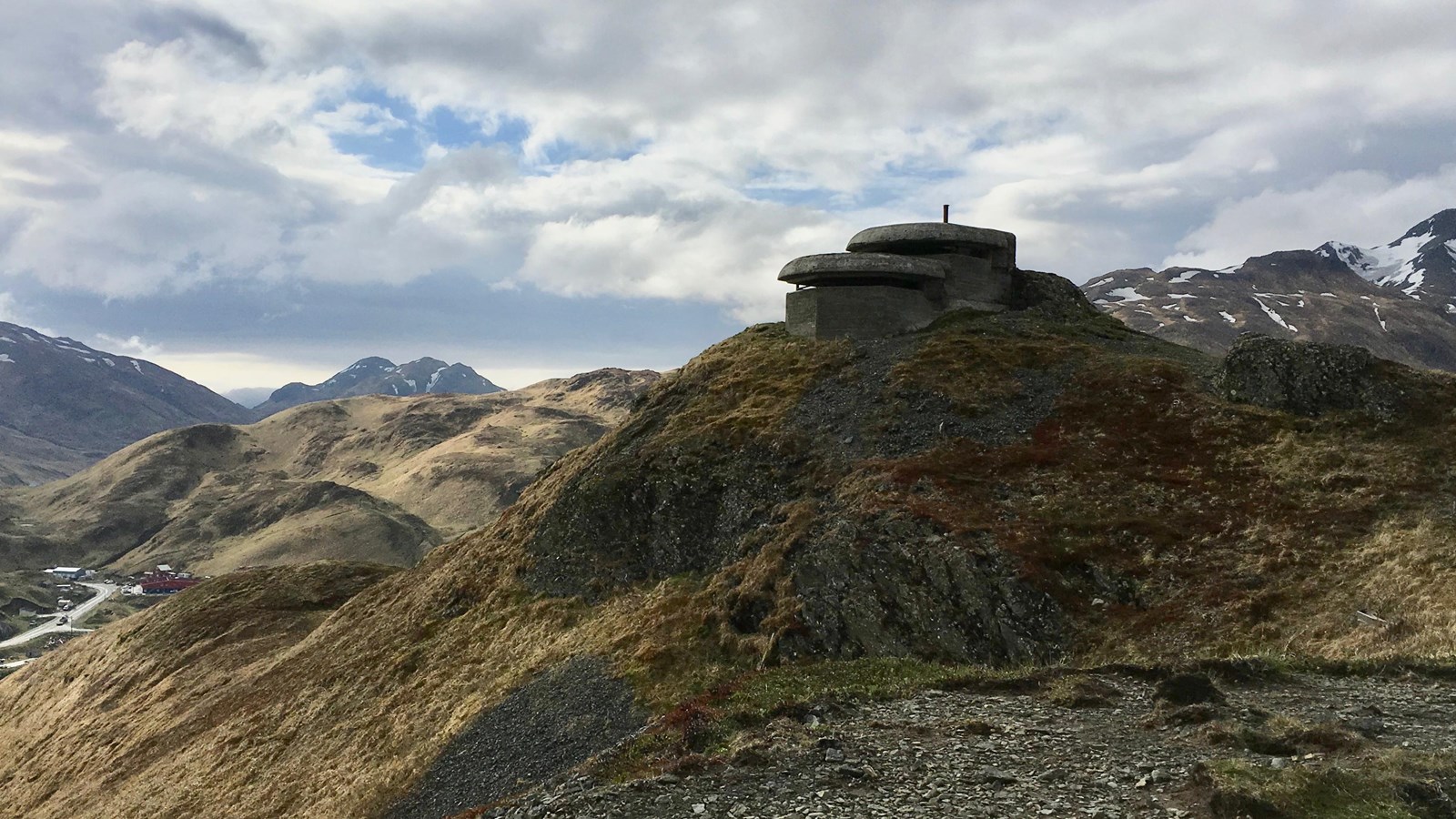 Location:
Amaknak Island, Alaska
Significance:
Dutch Harbor Naval Operating Base and Fort Mears were the furthest west U.S. Naval and Army bases in Alaska when the Japanese attacked the Aleutians in 1942. On June 3 and 4, 1942, Japanese carrier aircraft made a two-day attack on Amaknak Island, the most serious air attack on North American territory during World War II.
Designation:
National Historic Landmark designated on February 4, 1985
World War II Battles at Amaknak and Umnak Islands
World War II came to Alaska with the Japanese bombing of Dutch Harbor on Amaknak Island on June 3 and 4, 1942. Dutch Harbor Naval Operating Base and Fort Mears, U.S. Army is one of eight historic landmarks that commemorate World War II in Alaska.
Details on Dutch Harbor Naval Operating Base and Fort Mears
Commissioned in September 1941, Dutch Harbor Naval Operating Base and Fort Mears were the first bases the Japanese attacked during the Aleutian campaign. The US Navy's first military installation on Amaknak Island was a radio station complex built in 1911, but it wasn't until 1940 that the military bought land and started construction on the Dutch Harbor Naval Operating Base (NOB) and Fort Mears. Initial construction was done by civilians from the Siems-Drake-Puget Sound Construction Company, but after they were evacuated in June 1942, the Navy Seabees took over.

At its peak operation, there were over 5,600 Navy personnel and almost 10,000 Army personnel stationed on side-by-side Amaknak and Unalaska Islands. The NOB provided a naval air station and a deep-water port. Both the NOB and Fort Mears were designed by Michigan architect Albert Khan. Fort Mears was located on Margaret Bay.  
Housing
Housing was predominantly two-story dormitories which housed 63 men each, built in the standard quartermaster plans (700 series). The buildings were modified to accommodate drying rooms, arctic entries, and blackout windows. Additional civilian contractors were housed in the refurbished 1889 freight and passenger ship, SS Northwestern, beached for easy access. It also provided power, even after it was bombed by the Japanese on June 3, 1942, until the powerstation was completed.

After the bombing, military planners began housing people in small, randomly dispersed cabanas, Quonset huts, and Pacific huts to be less of a target for enemy attacks. Existing white barracks (and other buildings in the main grid of buildings) were camouflaged with olive-drab paint, nets on the roof, and rubbing the exterior with mud and water. Additional buildings were set into hillsides and covered with sod.

According to the Historic American Buildings Survey (HABS), "Pacific Huts were erected extensively on Alaskan military bases during the peak years of wartime construction (1942-43). Used by both the army and the navy, they proved to be ideal as they were lightweight, easily assembled, and impervious to wind and water. … Modeled after the Quonset Hut, the Pacific Hut was made of prefabricated laminated wood sections, using forest products instead of critical materials such as steel."
Other Buildings
Socializing, entertainment, and recreation took place in mess halls, theaters, officers' and enlisted men's clubs, recreation halls, and beer halls. United Service Organizations (USO) entertainers sometimes performed with the 206th Coast Artillery Band, stationed in Dutch Harbor. Other times, individual comedians, actors, or musicians performed on stage. These acts were to promote troop morale, which could be low in the cold, windy, dangerous Aleutian Islands. Famous actors, comedians, and singers including Joe E. Brown, Bob Hope, Frances Langford, and Olivia de Haviland all visited the Aleutian Islands. Other USO entertainers probably also visited the remote island chain.

Chapels and military chaplains offered solace to soldiers and sailors, while morgues and cemeteries housed the dead. Other buildings included warehouses, repair shops, ammunition storage and magazines, bunkers, powerhouse, hospitals, command posts, administrative buildings, training buildings, post offices, radio buildings, hangars, and others.

After the war and decommissioning of Fort Mears and the NOB, returned local residents repurposed abandoned building material, canned goods, clothes, and even ammunition. The building material was useful in repairing war damage (and looting) to their homes, churches, and other buildings. In the late 1980s, most of the remaining military buildings were demolished, as part of a remediation effort by the US Army Corps of Engineers.
Learn More About WWII in Alaska
World War II had a major impact on Alaska. At the height of the War more than 100,000 American and Canadian soldiers were stationed in Alaska. Alaska's infrastructure grew immensely as a result. Roads, ports, and airfields were improved or constructed to facilitate the transportation of troops and supplies. An impact that many people are unaware of is the forced evacuation of the Native population of the Aleutian Islands by Japanese and American forces.
Additional Information
Last updated: June 3, 2022