Place
Ladd Field National Historic Landmark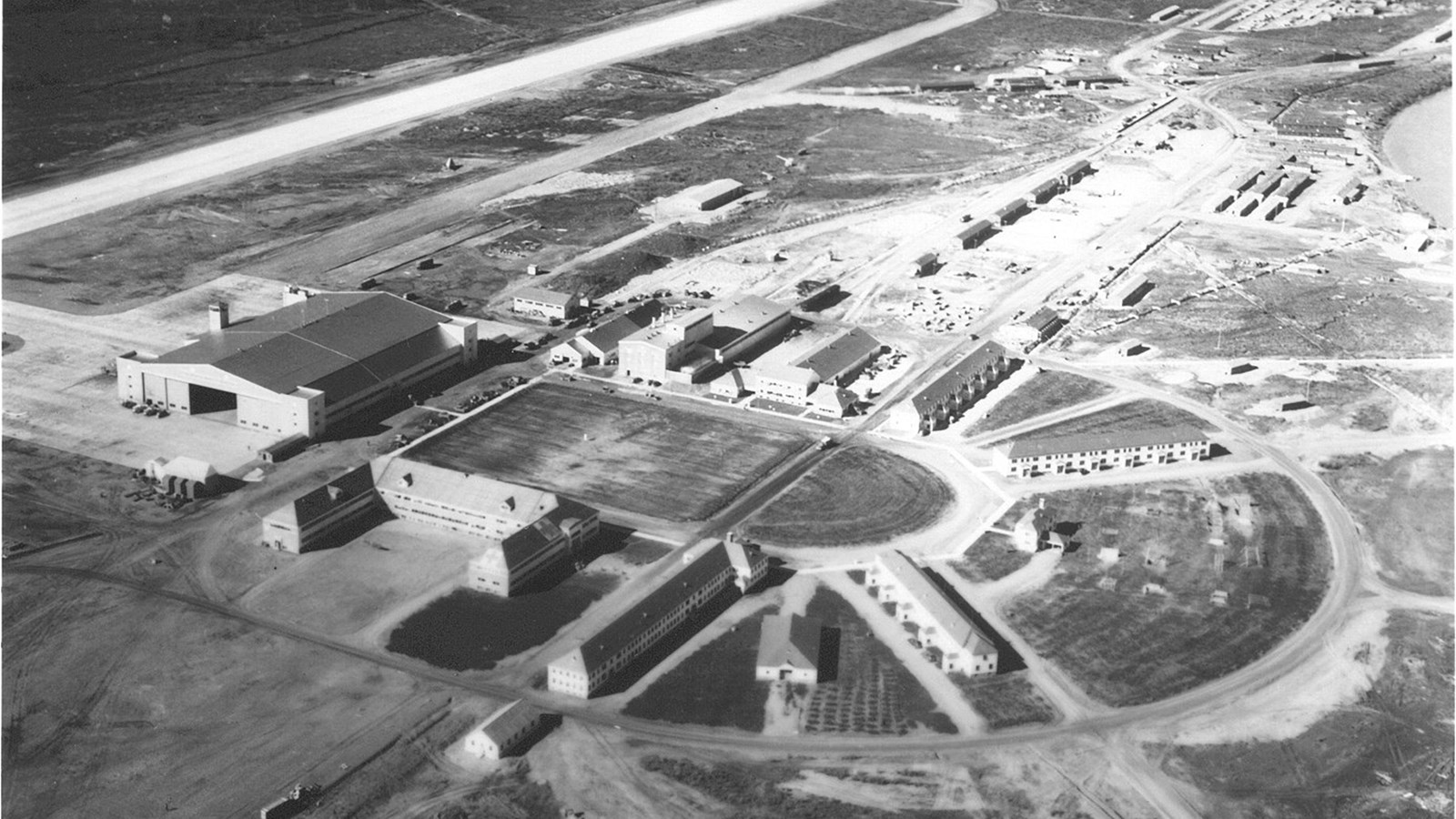 Location:
Fort Wainwright, Alaska
Significance:
Cold weather experimentation and transfer point for planes to Russia during World War II.
Designation:
National Historic Landmark designated February 4, 1985
Testing Planes for Arctic Extremes
Ladd Field was established near Fairbanks in 1940, as a Cold Weather Test Station to test military aircraft, equipment and clothing in arctic conditions. In 1942, Ladd Field became the northern end of the Alaska-Siberia (ALSIB) route, which began in Great Falls, Montana, to facilitate the transfer of Lend-Lease aircraft to Soviet Union.
Activated in 1940, the mission of the Cold Weather Test Detachment was to ensure that all military aircraft could operate in extreme cold conditions, down to -60 degrees Fahrenheit. Cold weather operation and maintenance requirements were established at Ladd Field, with aeronautics manufacturers from across the nation coming there to test aircraft and equipment. In addition to aircraft, cold weather experimentation was carried out on uniforms and flight suits at Ladd Field. In 1943, the Army's first helicopter, the YR-4, underwent cold weather testing there.

Alaska to Siberia Military Aircraft Transfer
The ALSIB route consisted of a series of airfields constructed in Canada and Alaska to facilitate the transfer of Lend-Lease aircraft to Russia. Between 1942 and 1945 nearly 8,000 U.S. military aircraft were transferred to Russian aircrews at Ladd Field as part of the Lend-Lease Program. From Ladd Field the airmen flew the aircraft west across the Bering Strait for use in Russia's war with Germany on its Eastern Front. Despite Alaska's harsh winters this air route was preferred over the longer Miami- South America-Africa-Moscow route. Soviet diplomats and missions also traveled through Ladd Field during the War on their way to and from the Soviet Union.

World War II Operations
World War II had a major impact on Ladd Field. The Cold Weather Test Station opened in 1940 with 214 enlisted men. At the time of the Japanese attack on Pearl Harbor in December 1941 the station had expanded to 520 personnel. With the Japanese invasion of Attu and Kiska in June 1942, Ladd Field's mission expanded to support the war effort. In October 1943 the Air Transport Command (ATC) was established at Ladd Field to facilitate Lend-Lease activities. Between 1943 and 1945 Ladd Field's small permanent garrison of 23 buildings grew to over 700 and at its height housed over 4,500 men.
On December 21, 1943 a high-altitude B-24 Liberator airplane flight over the Alaskan interior ended in a fiery crash atop a mountain overlooking the Charley River inside what is today Yukon-Charley Rivers National Preserve. The B-24 Liberator was a popular heavy bomber for Allied and American forces during World War II, and it carried a crew of five. Only one of them survived the disaster. Although co-pilot Lt. Leon Crane managed to save his own life by parachuting to earth, his narrow escape from death landed him in an equally perilous situation—for the next 84 days he was alone in the wilderness in the middle of an Alaska winter. Lt. Crane's ordeal began as a routine test flight, but at 25,000 feet one of the plane's four engines malfunctioned and the aircraft suddenly began to spiral out of control. Although Crane and pilot Lt. Harold Hoskins struggled with the controls, they could not right the aircraft. Buffeted by high winds and crushing centrifugal forces, they sounded the alarm to abandon ship. In the chaos, Lt. Crane managed to don a parachute before leaping through the open bomb bay doors. He later recalled the blast of biting cold that struck his hands and face as he floated toward the ground and the "huge blob of red flame" when his plane struck the mountainside.

Since Ladd Field's designation as a National Historic Landmark in 1985, a significant portion of the contributing buildings no longer remain. Ladd Field is one of eight national historic landmarks that commemorate World War II in Alaska.

Additional Information
Ladd Field and the Lend Lease Program - Teaching with Historic Places Lesson Plan
BRAVO 369 Flight Foundation - Aviation History & Aircraft Preservation
Ladd Field - Travel Sites of American Aviation
Last updated: August 20, 2020