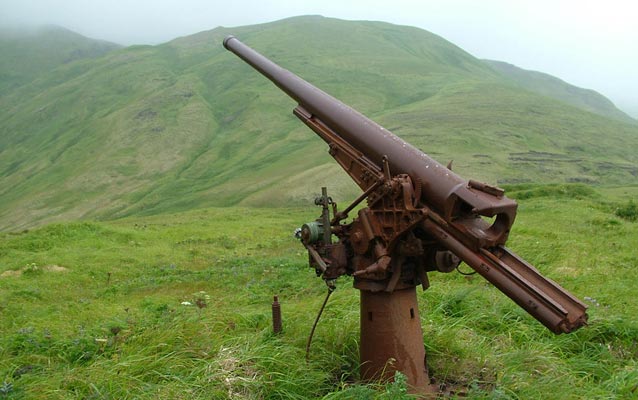 Quick Facts
Location:

Kiska Island, Alaska

Significance:

Kiska was the first of two Aleutian Islands occupied by the Japanese during World War II. Also significant for the successful Japanese withdrawal of their entire force in 1943 without a single loss of life, despite constant surveillance of American air and sea forces.

Designation:

National Historic Landmark designated on February 4, 1985

OPEN TO PUBLIC:

No

MANAGED BY:

Japanese Forces in Alaska
The coordinated attack on the U.S. Pacific Fleet at Midway, along with the Japanese occupation of Attu and Kiska in June 1942 marked the peak of Japan's military expansion in the Pacific. Japanese military leaders mistakenly believed that the April 18, 1942 Doolittle Raid was launched either from Midway or the Aleutians. By taking and establishing bases on Midway and in the Aleutians they believed that they could prevent further attacks and establish control over the north and central Pacific.  
The initial Japanese landing took place on June 7, 1942, when the Third Special Landing Force (550 Japanese naval men) stormed ashore. Over the next few months, additional units arrived and the occupation force eventually grew to about 5,640 military and 1,170 civilians. Despite this sizeable force, it was not sufficient to construct an airfield, roads, living quarters, and defenses, all at the same time. During the fourteen-month occupation, the Japanese came under increasing American air and naval attacks. One day after their landing, June 8, 1942, an American patrol plane discovered the enemy's ships in Kiska Harbor. Three days later, ten bombers flew from Umnak airfield, to attack Kiska for the first time. From then on, Eleventh Air Force planes bombed Kiska regularly despite cloud cover and fog. American submarines and surface vessels added punishment to Japanese attempts to reinforce and protect Kiska. As early as July 5, 1942, American submarines torpedoed three Japanese destroyers at the entrance to Kiska Harbor, sinking one and severely damaging the others.

Japan Withdraws from Alaska
With the fall of Attu on May 30, 1943, and the virtual cutoff from the Home Islands the Japanese began planning "Operation KE" for evacuation of Kiska. On July 28, 1943 under cover of fog two cruisers and six destroyers dropped anchor in Kiska Harbor in early afternoon. The garrison was ready, having destroyed or booby-trapped weapons, equipment, and supplies. As if on cue, the fog lifted within the harbor and in only fifty minutes, 5,183 men boarded the ships and they headed home. The vital airfield was still incomplete when the Japanese withdrew from Kiska. This withdrawal caused the utmost embarrassment to the United States when, eighteen days later, a huge Allied force of 34,000 men invaded the deserted island. The event was best summed up by the army's commanding general in Alaska, Simon B. Buckner, who said, "To attract maximum attention, it's hard to find anything more effective than a great big, juicy, expensive mistake."

Learn More About WWII in Alaska
World War II had a major impact on Alaska. At the height of the War more than 100,000 American and Canadian soldiers were stationed in Alaska. Alaska's infrastructure grew immensely as a result. Roads, ports, and airfields were improved or constructed to facilitate the transportation of troops and supplies. An impact that many people are unaware of is the forced evacuation of the Native population of the Aleutian Islands by Japanese and American forces.

Current Condition
Kiska Island is very remote and uninhabited. Illegal collecting of resources, including Japanese artifacts and objects and military artillery items, vandalism, and deterioration of Japanese installations and structural objects including submarines and grounded ships.  Proposed environmental cleanup fails to differentiate between historic resources and hazardous materials.  The conditions at Kiska are symptomatic of neglected resources in remote settings.

Additional Information
Scars on the Tundra - Kiska Battlefield
Senior Petty Officer Charles House interview - captured by Japanese on Kiska
Lost Villages of the Eastern Aleutians – War time relocation and internment of U.S. civilians
WWII in the Aleutians – photos and anecdotes from locals and veterans
Attu Boy – Six year old Nick Golodoff was taken prisoner by Japan