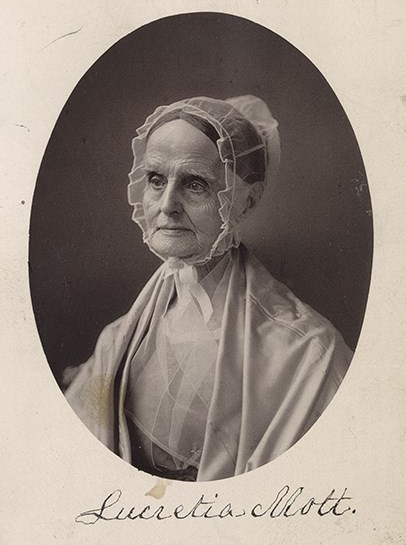 By Christine L. Ridarsky
Women in the mid-Atlantic states were at the forefront of the woman suffrage movement at its inception in the mid-nineteenth century, and they provided much of the leadership that would ultimately ensure ratification of the Nineteenth Amendment in 1920. A small band of mostly Quaker women, including Philadelphia's
Lucretia Mott
(Figure 1), along with
Elizabeth Cady Stanton
organized the
first women's rights convention
in Seneca Falls,
New York
, in 1848. Though scholars have debated the true significance of this largely regional event, these women inspired the national woman suffrage conventions that followed, held annually beginning in 1850—five in New York and one in
Pennsylvania
—which were arguably more influential in launching the women's movement prior to the Civil War.
[1]
In the twentieth century, a suffrage victory in New York and a push by
Alice Paul
and Lucy Burns for a national amendment finally helped make a woman suffrage amendment a reality.
Women's interest in securing their right to vote grew initially out of their experiences working for reform within antislavery and temperance circles, where their participation was limited by male leaders and social norms that prevented women from speaking publicly. Finding parallels between their own legal and social status and that of the enslaved, women's early efforts focused on achieving human and civil rights for Black men and all women. As a result, women in the Mid-Atlantic worked together across race lines early in the movement. Margaretta Forten and Harriet Forten Purvis (Figure 2), daughters of Black abolitionists James and Charlotte Forten, helped organize the fifth National Women's Rights Convention in Philadelphia in 1854, and Black women likely attended most, if not all, of the early women's rights conventions, though the minutes usually did not record their presence.
[2]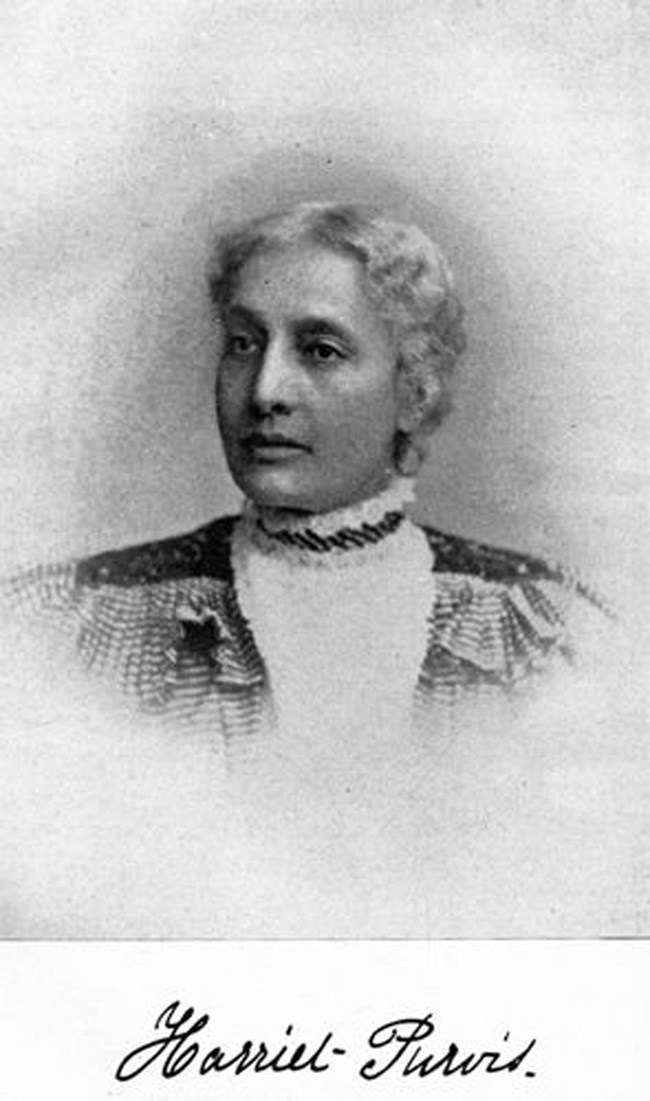 In addition to organizing the annual conventions, women's rights activism in the antebellum era included writing, lecturing, and petitioning legislators for change. In 1849,
Amelia Bloomer
started publishing the Lily in Seneca Falls, the first newspaper for women in the United States. Though it initially focused on temperance, Elizabeth Cady Stanton, writing under the alias "Sunflower," quickly pushed it into addressing broader women's rights themes.

[3]
Women largely suspended their women's rights activism during the Civil War, choosing instead to focus on supporting soldiers and assisting formerly enslaved people who were freed by President Lincoln's
Emancipation Proclamation
. At the war's end, however, women immediately resumed their efforts to secure rights for African Americans and women. In 1866, as the nation debated the meaning of citizenship in the wake of emancipation, Elizabeth Cady Stanton, now living in New York City, and
Susan B. Anthony
, of Rochester, New York, established the New York Equal Rights Association as well as the American Equal Rights Association (AERA), which agitated for suffrage "irrespective of race, color or sex."

[4]

(Figure 3) The AERA elected Mott its president, and Black and white activists continued to work side by side. Harriet Purvis served on the AERA's executive committee.

[5]

Other state affiliates soon organized. Philadelphia activists founded the Pennsylvania Equal Rights Association in January 1867. In October, women in Vineland,
New Jersey
, organized the Vineland Equal Rights Association and sent a petition to the Republican state convention advocating for "Impartial Suffrage, irrespective of Sex or Color." New Jersey women also established one of the first US organizations dedicated specifically to securing the vote for women: In November 1867 they founded the New Jersey Woman Suffrage Association (NJWSA) and elected Lucy Stone, living in Orange, president and her sister -in-law, Antoinette Brown Blackwell, of Somerville, vice president.
[6]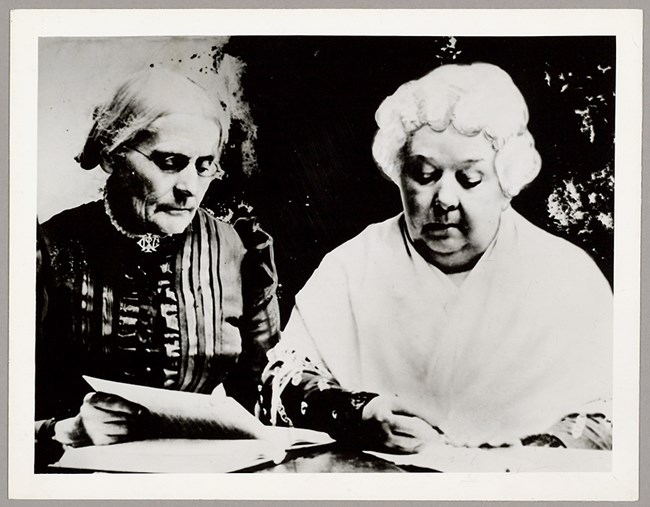 New York's 1867 constitutional convention provided an opportunity for the AERA to press its case for universal suffrage. Woman suffragists thought they had an ally in Suffrage Committee chairman Horace Greeley, who had supported women's voting rights as editor of the New-York Tribune. But when Greeley submitted his report, he recommended amending the state constitution to give the vote to Black men but not women. Angered at the betrayal, Stanton and Anthony attacked the manhood of convention delegates who opposed woman suffrage. The tactic backfired; delegates voted 125 to 19 to support Greeley's position.
[7]
Ultimately, the state's voters rejected the new constitution altogether and enfranchised neither group.
New Jersey women also challenged voting restrictions. The original New Jersey constitution had allowed women and Black men to vote, provided they met the minimum requirement for property ownership, and there is evidence that at least a small number of women cast ballots in the state's first decade. But in a dubious legal maneuver, the legislature limited the vote to "free, white, male, citizens" in 1807; the state constitution was amended in 1844 to reflect this change.
[8]
But after the Civil War women began to assert their right to vote again. In March 1868, Portia Kellogg Gage, a founder of the NJWSA, attempted to vote in the local election in Vineland but was turned away because she was not registered.
[9]
In November, Gage and 171 other women, Black and white, attempted to vote in the federal election. When their ballots were refused, they set up their own table and their own special ballot box and proceeded to cast their votes—and they continued the practice for several years.
[10]
In 1869, debate over the Fifteenth Amendment, which prohibited denial of the vote on the basis of race, fractured the AERA, and the era of cross-racial alliances largely came to an end. Abolitionist Wendell Phillips declared it the "Negro's hour," arguing that women needed to temporarily set aside their demands for the benefit of the Black man, but Stanton and Anthony refused.
[11]
Instead, they formed the National Woman Suffrage Association (NWSA), focused on a national woman suffrage amendment.
Lucy Stone
and her husband, Henry Blackwell, set up the rival American Woman Suffrage Association (AWSA), which supported the Fifteenth Amendment and turned to state campaigns to secure voting rights for women. The NJWSA quickly aligned with the AWSA, as did the new Pennsylvania Woman Suffrage Association, established in December 1869 with abolitionist Mary Grew of Philadelphia as president.
[12]
The New York State Woman Suffrage Association, on the other hand, was organized nearly concurrent with the NWSA, and for twenty years they operated practically as one.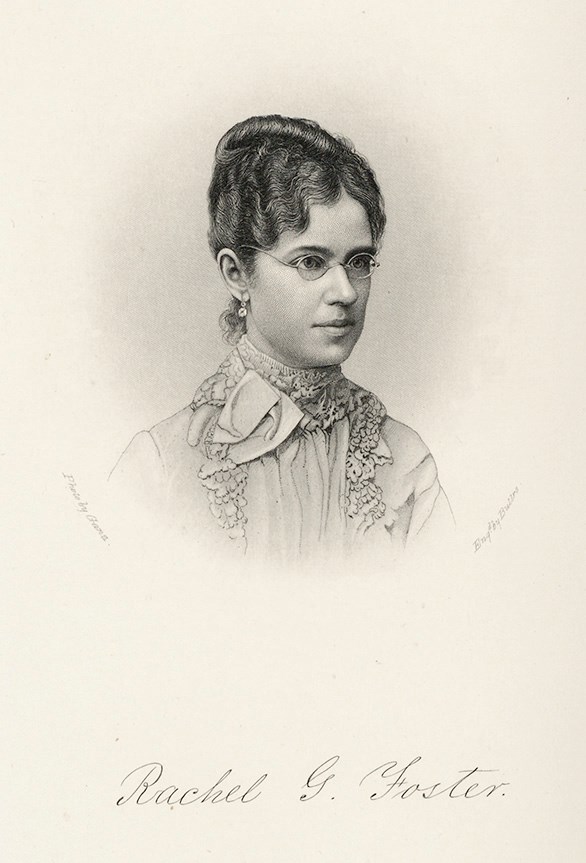 Almost immediately, suffragists focused on a federal approach adopted a strategy known as the New Departure. They argued that women had a legal right to vote based on language in the Fourteenth Amendment that defined citizens as "
all persons born or naturalized in the United States." Contending that voting was one of the "privileges or immunities" of citizenship, women began to go to the polls.
[13]
After Philadelphia election officials refused to accept Carrie Burnham's ballot in 1871, she became one of the first to use the courts to test the argument. She relied not only on the Fourteenth Amendment but also on Pennsylvania law, which conferred voting rights on "freemen," a term she argued described status, not sex. The Pennsylvania Supreme Court disagreed, ruling against Burnham in 1873.
[14]
In November 1872, Susan B. Anthony was one of several Rochester women to cast her ballot in the presidential election and then was arrested. Anthony was charged with the crime of voting illegally and found guilty by a federal court, though the judge decided the case on narrow grounds, leaving the constitutional question unsettled.
[15]
The US Supreme Court finally settled
the matter of women's voting rights under the Fourteenth Amendment in 1875 when it ruled in Minor v. Happersett that suffrage was not "
one of the privileges or immunities of citizenship"; states, therefore, had the right to exclude women from the franchise.
[16]
Meanwhile, the AWSA and state suffrage societies
focused on changing voting rights clauses in state constitutions. In 1873, Pennsylvania's constitutional convention acknowledged the requirements of the Fifteenth Amendment when it replaced the words "white freeman" with "male citizens," but it failed to include women. New York, New Jersey, and
Delaware
did not update their constitutions during this period.
[17]
By 1876, the NWSA settled on a new strategy; it would seek an amendment to the US Constitution barring states from using sex as a basis for disenfranchisement. A proposed sixteenth amendment, later named for Susan B. Anthony, was introduced before Congress in 1878; it was largely buried in committee and ultimately defeated in 1887. With the federal strategy seemingly at an impasse, the rival NWSA and AWSA called a truce and merged to form the National American Woman Suffrage Association (NAWSA) in 1890 with Anthony as its first president and headquarters in New York City.
Now under a single umbrella, state suffrage organizations adopted a common strategy of organizing local and county suffrage clubs to disperse the suffrage message more broadly. The state associations in New York, New Jersey, and Pennsylvania all began encouraging formation of local and county affiliates. By 1893, New York's suffrage association reported that twenty-three auxiliary county clubs had been established.
[18]
Even women in Delaware began to organize.
Under the leadership of Philadelphia's
Rachel Foster Avery
, a protégé of Susan B. Anthony, they established Delaware's first women's rights organization, the Wilmington Equal Suffrage Club, in November 1895.
[19]
(Figure 4)
With constitutional conventions scheduled in New York in 1894 and Delaware in 1896, suffragists directed resources at those states throughout the 1890s. New York suffragists took a decidedly different tack than they had during the 1867 convention. Instead of "hanging about the convention" and lobbying delegates as they had in the earlier campaign, state president Jean Brooks Greenleaf determined that the best tactic was to organize a massive canvass to collect signatures on pro-suffrage petitions and calculate the value of taxable property owned by women. When the convention got underway in May 1894, suffragists presented petitions nearly every day for two weeks in support of striking the word "male" from the clause assigning voting rights. In August, the full convention debated the question over four days before voting ninety-seven to fifty-eight against woman suffrage.
[20]
In Delaware, women finally organized a state association in 1896. Despite their efforts, the woman suffrage amendment failed in Delaware's convention in 1897; the following year the legislature passed a law allowing taxpaying women to vote in school elections. New Jersey couldn't even get that much; in 1897, voters defeated an amendment that would have allowed women to vote in school elections.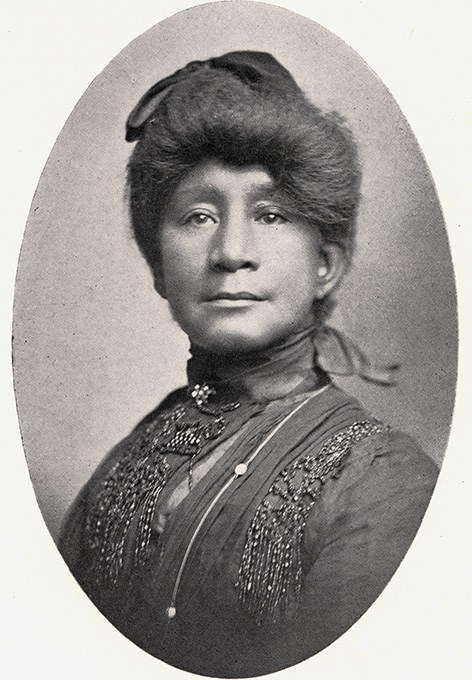 The merger of the two national suffrage organizations came at a time of increasing racial tensions marked by legalized segregation and violence against African Americans in the South and de facto segregation in the North. Black women found that they were no longer as welcome within mainstream suffrage organizations as they had once been and set about establishing their own clubs, usually with broader objectives than those of their white counterparts. In Rochester, Hester C. Jeffrey founded several organizations for African American women, including the philanthropic and suffrage-focused Susan B. Anthony Club. Jeffrey also continued to work alongside her friend Susan B. Anthony within the New York State Woman Suffrage Association and NAWSA.
[21]
(Figure 5) For Black women, the vote was about more than improving their own status; it was also about protecting the status of Black men who were being disenfranchised through educational tests and intimidation. Thus, few Black women's clubs were organized solely to advocate for suffrage, though many included it among the causes they supported.
[22]
As Black women built their own movement, white activism seemed to plateau. Mainstream suffragists in mid-Atlantic states turned their attention to educating women about the benefits of equality rather than lobbying for legislative reform. But that changed early in the twentieth century as a new cadre of young leaders emerged. Anthony retired as NAWSA president in 1900 and died in 1906. Two of her acolytes led NAWSA over the next twenty years:
Carrie Chapman Catt
(1900–1905 and 1915–1920) and
Anna Howard Shaw
(1906–1914). Rachel Foster
Avery reinvigorated the Pennsylvania movement when she was elected state president in 1908 and opened a headquarters in Philadelphia.
[23]
Elizabeth Cady Stanton's daughter
Harriot Stanton Blatch
also took on the mantle of leadership during this period, establishing her Equality League of Self-Supporting Women, later the Women's Political Union, in New York City in 1907 with the goal of drawing working-class and immigrant women into what had been a predominantly middle-class Protestant movement.
[24]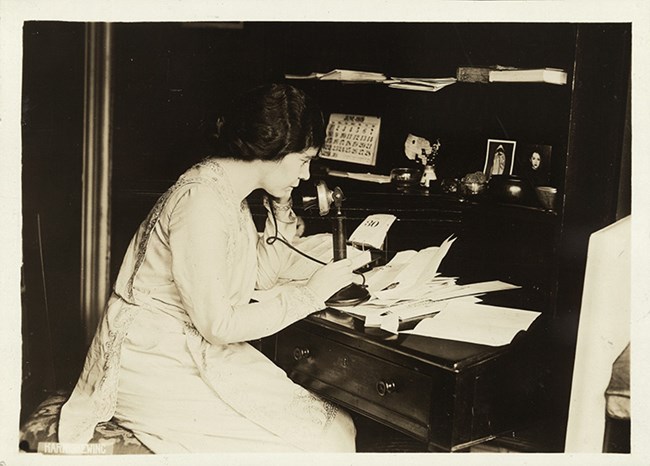 Among the most influential of these new twentieth-century leaders was
Alice Paul
, of Mount Laurel, New Jersey. (Figure 6) Like Blatch, Paul had spent time in England learning the militant tactics of British suffragettes and believed that American suffragists needed to take a more radical approach in pressing for their rights. This included organizing public spectacles to attract attention to the cause. In 1912, the annual New York City suffrage parade, inaugurated by Blatch in 1910, drew twenty-thousand marchers and half a million onlookers. Paul and colleague Lucy Burns, of New York, demonstrated another method for attracting attention when, in 1911, they staged the first open-air campaign in the Keystone State. With the help of Caroline Katzenstein, secretary of the Pennsylvania Woman Suffrage Association, they held twenty-one outdoor meetings across Philadelphia between July 25 and September 30.
[25]
By 1913, Paul and Burns had formed the Congressional Union (CU), which grew out of NAWSA's Congressional Committee. The young militants clashed with the organization's more conservative leaders over strategy. NAWSA concentrated on winning the vote in the states, while Paul and Burns had returned to Stanton and Anthony's focus on a federal amendment and argued that suffragists should hold the party in power (Democrats) publicly accountable.
[26]
They recruited Mabel Vernon to become their first national organizer, sending her first to her home state of Delaware to organize a state branch of the CU there.
[27]
(Figure 7)
Carrie Chapman Catt, however,
believed that Congress would never seriously consider amending the US Constitution until more states had changed their own voting laws. She set forth a plan for simultaneously seeking reform within individual states and at the federal level. Beginning in 1909, Catt encouraged suffrage clubs to reorganize by legislative district in a manner similar to political parties.
[28]
The strategy was put to a test in 1915 when voters in New York, New Jersey, and Pennsylvania each voted for a referendum on woman suffrage; all were defeated. But Catt's "Winning Plan" finally paid off when New York State's voters granted full suffrage to women in November 1917, making it the first state east of the Mississippi River to do so. Catt declared that "the victory is not New York's alone. It's the nation's." She felt sure that Congress would now be forced to pass a federal amendment.
[29]
But as the United States entered World War I, NAWSA suspended most of its work. The National Woman's Party (NWP), however, which had grown out of the CU, refused to do so, choosing instead to use the war for freedom abroad to highlight the hypocrisy of women's disenfranchisement at home.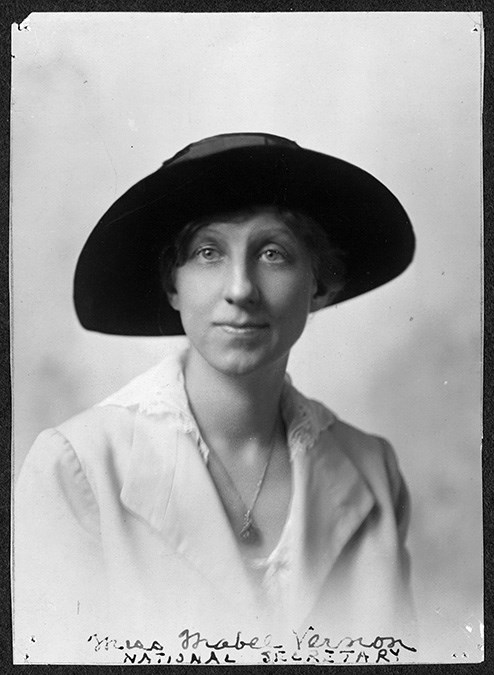 Beginning in January 1917, the NWP organized a series of protests outside the White House.
"Silent sentinels"
held signs asking "Kaiser Wilson" how much longer women had to wait for equal rights, comparing the president to the German emperor. By spring 1919, when the pickets ended, more than 500 women had been arrested; 168 of them spent time in jail, including many mid-Atlantic women who were force fed during hunger strikes at the Occoquan Workhouse.
[30]
In June 1919, both houses of Congress passed the Nineteenth Amendment and sent it to the states for ratification. Thirty-six states needed to approve the measure. New York became the sixth state to ratify on June 16; Pennsylvanians approved the measure on June 24. New Jersey was slower to ratify but did so on February 10, 1920. By March, only one more state needed to ratify, and both NAWSA and the NWP looked to Delaware to put them over the top. But it wasn't to be. The state senate voted eleven to six for ratification, but in June the house refused to bring the measure to the floor, thereby killing it. Delaware wouldn't approve the amendment until March 1923, almost three years after the amendment took effect on August 26, 1919.
When
Tennessee
became the thirty-sixth state to ratify the Nineteenth Amendment, women throughout the nation secured the right to vote and the campaign that began in upstate New York in the 1840s came to an end. Mid-Atlantic women—from Lucretia Mott and Harriet Purvis, to Elizabeth Cady Stanton and Susan B. Anthony, to Alice Paul and Lucy Burns, and so many more—had been instrumental, as leaders and foot soldiers, in every aspect of the seventy-two-year battle for woman suffrage. It is hard to imagine the movement without them.
Christine L. Ridarsky is historian for the City of Rochester, New York, and historical services
consultant for the Central Library of Rochester & Monroe County, where she manages the Local
History & Genealogy Division. She has an MA in American history from the State University
Of New York, College at Brockport, and is ABD toward a PhD in American history at the
University of Rochester. She is co-editor of Susan B. Anthony and the Struggle for Equal Rights
(University of Rochester Press, 2012) and editor of the Rochester History journal.
Notes:
[1]
See, for example, Lisa Tetrault, The Myth of Seneca Falls: Memory and the Women's Suffrage Movement, 1848–1898 (Chapel Hill: University of North Carolina Press, 2014).
[2]
Rosalyn Terborg-Penn, African American Women in the Struggle for the Vote, 1850–1920 (Bloomington: Indiana University Press, 1998), 17.
Bibliography
Butler, Amy E. Two Paths to Equality: Alice Paul and Ethel M. Smith in the ERA Debate, 1921–1929. Albany: State University of New York Press, 2002.
Dubois, Ellen Carol. Harriot Stanton Blatch and the Winning of Woman Suffrage. New Haven, CT: Yale University Press, 1997.
Dudden, Faye E. Fighting Chance: The Struggle over Woman Suffrage and Black Suffrage in Reconstruction America. New York: Oxford University Press, 2011.
Free, Laura E. "'To Bury the Black Man and the Woman in the Citizen': The American Equal Rights Association and the New York State Constitutional Convention of 1867." In Ridarsky and Huth, Susan B. Anthony and the Struggle for Equal Rights, 59–85.
———. Suffrage Reconstructed: Gender, Race, and Voting Rights in the Civil War Era. Ithaca, NY: Cornell University Press, 2015.
Fry, Amelia R. Mabel Vernon: Speaker for Suffrage and Petitioner for Peace. Berkeley: University of California, Regional Oral History Office, Suffragist Oral History Project, 1976.
Gaskell, Tamara. "A Citizen's, not a Woman's Right: Carrie Burnham v. the Pennsylvania Supreme Court." Pennsylvania Legacies, November 2008.
———. "
Woman Suffrage
." Encyclopedia of Greater Philadelphia, 2017

.
Goodier, Susan, and Karen Pastorello. Women Will Vote: Winning Suffrage in New York State. Ithaca, NY: Cornell University Press, 2017.
Gordon, Ann D. "
The Trial of Susan B. Anthony
." Prepared for Federal Judiciary Office's Federal Trials and Great Debates in United States History project, 2005

.
Katzenstein, Caroline.

Lifting the Curtain: The State and National Woman Suffrage Campaigns in Pennsylvania as I Saw Them

. Philadelphia: Dorrance, 1955.
Krone, Henrietta Louise. "Dauntless Women: The Story of the Woman Suffrage Movement in Pennsylvania, 1910–20." PhD diss., University of Pennsylvania, 1946
.
Lewis, Jane Ellen. "
Rethinking Woman Suffrage in New Jersey, 1776–1807
." Rutgers University Law Review 63 no. 3. (Spring 2011): 1017–1035.
Ridarsky, Christine L., and Mary M. Huth, eds. Susan B. Anthony and the Struggle for Equal Rights. Rochester, NY: University of Rochester, 2012.
Stanton, Elizabeth Cady et al., eds. The History of Woman Suffrage. 6 vols. Rochester, NY: S. B. Anthony; New York: National American Woman Suffrage Association, 1881–1922.
Susan B. Anthony Memorial, Inc., Records. Department of Rare Books, Special Collections and Preservation, Rush Rhees Library, University of Rochester, Rochester, NY.
Terborg-Penn, Rosalyn. African American Women in the Struggle for the Vote, 1850–1920. Bloomington: Indiana University Press, 1998.
Tetrault, Lisa. The Myth of Seneca Falls: Memory and the Women's Suffrage Movement, 1848
–1898. Chapel Hill: University of North Carolina Press, 2014.
Van Voris, Jacqueline. Carrie Chapman Catt: A Public Life. New York: The Feminist Press, 1987.
Walton, Mary. A Woman's Crusade: Alice Paul and the Battle for the Ballot. New York: Palmgrave MacMillan, 2010.
Wellman, Judith. The Road to Seneca Falls: Elizabeth Cady Stanton and the First Woman's Rights Convention. Urbana: University of Illinois Press, 2004.
Woman Suffrage Association of New York State and Woman Suffrage Party of New York City. Records, 1869–1919 (MS #1369). Butler Library, Rare Books & Manuscript Library, Columbia University, New York.
Zahniser, J. D., and Amelia R. Fry. Alice Paul: Claiming Power. Oxford: Oxford University Press, 2014.