Lucretia Mott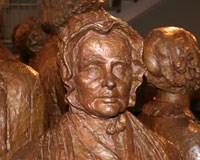 One of eight children born to Quaker parents on the island of Nantucket, Massachusetts, Lucretia Coffin Mott (1793-1880) dedicated her life to the goal of human equality. As a child Mott attended Nine Partners, a Quaker boarding school located in New York, where she learned of the horrors of slavery from her readings and from visiting lecturers such as Elias Hicks, a well-known Quaker abolitionist. She also saw that women and men were not treated equally, even among the Quakers, when she discovered that female teachers at Nine Partners earned less than males. At a young age Lucretia Coffin Mott became determined to put an end to such social injustices.
In 1833 Mott, along with Mary Ann M'Clintock and nearly 30 other female abolitionists, organized the Philadelphia Female Anti-Slavery Society. She later served as a delegate from that organization to the 1840 World Anti-Slavery Convention in London. It was there that she first met Elizabeth Cady Stanton, who was attending the convention with her husband Henry, a delegate from New York. Mott and Stanton were indignant at the fact that women were excluded from participating in the convention simply because of their gender, and that indignation would result in a discussion about holding a woman's rights convention. Stanton later recalled this conversation in the History of Woman Suffrage:
As Lucretia Mott and Elizabeth Cady Stanton wended their way arm in arm down Great Queen Street that night, reviewing the exciting scenes of the day, they agreed to hold a woman's rights convention on their return to America, as the men to whom they had just listened had manifested their great need of some education on that question. Thus a missionary work for the emancipation of woman…was then and there inaugurated.

Eight years later, on July 19 and 20, 1848, Mott, Stanton, Mary Ann M'Clintock, Martha Coffin Wright, and Jane Hunt acted on this idea when they organized the First Woman's Rights Convention.
Throughout her life Mott remained active in both the abolition and women's rights movements. She continued to speak out against slavery, and in 1866 she became the first president of the American Equal Rights Association, an organization formed to achieve equality for African Americans and women.
Last updated: April 4, 2023