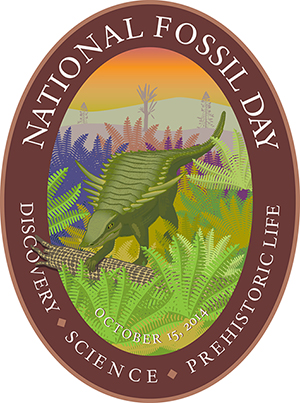 The 2014 National Fossil Day artwork features an ancient reptile, known as an aetosaur, surrounded by a variety of Late Triassic plants. The scene is an idealized representation of a Mesozoic Era ecosystem which is the theme for the 2014 National Fossil Day monthly features.
The Mesozoic, the era of "Middle Life", is divided into three geologic time periods—the Triassic, Jurassic and Cretaceous. The beginning and end of the Mesozoic are marked by worldwide mass extinction events. The Mesozoic Era spans from 252 million to 66 million years before present.

The Mesozoic is also commonly referred to as the "Age of Reptiles" because of the great diversity of reptiles which evolved and successfully inhabited terrestrial and marine environments worldwide. In addition to all of the different groups of dinosaurs, many non-dinosaurian reptiles shared the land and inhabited the seas during the Mesozoic.