National Fossil Day™ 2017 Artwork
We encourage groups to use the National Fossil Day 2017 artwork to promote their NFD events and activities.
For information regarding use of the trademark symbol and other guidance for using the National Fossil Day logo and artwork, please visit our
logo and artwork use page
.
The
Paleozoic fish
graphic is the official National Fossil Day 2017 artwork. It can be used to promote NFD 2017 activities and events and includes the date
October 11, 2017
. The official permanent logo of National Fossil Day is the brown "titanothere" logo,
available here
.
The 2017 National Fossil Day artwork may be used on your web sites or in your print publications. The artwork is available in rectangular and oval formats, and in several different resolutions. If you have another use in mind or have questions, please
contact us
.
Do you have an idea for next year's artwork?
Let us know
!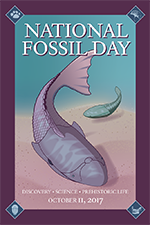 Rectangular format National Fossil Day 2017 artwork:
.png file: 72 dpi, 307 x 460 [171 KB]

.png file: 96 dpi, 409 x 613 [247 KB]

.png file: 150 dpi, 639 x 959 [442 KB]

.png file: 300 dpi, 1875 x 2813 [1 MB]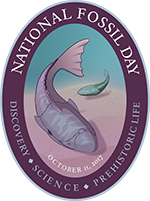 Oval format National Fossil Day 2017 artwork:
.png file: 72 dpi, 391 x 525 [271 KB]

.png file: 96 dpi, 521 x 700 [360 KB]

.png file: 150 dpi, 814 x 1093 [579 KB]

.png file: 300 dpi, 1628 x 2186 [788 KB]
Last updated: September 12, 2017