National Natural Landmarks
Dinosaur Trackway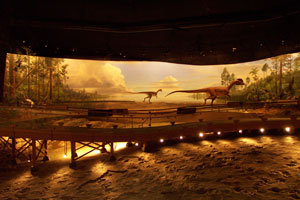 Dinosaur Trackway
At least three types of reptile have been identified from over 1,000 fossilized tracks at Dinosaur Trackway, one of the largest known exposures of dinosaur tracks on a single bedding plane. Preserved in place and representing a single moment in time, this site affords a rare opportunity to study the life history of an ancient reptile community.
Location: Hartford County, CT ; Hartford County, CT
Year designated: 1968
Acres: 7
Ownership: State
---
← Back to listing of all states and territories.
Please remember, National Natural Landmarks (NNLs) are not national parks. NNLs are owned by a variety of public and private entities and allowing visitation is at their discretion. Many NNL sites maintain public websites where additional information may be found.