National Natural Landmarks
Bug Creek Fossil Area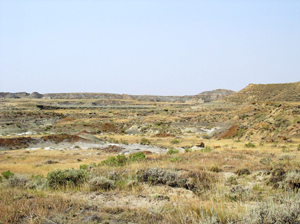 Bug Creek Fossil Area
Located primarily within Charles M. Russell National Wildlife Refuge, the Bug Creek Fossil Area has produced abundant remains of small, Cretaceous mammals, including the type locality for five species new to science. Some of the fossils excavated provide evidence contradicting the belief that there was a sudden explosion of mammal species at the beginning of the Paleocene.
Location: McCone County, MT
Year designated: 1966
Acres: 805
Ownership: Federal, Private
---
← Back to listing of all states and territories.
Please remember, National Natural Landmarks (NNLs) are not national parks. NNLs are owned by a variety of public and private entities and allowing visitation is at their discretion. Many NNL sites maintain public websites where additional information may be found.