2012 Freeman Tilden Award Recipients
The Freeman Tilden Award recognizes creative and exemplary work that enhances the visitor experience. It is the highest award given in the National Park Service for excellence in interpretation. A national recipient is chosen from the seven regional recipients.
Congratulations to the 2012
Freeman Tilden Award
recipients!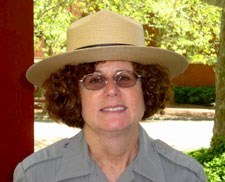 Northeast Region
Renee Albertoli, Park Ranger
Independence National Historical Park / Edgar Allan Poe National Historic Site, Pennsylvania
Congratulations to Renee Albertoli for receiving the 2012 National Freeman Tilden Award. Albertoli was presented the national award for her outstanding work in establishing Project Write - Inspire Me! a writing enrichment program for high school students.
Throughout a two-week intensive workshop, participants explored essential themes such as "Power of the Press" or "House Divided/Nation Divided." Students visited ten historic sites, read primary source documents, discussed themes, and spent afternoons immersed in writing activities. Students created a literary magazine, and they posted blogs, tweets, photos, and videos on the park's website, Facebook and YouTube sites.
Students explored links between past and present and discovered that many issues debated by the nation's founders are still disputed today. Parents reported that their children had become more aware of the park and the continuing relevance of the essential questions by exploring current news reports and engaging in active discussions on social media. One father said he had never "seen so much enthusiasm coming from his son as he left to attend the daily workshop classes."
The quality of the students' work was so compelling that the University of Pennsylvania and the Gates Foundation are using this program as the basis for a new core curriculum for local tenth grade students. Through her enthusiasm and creativity, Albertoli has inspired youth to see formerly boring, uninteresting old buildings as inspiring representations of ideals and movements that are still deeply relevant today. She has helped students develop new skills to explore and engage in the great and continuing questions of the nation's democracy.

Alaska Region
Christopher D. Smith, Lead Park Ranger, Web & Media
Anchorage Interagency Visitor Center, Alaska

Smith lead the creation of the Interactive GIS Portal to Alaska's Parks and Public Lands. This public use kiosk, located in the Anchorage visitor center, creates a venue for navigation and trip planning. Displaying a zoom-able map, the program references pertinent websites, webcams, multimedia, and interpretive programs at significant locations. This technology provides practical information to inspire and enable visitors to experience all of Alaska's parks and public lands in person. No other venue offers so many important and varied interpretive messages to visitors at one location.

Intermountain Region
Jeff Wolin, Lead Interpreter
Florissant Fossil Beds National Monument, Colorado
Wolin composed, performed, and coordinated the production of the first ever Junior Ranger album, containing 19 original songs highlighting a variety of national park themes and resources. The songs that Jeff wrote and performed were created with diverse youth audiences in mind and focus on a variety of tangibles from a broad spectrum of NPS areas - from the formation of Yellowstone, to sea turtles, Thaddeus Kosciuszko, elk, and the Tuskegee Airmen - and connect them to universal concepts such as wonder, exploration, struggle, hope, loss, and triumph.

Midwest Region
Joshua Philip Bates, Park Ranger
Cuyahoga Valley National Park, Ohio

Bates developed the park's Service Learning Program. This new program engages youth in solving various problems within the park. Bates works with teachers and students to identify issues and design projects that connect with classroom curriculums. Working creatively with youth participants, Bates structures the program so that each student decides how to help the park, giving the students a sense of project ownership while helping the park alleviate resource issues or enhance facilities.

National Capital Region
Catherine Bragaw, Supervisory Education Specialist
Harpers Ferry National Historical Park, West Virginia

Bragaw leads Harpers Ferry's program, Next Generation: A Model for 21st Century Summer Youth Programming and Civic Leadership in the Park. The program mentors youth aged 14-28, promoting the acquisition of job skills and youth stewardship through innovative summer programming. Last year, participants served as curriculum developers, film crews, scientists, youth-to-youth mentors, and in many more roles. Many participants are so energized by their Next Generation experiences, that they are now choosing careers in education, science, history and park management.

Pacific West Region
Shauna Potocky, Education Specialist
Yosemite National Park, California

Potocky created the Gateway Expressions Art and Poetry Project, a contest and exhibit designed to celebrate the arts, foster inspiration, and encourage exploration of the park through partnerships with local organizations. Though gateway communities are connected to national parks in many ways, park neighbors sometimes do not have a strong connection with the park that borders their homes. This project enables local youth to see resources in a new light, and to develop and share their own expression of what those resources mean to them and the world at large.

Southeast Region
Stephanie Steinhorst, Park Ranger
Andersonville National Historic Site, Georgia

Steinhorst lead the park's first Historical Interpreter Apprentice Program, a youth engagement and outreach program in which local high school students dedicate their weekends to study the history of Andersonville, acquire interpretation skills, and participate in the culminating event of the park's living history weekend. In addition to helping students acquire valuable communications skills, the program greatly enhances visitor interactions. The impact of seeing a teenager interpreting the life of a teenaged prisoner-of-war is immediately obvious in the faces of the visitors.
Last updated: November 17, 2017