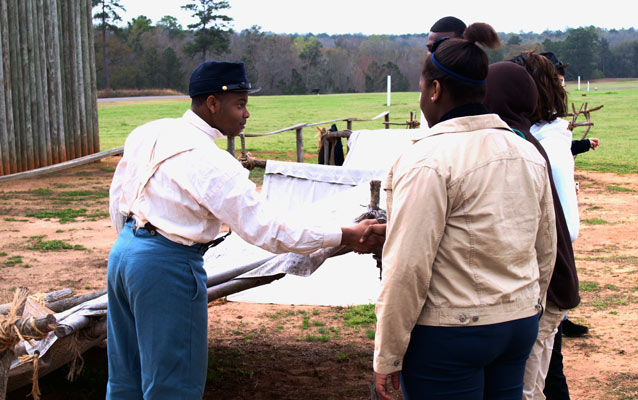 NPS/Chris Barr
Quick Facts
GETTING READY FOR 2016:

Action Item:

History Lesson

Also Promotes:

A Class Act

State:

Georgia

Year Accomplished:

2013
Beginning on 2012, each January, a group of youth from Americus-Sumter High School participate in Andersonville National Historic Site's Historical Interpreter Apprentice Program (HIAP). Participants commit to attending every every Saturday morning from mid-January until the culminating event of the park's living history weekend in mid-March.  During their Saturday sessions the apprectices study the history of Andersonville, practice ways to communicate historical information and take field trips to observe other sites. 
Historically, Andersonville prison held a large number of soldiers who were younger than 18, and HIAP participants share their important stories both inside and outside the prison.  This new program was created not only to present a wider range of prisoner experiences but also to encourage young, local students to volunteer with the park throughout the year. The program is led by Ranger Stephanie Steinhorst and assisted by Americus-Sumter High School social studies teacher, Chris Barr.  Funding for the first year of the program was made possible by a grant from the National Park Foundation and has been sustained through the generous support of the Friends of Andersonville.
The park plans to continue the program, and extend new opportunities to students in our area. High school students are the same age as many of the prisoners held here during the Civil War, and their presence not only helps the park to better interpret the prisoner experience but will also reach out to less traditional audiences.