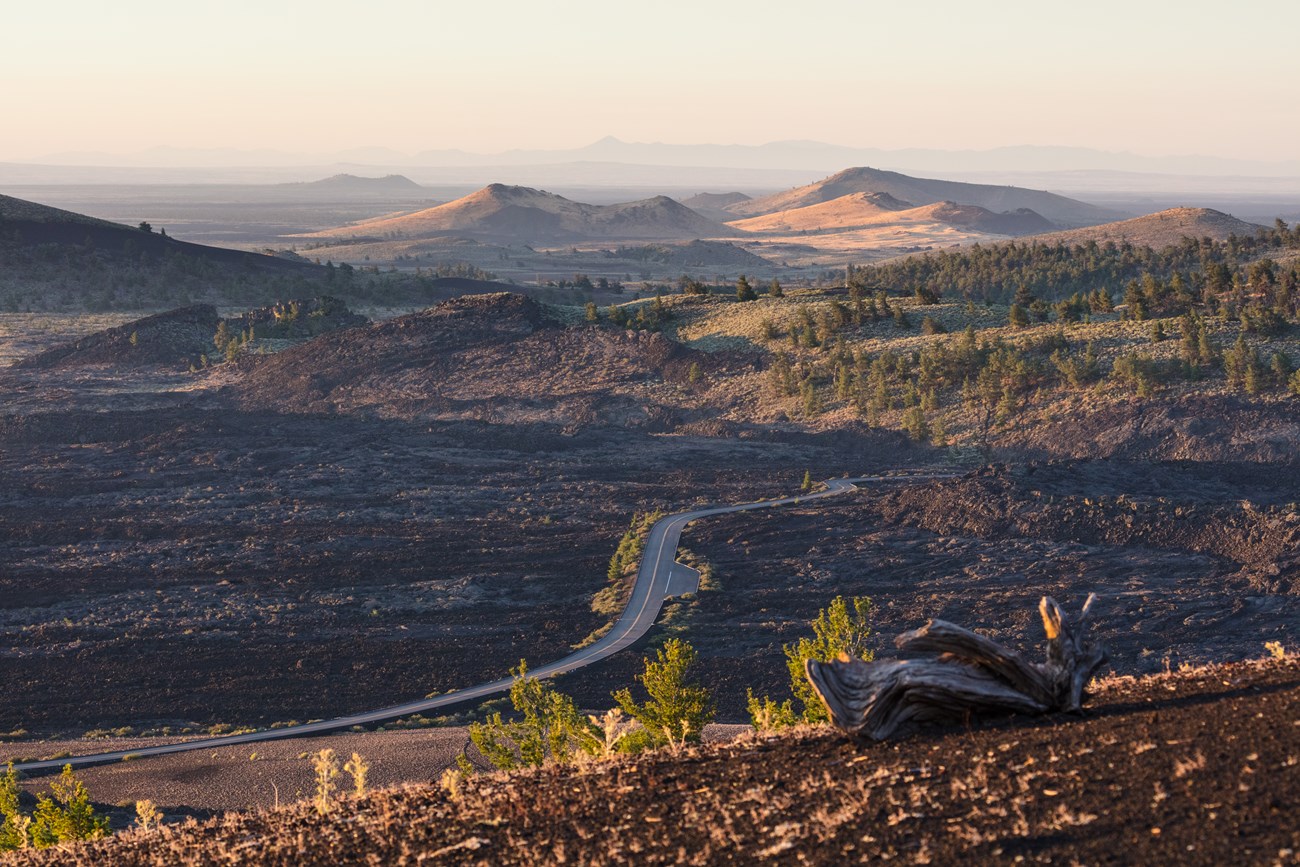 Craters of the Moon National Monument & Preserve is a "weird and scenic" wonderland of lava on the sagebrush plains of southern Idaho, only a few hours' drive from Yellowstone and Grand Teton National Parks. Visitors can go for a hike, peer inside a volcano, explore a cave, or gaze up at the spectacular night sky. Here are ten things to "Know Before You Go," to help even the most spontaneous travelers have a safe and memorable visit to the Moon.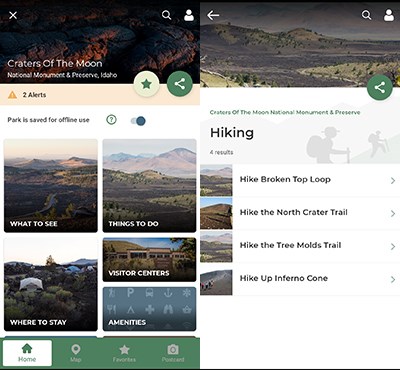 1. Download the official National Park Service app before you arrive
With maps, information, and ideas for things to do, the app is like having a park ranger in your pocket! Cell service is extremely limited inside the park, so we recommend saving Craters of the Moon for offline use before you get here. Best of all, the app has information for over 400 National Park Service sites, so your entire national parks roadtrip is covered!

The National Park Service app is available for iOS and Android and can be downloaded for free in your device's app store.
2. Start your adventure at the visitor center
Stop by and say hello to park staff, pick up a map, ask questions, browse the exhibits, and stamp your national parks passport! The visitor center also has restrooms, vending machines, water, and a bookstore.

The Robert Limbert Visitor Center is open daily during the summer. Check the park app or website for current operating hours.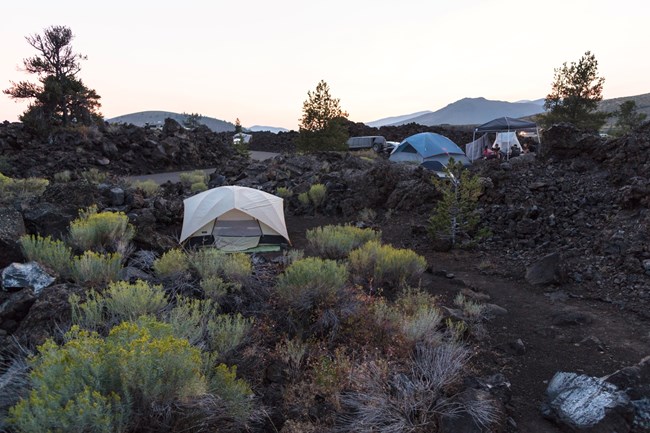 3. Plan a sleepover
Have you ever camped in a lava field? Craters' Lava Flow Campground offers a unique camping experience, with sites tucked in among piles of crumbly volcanic rock. Grab a campsite to extend your stay and enjoy the park's spectacular night skies!

The Lava Flow Campground's 42 tent and RV sites are available on a first-come, first-served basis only. Water and flush toilets are available during the summer, but there are no RV hookups. A group campsite on the park's north end is available by reservation only at Recreation.gov. For more information, visit the park website.
4. B.Y.O.L (Bring Your Own Lunch)
With the exception of vending machines at the visitor center, the only food at Craters is what you bring with you! Remember to pack a lunch and plenty of snacks to stave off the "hangry" as you explore. Picnic areas are available next to the visitor center and in several locations along the Loop Road. Water is available only at the visitor center and campground, so don't forget your refillable bottles!

The nearest restaurants and groceries are located in the town of Arco, about 19 miles east of the park entrance on HWY 93/26/20.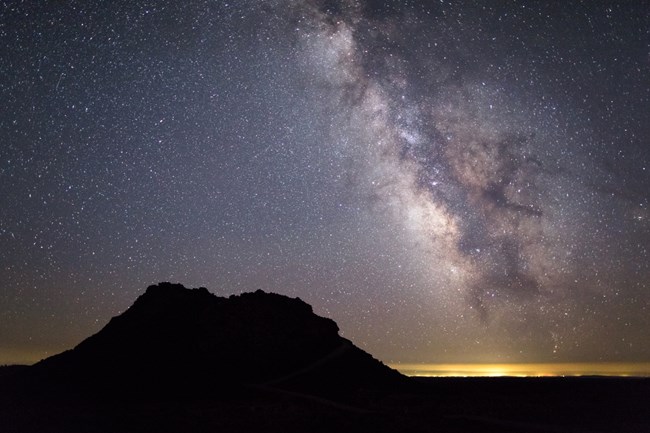 5. Enjoy the park after dark
As the only park named after a feature of the night sky, it's fitting that Craters of the Moon offers excellent opportunities for stargazing! Certified as an International Dark Sky Park, light pollution in the park is at a minimum, giving visitors from more populated areas a unique chance to peer out into the Milky Way. Cozy up with blankets and hot chocolate in the campground and enjoy the cosmic show!
6. Drive the scenic Loop Road
Craters' most popular features are conveniently located along the 7-mile Loop Road, and you can explore as much or as little beyond the road as you have time for. The park's brochure map marks numbered stops on your self-guided tour. Enjoy the view from the Inferno Cone overlook, take a short walk to peer inside the Spatter Cones, or ramble along the Devils Orchard Nature Trail. Those with more time to spend might stop at one of the park's trailheads for a longer hike.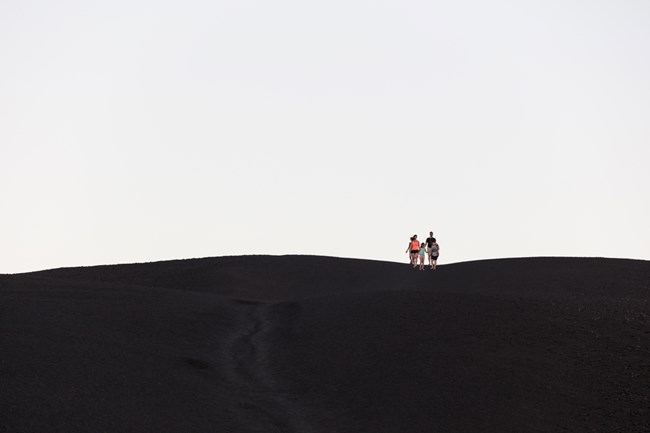 7. Venture out on a hike
Craters of the Moon offers a handful of unique hiking experiences, including the excellent Broken Top Loop or the steep climb up Inferno Cone. Visit the park website or download the park app for more information on hiking trails (including accessibility information.) Hikers should come prepared for the rugged lava terrain, with sturdy, close-toed shoes, layers for protection from wind and sun, and plenty of water and salty snacks. Backcountry permits are available at the visitor center for overnight adventures into the Craters of the Moon wilderness.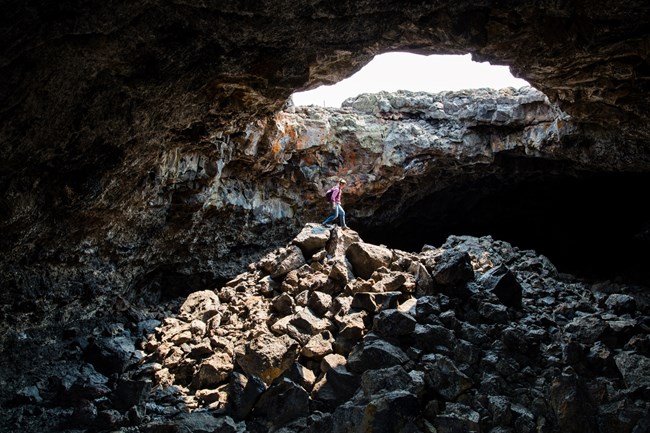 8. Get a cave permit
Craters of the Moon is famous for its caves, formed by underground rivers of lava! Four of these caves are easily accessible from the Loop Road, but in order to protect sensitive bat populations, a free permit is required to explore. Pick up a permit at the visitor center on your way in, and come prepared with sturdy shoes, extra headlamps and flashlights, and protective headwear.

To prevent the spread of White-nose Syndrome in bats, gear and clothing that have entered other caves are not allowed in the Craters caves. Please leave these items at home. Check the park website for current conditions and cave closures.
9. Protect your park
Keep Craters "weird and scenic" for your next visit. Leave what you find (collecting rocks is not permitted), pack out all your trash (including fruit peels and other organic waste), never feed or disturb wildlife, and know where you can go with pets. If you're unsure about park regulations, ask a ranger!