Things To Do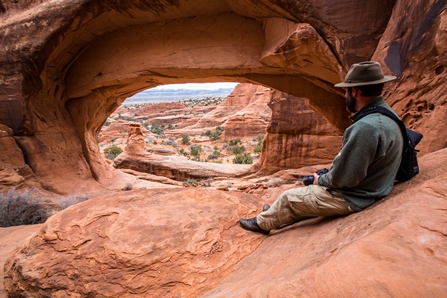 Whether it's your first visit or your tenth, or if you have one hour one hour or three days, you can always find something to do at Arches. Browse these pages to figure out how you'd like to spend your time.
Auto Touring
Most visits involve driving the 18-mile scenic road.
Backpacking
There are few backpacking options at Arches. Nearby Canyonlands National Park offers more backpacking opportunities.
Biking
Biking at Arches means staying on the road. Mountain bike trails abound outside the park, see DiscoverMoab.com for details.
Camping
The campground at Devils Garden affords phenomenal views.
NOTE: Devils Garden Campground will be closed March 1 through October 31, 2017, due to a major construction project
Canyoneering
Learn about permits and requirements for canyoneering at Arches.
Hiking
Trails range from 15 minutes to 4-5 hours.
Ranger-led Programs
Programs are offered spring through fall.