Ranger-led Programs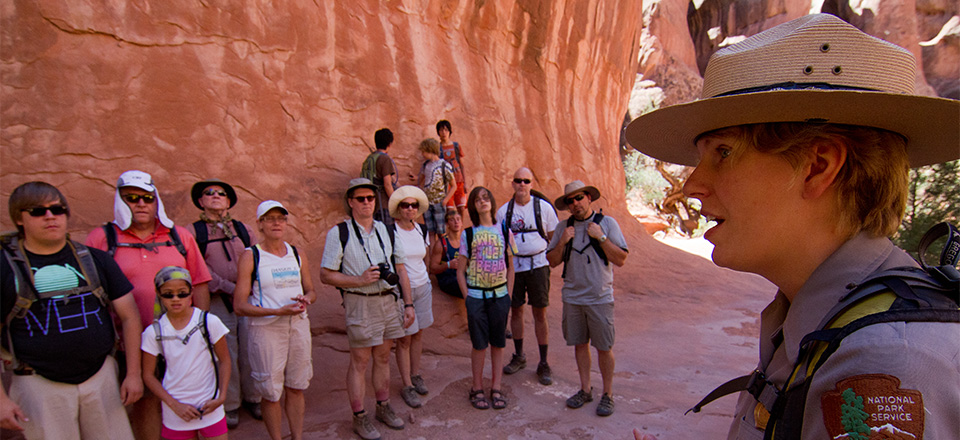 Park guides and volunteers offer a variety of interpretive programs every day, spring through fall. Program types, times, and locations vary throughout the year and are
subject to change due to weather or other factors.
Check at Arches Visitor Center upon arriving for more details.
2016 Program Schedule

Guided Walk, Daily
One mile (1.6 km) on an easy or moderate trail; 45 minutes.
Free; all ages welcome. No advance registration.
Meet at The Windows
September 4 - 30
11 am
4 pm

October 1 - 29
10:30 am

Evening Program, Nightly
45-minute ranger talk. Topics change nightly.
Free; all ages welcome. No advance registration.
Last program of the season will be given September 30th.
Meet at Devils Garden Amphitheater
September 4 - 30
8 pm

Fiery Furnace Hike
Three-hour, strenuous hike that involves rock scrambling. (See description below.)
You can reserve a ticket for morning tours through September 30 up to six months in advance at recreation.gov.
Afternoon and October tour tickets are only sold in-person at Arches Visitor Center.
Tours sell out quickly; stop by the visitor center to ask about the next available hike.
September 4 - October 1
10 am
2 pm

October 2 - October 29
10 am
no advance reservation

Special Events
Check the Calendar for other events.
Calendar
Fiery Furnace Hike
Everyone attending a
Fiery Furnace
tour should be aware of the demanding nature of this hike and properly equipped for current conditions, including temperature extremes. During this three-hour, strenuous hike, you will walk and climb on irregular and broken sandstone, along narrow ledges above drop-offs, and in loose sand. There are gaps you must jump across and narrow places that you must squeeze into and pull yourself up and through. In some of these places, you must hold yourself off the ground by pushing against the sandstone walls with your hands and feet.
Due to the maze-like nature of the terrain, all participants are committed to completing the hike once they enter the Fiery Furnace.
To better judge the hike's difficulty, you can
watch a video
or view a
photo gallery
.
You must wear good hiking shoes or boots that have gripping soles. No sandals or high heeled shoes are allowed. Each person must carry at least one quart or liter of water. You should stow water and other gear in a backpack so that your hands are free to help navigate the terrain.
Age Restrictions
Due to the tour's difficulty and length, children under 5 years of age are not permitted. Children 12 and under must be accompanied by a responsible adult.
Obtaining a Ticket
Type of Fiery Furnace Fee
Fee
Ranger-led Tour
$16/adult
$8/child (age 5-12)
Private Permit
$6/adult
$3/child (age 5-12)
$15/annual permit
Hikes available for reservation on recreation.gov can be made online up to six months in advance and at least four days before the date of the hike.
Hikes offered first-come, first-served must be reserved in person at the Arches Visitor Center, up to seven days in advance of the hike.