Backpacking
Backpacking at Arches
The park's backcountry is mostly rough terrain, inaccessible by established trails with very limited water sources. While Arches National Park is known for its outstanding geologic features, it also contains irreplaceable cultural resources and sensitive high desert ecosystems.
Water is rarely available in the backcountry; plan to carry all you need. Primary safety considerations include steep terrain, loose rock, lightning, flash floods, and dehydration. You must know and comply with all regulations.
Campsites
The park allows overnight backcountry camping only in the four designated backpacking campsites. Designated sites result in minimal impact to park resources, make site selection easier, and allow you to enjoy higher quality backcountry experiences.
Backpacking Area
Number of Campsites / Permits
How to Reach Area
Courthouse Wash
3 designated campsites
Upper Courthouse Wash: 2
Lower Courthouse Wash: 1
navigation skills required, wash bottom with dense brush and water crossings
Devils Garden
1 designated campsite
off of Devils Garden Primitive Trail
Permits
A permit is required to camp at any of the four designated backpacking campsites in Arches.

Backpacking permits are only available in person at the Backcountry Permit Office two miles south of Moab. Visitors can reserve a permit up to seven days before the trip start date. Each permit is limited to seven people, three nights per campsite, for a total of seven nights. Permits cost $7 per person.
Backcountry Permit Office
Open Weekdays (Monday-Friday)
8 am-12 pm and 1-4 pm MT except federal holidays
NPS Backcountry Permit Office
2282 SW Resource Blvd.
Moab, UT, 84532
Note: The Backcountry Permit Office may close when rangers are needed to respond to emergency search and rescue efforts in the park.
Backcountry Use Requirements
All backcountry use and vehicle access is at your own risk. Plan ahead and prepare for backcountry conditions. Some routes are not trails and are unmarked.
You must have a landfill safe commercial toilet bag system, such as Wag Bag or Restop II. All solid human waste must be packed out of the backcountry. Do not dispose of these bags in toilets.
Courthouse Wash is an active flowing drainage with unpredictable flow. Take caution when travelling in a wash during flood conditions.
You are responsible for knowing and abiding by all park rules and regulations including those outlined on your backcountry permit:

Wood campfires are not allowed.
You must store food securely to prevent animals from gaining access to it. You must pack out all trash.
Swimming, bathing, or immersing human bodies is only allowed in water sources with a continuous supply of water.
You must keep all camping activities within campsite boundaries at designated campsites and within the boundaries of at-large zones. You must vacate campsites by 10 am.
All natural plants, objects, and cultural artifacts are protected and must be left where they are found. Touching rock art and drawing graffiti is not allowed.
Pets, discharging firearms, hunting, and feeding wildlife are prohibited.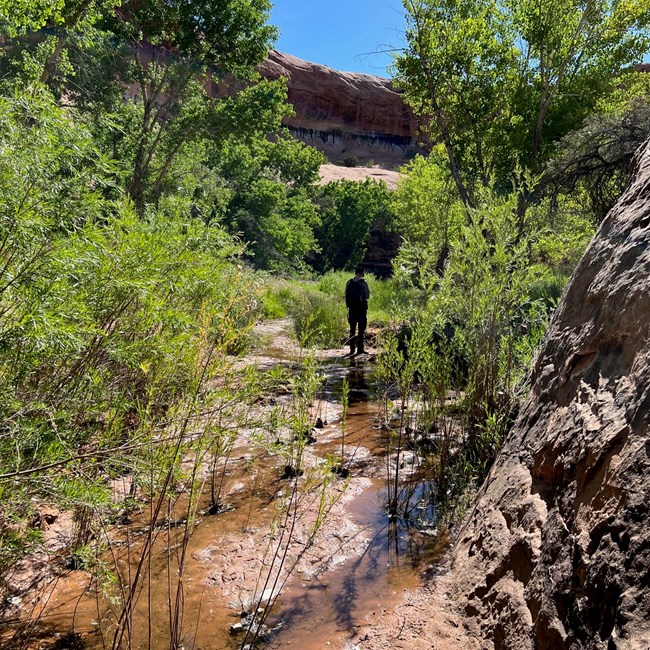 Safety
We cannot guarantee your safety. Safety remains your responsibility.
Check the weather. Get forecast information before beginning your trip, and observe changing weather conditions. Desert temperatures can soar above 100°F (37°C) in the summer, making strenuous exercise difficult. We recommend drinking at least one gallon (4 L) of water per day during the summer. Late summer monsoons bring violent storm cells which bring lightning, hail, rain, slippery rock surfaces, hypothermia, and often cause flash floods. Flash floods can also occur during blue skies when heavy rains hit the Book Cliffs. Winter temperatures often drop below 32°F (0°C), and significant ice can persist on north-facing slopes. Temperatures may range 50 degrees in a 24-hour period.
Lightning is a serious concern during a thunderstorm. Rock overhangs and shallow caves are not safe places to hide. Consider returning to your vehicle as soon as a storm approaches. If your hair begins to stand on end, remove large metal objects (such as internal frame backpacks) and squat down low, covering your ears with your hands.
It is often easier to climb up slickrock than to get back down. Sandstone crumbles easily and is slippery when wet or icy. Numerous accidents and rescues as well as several deaths have occurred due to careless climbing. Consider your routes carefully and use common sense.
Do not feed wildlife; your food does not meet their nutritional needs and might encourage animals to linger near roads where they might be injured or killed. Hand-fed animals can bite and may carry diseases such as rabies. Help keep wild animals wild—don't feed them.
Scorpions, rattlesnakes, black widow spiders, cone-nosed kissing bugs and other desert creatures make their homes here. Watch out for them and give them the right-of way. Place your hands and feet carefully, particularly in dark or damp places. Check clothing, tents, and shoes for unwanted visitors. Leave everything you find undisturbed.
Do your homework and know your route(s). Ask rangers at the backcountry permit office for information on campsite and zone access, or contact us by email.
Be prepared to self-rescue. Know what to do in emergency situations—including injury treatment, evacuations, unplanned overnights, or responding to rapid changes in weather. Ask yourself, "If my leader gets hurt, does my group have the ability to continue and get help?" Cell phone service is limited in the park. If a phone is available, call 911. Be prepared to tell the dispatcher where you are so you can direct assistance to your location. Park staff, if available, will provide assistance to the limit of their abilities; however, help may not arrive on scene for several hours.
Safety
Know before you go! Use this National Park Service guide to be prepared and avoid common mistakes. Make your fun adventure a safe one too!

You should be aware of these safety concerns to make sure you have an enjoyable visit.
Leave No Trace Practices
Only by following a low-impact camping ethic can you protect the park's outstanding natural features and biological diversity for future generations. To accomplish this goal, renew your commitment to leaving no trace and adopt this code of ethics:
Tread lightly. Practice "Leave No Trace" ethics. Plan ahead and properly prepare. Pack out what you pack in. Don't mark on rocks; scratches and carvings are considered graffiti which is against the law. Use a bag system for solid human waste; supplies are available for a minimal charge at the visitor center. Follow the regulations on your permit.
Your steps matter! Help protect the park's sensitive desert soils. Travel in sandy washes (where water flows when it rains) on rock, or on delineated trails. Don't create new or multiple paths (known as "social trails"), even if looks like the shortest distance on a GPS. Short-cutting damages vegetation, increases soil erosion, destroys animal burrows, and promotes the spread of exotic plants.
Be considerate of other visitors. Some of Arches' backpacking is in busy visitor areas or intersect with large visitor groups. Be respectful of other visitors.


Last updated: November 1, 2023