Fiery Furnace Permits
Currently, the Fiery Furnace area is closed to all access. Permits are not being issued at this time.
Go on your own
The Fiery Furnace is a natural labyrinth of narrow passages between towering sandstone walls. To enter the Fiery Furnace, you must accompany a ranger-guided hike or obtain a hiking permit at the visitor center. Hiking in the Fiery Furnace is a different experience from other trails in the park. There are few trail markers, you may encounter dead ends, and it can be easy to get lost.
Fiery Furnace Permits
If you want to enter the Fiery Furnace without the ranger-guided hike, you must obtain a hiking permit at Arches Visitor Center during regular business hours. There are small markers for one counter-clockwise route in the Fiery Furnace, but there are many other possible paths, and getting lost is a real possibility. GPS units do not work well due to the towering sandstone walls. Navigating its complex passages requires physical agility and careful observation. To protect the wildlife and plants that inhabit sand dunes and drainages between the rock walls, you will need to choose your steps wisely. We recommend first-time visitors to the Fiery Furnace join a ranger-guided tour or go with someone who has been before.
Permit Requirements
You may purchase permits only in person at Arches Visitor Center. You may not reserve or hold permits online or over the phone.
We issue permits for a specific date. You may visit the Fiery Furnace between sunrise and sunset only on the date specified on your permit.
You may purchase a permit up to seven days in advance.
When purchasing a permit, everyone in your group must be present to watch a short orientation video.
We do not issue permits within 30 minutes of visitor center closing.
Overnight trips in the Fiery Furnace are prohibited.
Maximum group size: 10 people
Children under age 5 are not allowed.
Pets are prohibited
Permits and ranger-guided hikes are for private use only. Commercial groups are not permitted in the Fiery Furnace. You can find trails approved for commercial use in the guided interpretive day hike conditions document: Read more about commercial use.
Permits frequently sell out during the busy season. The best way to know how many are available is to check in person at Arches Visitor Center.
| | |
| --- | --- |
| | Fee |
| Adults (age 13 and older) | $6 |
| Children (age 5 to 12) | $3 |
| Senior Pass / Access Pass holders | $3 |
For $15, you can purchase a Fiery Furnace annual pass, which waives the permit fee and video-watching requirement for pass holders for one calendar year.
Every visit to the Fiery Furnace is an opportunity to protect it. This video will show you how you can help. If you are getting a permit to visit the Fiery Furnace, you must watch this video at Arches Visitor Center.

Duration:

7 minutes, 47 seconds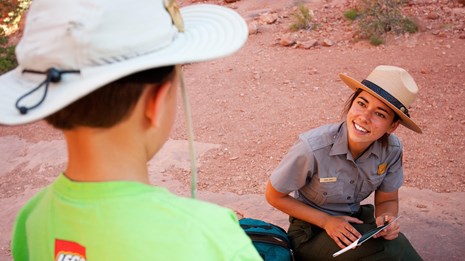 Ranger Programs
Take in a ranger program to discover the wonders of Arches National Park.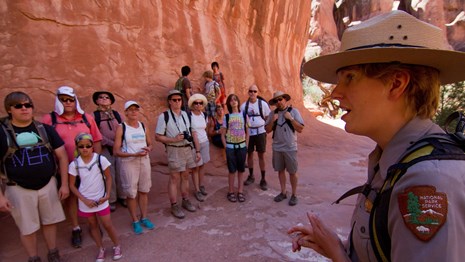 Fiery Furnace: Go with a Ranger
We offer ranger-guided hikes into the Fiery Furnace spring through fall. Reservations are required.
Last updated: February 11, 2021