Devils Garden

The Adventure of a Lifetime
Adventure waits for sightseers, hikers, and thrill-seekers in Devils Garden – one of the premier locations in the park. Here you'll find arches, spires, and a large concentration of narrow rock walls called "fins." Fins form when rainwater erodes parallel fractures caused by the uplift of salt deposits below the surface. Fins eventually erode and give way to the formation of arches like Landscape Arch, the crown jewel of Devils Garden.
Landscape Arch is the longest arch in North America with a light opening of 306 feet (93.3 meters). This awe-inspiring expanse is only 6 feet (1.8 meters) in diameter at its narrowest. Large segments of the arch came crashing down in the 1990s – proof that the park's landscape can change dramatically in a instant. Although other arches have fallen, Landscape Arch still hangs on by a very thin thread.
Devils Garden offers breathtaking views, camping, backpacking, stargazing, and hiking of all skill levels. There is truly something for everyone in this popular area of the park.
Devils Garden is located at the very end of the park road, 18 miles north of Arches Visitor Center. The drive time from the visitor center is approximately 45 minutes. Parking lots can be very busy during peak season and during holiday weekends. Devils Garden Campground is available by reservation from March through October and first-come, first-served in the winter months. A day-use picnic area is located just south, within walking distance of the campground entrance.
Hiking Options
Easy Trails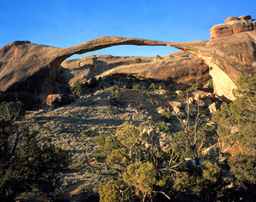 Landscape Arch – This easy segment of the Devils Garden trail (1.9 mi/3.1 km roundtrip) is relatively flat with hard packed surfaces to walk on. There is no significant elevation gain, only moderate hills, up and down. The trail meanders through tall fins to a spectacular view of Landscape Arch.
Optional: Two easy spur trails to Pine Tree Arch and Tunnel Arch are located between the trailhead and Landscape Arch.
The hike becomes difficult beyond Landscape Arch toward Double O Arch. Turn around at this point to avoid the challenging remainder of the hike.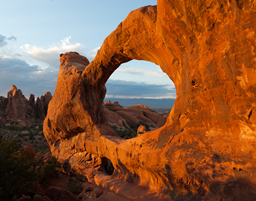 Double O Arch – This trail to Double O Arch is difficult as it steeply climbs up and on the sandstone fins. Footing is rocky; there are narrow ledges with steep drop-offs. Hikers must use their hands and feet to scramble and climb. Though strenuous, the out-and-back hike to Double O Arch (4.1 mi/6.6 km roundtrip) is popular and offers incredible views.
Optional: Two short spur trails to Navajo Arch and Partition Arch are located one third of the way between Landscape Arch and Double O Arch.
Optional: The short spur trail to Dark Angel (0.8 mi/1.3 km roundtrip) starts on the north side of Double O Arch. This out-and-back spur leads to the tall, dark spire seen off in the distance from Double O.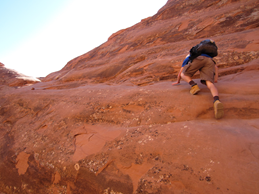 Primitive Trail – This alternative route (2.1 mi/3.5 km one-way) to or from Double O Arch is the most difficult segment of the Devils Garden trail system. The obstacles in this segment include difficult route finding, steep slopes, narrow drop-offs, and rock scrambling. Hiking the Primitive Trail requires crossing a pool that may contain water.
Optional: A short spur trail to Private Arch (0.52 mi/0.84 km roundtrip) is located 0.42 miles (0.66 km) from the Double O/Primitive Trail junction.
The Primitive Trail is not recommended when rock is wet or icy, or for those uncomfortable with heights.
Hiking Distances
(Roundtrip from the trailhead)
| Destination | Distance |
| --- | --- |
| Landscape Arch and back | 1.9 miles (3.1 km) |
| Side trails to Pine Tree and Tunnel arches | add 0.5 miles (0.8 km) |
| Double O Arch and back | 4.1 miles (6.6 km) |
| Side trails to Navajo and Partition arches | add 0.8 miles (1.3 km) |
| Dark Angel and back via main trail | 4.9 miles (7.9 km) |
| Dark Angel and return via Primitive Trail | 6.6 miles (10.6 km) |
| Total distances, all trails including spurs | 7.9 miles (12.6 km) |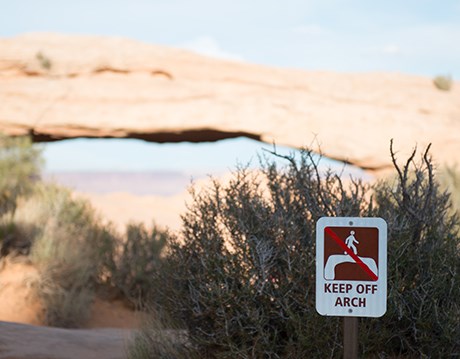 Protect your park. Protect yourself.
To protect the park, keep yourself safe, and allow everyone to enjoy their views of these geological formations, do not walk or climb on any arches.
Practice safe hiking. Avoid hiking in midday summer heat. Carry and drink water and eat salty snacks during your hike. Read more about staying safe.
Biological soil crust is a living groundcover that forms the foundation of high desert plant life in Arches and the surrounding area. This knobby, black crust is dominated by cyanobacteria, but also includes lichens, mosses, green algae, microfungi and bacteria. Soil crust binds sand and rock particles together which allows plants to establish their roots. They also provide desert plants moisture and nutrients in otherwise inhospitable environment. You can help preserve these fragile and unique life-forms by staying on established trails.
Last updated: July 23, 2021