2023 Annular Eclipse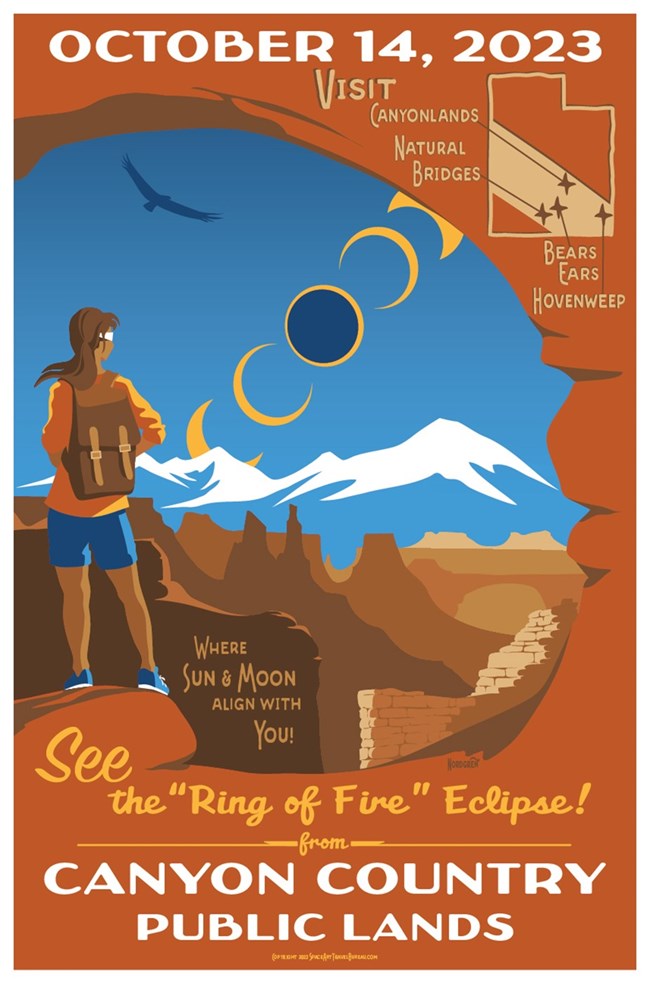 On October 14, 2023, Arches National Park and neighboring Canyonlands National Park will experience one of the great astronomical events of local history: an Annular Solar Eclipse. This eclipse will obscure a portion of the sun for nearly three hours in the morning of that special Saturday.

Visitors wishing to experience the eclipse at Arches will need to obtain a Timed Entry Ticket if arriving after 7 am or before 4 pm. For more information about Arches Timed Entry and to get your Arches Ticket, visit our website.
What is an Annular Eclipse?
An Annular Eclipse varies from a Total Eclipse in one major way. While a Total Solar Eclipse obscures the entirety of the sun at its peak totality, an Annular Solar Eclipse means that a small amount of annularity, popularly known as a "Ring of Fire," remains.

These differences occur due to the moon's elliptical orbit around the Earth, so the distance is not constant and allows the moon to appear smaller or larger in the sky. Annular eclipses take place during a further part of the moon's orbit.
When and Where can I View the Eclipse?
Weather permitting, the eclipse will be visible in Arches starting at 9:10 am MDT and end at 12 pm, with the maximum being at 10:31 am. While Arches sits outside the path of total annularity, visitors in the park will still get to experience a 90% eclipse of the sun!

We recommend the following locations in Arches for annular eclipse viewing:
Panorama Point
La Sal Mountain Overlook
The Windows Area
For those looking to experience total annularity, plan to visit neighboring Canyonlands National Park or other locations in San Juan County, UT.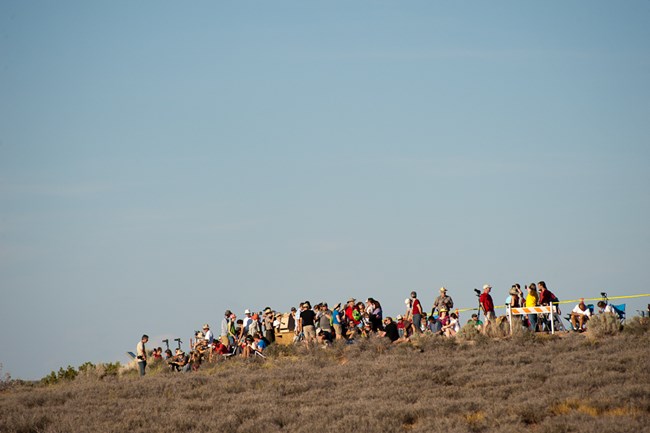 What to Know:
Expect heavy congestion, traffic gridlock and long delays. Consider staying in place after the eclipse until traffic thins. RVs are not recommended.

Be prepared with water, food, and vehicle fuel for the day. Have eclipse viewing glasses and be sure to allow extra time to get to your destination.

Vehicles blocking traffic flow or access for emergency vehicles will be towed and ticketed.

No Roadside Parking.

Overnight parking or camping in roadside pullouts, turnouts, or parking lots is not allowed. Camping is only allowed in designated campgrounds.

Plan to find your spot at least an hour before the eclipse begins.

Portable toilets will be located throughout the park.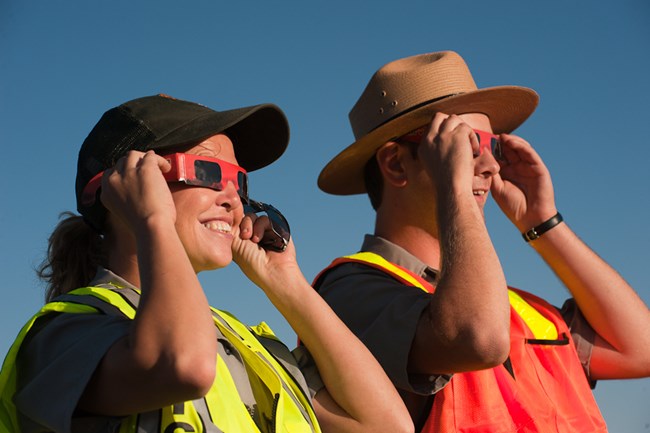 Safe Eclipse Viewing
Annular eclipses do not differ from total eclipses in that at no point is it safe to view the sun without properly rated eye protection! Sunglasses are not sufficient protection for viewing the sun.

Make sure you've found a safe place from which to view the eclipse. Don't be a distracted driver, stop your vehicle in a safe place if you plan on viewing the eclipse. Safe and lawful parking will be strictly enforced.

Due to the expected high visitation and limited supply, it's recommended that you bring your own protective eyewear, although there may be some available at the park.

Also, you might be in the sun for a long time if you want to catch the whole eclipse, so make sure you protect your skin with sun-protective clothing, a hat, and sunscreen. And don't forget to bring some water and snacks to stay hydrated and energized!
Camping & Lodging
The Devils Garden Campground in Arches books far out in advance. You may check back for last minute cancellations, but consider exploring options for camping or lodging outside the park:
Campgrounds at both the Island in the Sky and Needles district of Canyonlands are expected to fill early. More information available here.

For information on camping on Bureau of Land Management please contact the BLM Moab Field Office.
For information about lodging in the Moab and Monticello area, visit Discover Moab, or Monticello Chamber of Commerce.
Last updated: August 2, 2023