Newton B. Drury Scenic Parkway is CLOSED due to hazardous road conditions.

Inclement weather often creates unsafe road conditions. Currently, there is a "glaze" of transparent ice on sections of the road. The Parkway will reopen as soon as State law enforcement officers deem it safe to travel upon.
Most campgrounds remain OPEN. Sites are available on first-come, first-served basis.

Jed Smith, Elk Prairie, Gold Bluffs Beach campgrounds are OPEN. All sites are available on first-come, first-served basis. Mill Creek Campground is CLOSED and will reopen May 16, 2014. More »
Gravel Access Road CLOSED.

Gravel access road to the Tall Trees trailhead is closed until further notice. Tall Trees Trail and Grove are still open. The easiest way to access this area is by hiking the Redwood Creek Trail, which is 8 miles one way.
Bicycling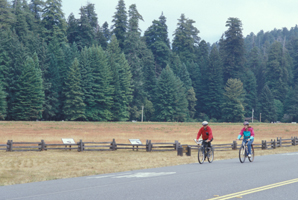 NPS Collection
Bicycling in Redwood National and State Parks can be a challenging and an awe-inspiring experience as you pass through the redwood forest or along the coastline. Although most national parks prohibit biking in the backcountry, we offer a few—often on rehabilitated logging roads where tires cause less erosion damage and where routes are wide enough to safely accommodate multiple uses. Help limit impacts on other trails by respecting areas where bicycles are not permitted. Pick up a park brochure with map at any visitor center. Mileage is one way. Brochure.
Little Bald Hills Trail on Howland Hill Road: 4.8 miles on parks' side. Continue on the USFS Paradise Trail for 5 more miles. Steep.
Coastal Trail, Last Chance section, located at the end of Enderts Beach Road or at milepost 15.6 on Highway 101: 6 miles. Some steep areas.
Ossagon Trail Loop starts at milepost 132.9 on Newton B. Drury Scenic Parkway: 19-mile loop when combined with Coastal Trail, Gold Beach section, and Davison Road. Steep, easy, easy, steep, respectively.
Coastal Trail, Gold Bluffs Beach section, accessed via Ossagon Trail or Davison Road: 3 miles. Easy.
Davison Trail, start at Elk Meadow Day Use Area or at the south end of Elk Prairie campground: 3 miles. Easy. Combine with Streelow Creek Trail and Davison Road for a 7½ loop. Easy to moderate. Carry on to Lost Man Creek trailhead for another 2½ miles. Moderate.
Lost Man Creek Trail located 3 miles north of Orick or 6½ miles up Bald Hills Road off Hwy 101: 11 miles. Combine with Bald Hills Road and Highway 101 for a 20½-mile loop. Add on four miles by going to Elk Meadow Day Use Area. Moderate with some steep grades.
Did You Know?

Redwood National and State Parks protects 37 miles of rugged California coastline. Off-shore seastacks provide nesting for about 40 percent of California's seabirds. Drive to the Klamath River Overlook on Requa Road to view where this wild and scenic river meets the sea.