Campgrounds open and space available, but reservations no longer accepted.

As of 9.3.2012, winter reservations no longer accepted (via reserveamerica.com; 1-800-444-7275) for Jed Smith, Mill Creek, and Elk Prairie campgrounds. This does NOT mean that sites are unavail. All sites avail. first-come, first-served basis until May. More »
Miners Ridge and Ossagon backcountry camps closed indefinitely.

Backpacker sites avail. during summer only at Gold Bluffs Beach Campground (8 sites avail.; free permit req'd; $5 fee paid on site) and year-round at Elk Prairie Campground (hiker/biker sites avail., first-come, first-served; $5 fee paid on site). More »
Backcountry
Seeing a park by automobile isn't for everybody. For those who crave quiet hours on the trail, a starlit sky at night, and sleeping to the sound of crashing waves, more than 200 miles of trails provide access to Redwood National & State Parks' extraordinary backcountry. Whether on foot, bicycle, or horseback, you'll traverse a wide variety of natural habitats, including old-growth redwood forests, mixed evergreen forests, coastal scrub, prairies, streams, marshes, and unspoiled beaches.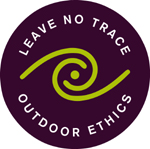 www.lnt.org
Regulations and Guidelines
While specific regulations apply to those on bicycles and horseback, all backcountry users should adhere to Redwood National & State Park regulations and are further encouraged to follow Leave No Trace guidelines to minimize their impact. Leave No Trace is rooted in scientific studies and common sense. The message is framed under seven Leave No Trace Principles presented below with accompanying regulations and guidelines specific to Redwood National & State Parks:
1. Plan Ahead and Prepare
Camping is permitted only in designated backcountry campsites (except at dispersed sites on Redwood Creek gravel bars-backpackers only).
Pets (with the exception of service animals), firearms, motorized vehicles, and hunting are prohibited on trails.
Free permits are required for all overnight stays in designated backcountry campsites and may be obtained from any visitor center. Be sure to notify others of your travel itinerary.
Overnight stays are limited to a maximum of 5 consecutive days; 15 in a calendar year.
Proper food storage is required: Store food, garbage, cooking gear, and all odorous items in food storage lockers (where available), in food storage canisters available at the Thomas H. Kuchel Visitor Center, or suspended from a tree at least 10 feet above the ground and 4 feet from the trunk.
Inquire at a visitor center about trail conditions, water levels, fire danger levels, and tick/poison oak information.
2. Travel and Camp on Durable Surfaces
3. Dispose of Waste Properly
Store all garbage in a manner that will prevent access by wildlife (see #1, above).
Carry plastic bags and pack out all trash; do not dispose of garbage in pit toilets.
Bury human waste in catholes 6-8 inches deep, at least 200 feet (70 adult steps) from water, camp, and trails. Pack out all toilet paper and hygiene products.
Wash yourself, cookware, and/or dishes 200 feet away from water; strain food particles and pack them out or scatter well away from campsite and 200 feet away from waterways.
4. Leave What You Find
Collecting or disturbing natural features, plants, rocks, antlers, and cultural or archeological resources is prohibited. As part of our national heritage, these resources should be left as they are found for all to enjoy.
Mushroom gathering or possession is illegal.
5. Minimize Campfire Impacts
Inquire about fire danger levels at a visitor center before heading-out.
Strive to use portable stoves only; campfires are restricted to designated fire pits and on Redwood Creek gravel bars.
Do not leave fires smoldering or unattended.
Except at Ossagon Creek Backcountry Camp (driftwood only), collect no more than 50 pounds of dead and downed wood per day per campsite.
6. Respect Wildlife
7. Be Considerate of Other Visitors


Did You Know?

Elk once ranged over most of the United States from Maine to New Mexico. By 1860, the eastern elk had been eliminated by hunters. By 1912, about 124 Roosevelt elk remained in northern California. Prairie Creek Redwood State Park became an elk refuge in 1923 where elk are common today.