Redwood Creek Dispersed Camping Permits for Whitewater River Users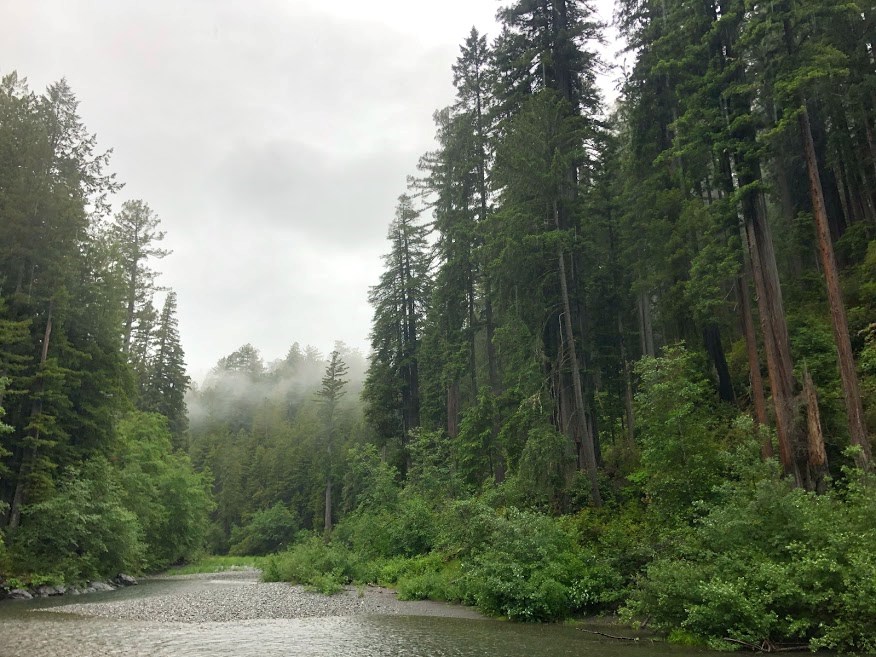 Whitewater River Use along Redwood Creek
Please be respectful of private landowners at launch and exit points outside of the National Park boundary.

Please consider uploading a float plan along with your permit application and contacting the park upon your safe exit from the river. Note that Search and Rescue operations would not be initiated based on float plans.

Conditions in Redwood Creek change rapidly and are likely to include submerged logs, large boulders, and other water hazards.

Be prepared for your safety and the safety of your group.
Dispersed Camping Rules & Regulations
Designated Sites

Dispersed tent camping is not allowed within 1/4 mile of Tall Trees Grove.
Closest areas to camp are 1.5 miles north of the Redwood Creek Trailhead.
Maximum group size is four (4) people; larger groups require multiple permits and must camp at least 1/4-mi. apart.
Maximum of 50 people per night are allowed to disperse camp on the gravel bar.
Food Security & Bears - All food items, cooking utensils, bathroom items, or anything with a smell must always be kept secure by either hanging them from a tree or storing in a bear can (unless actively using or cooking). Never feed wildlife!
Water - No treated water source is available. Drink filtered/purified water from Redwood Creek tributaries, not from the main channel itself.
Fires - Remember to completely put out your fire before leaving it and dismantle your fire ring. Up to 50 lbs. of dead and downed wood per day per campsite may be collected from gravel bars.
Disposal of Garbage and Human Waste - Pack out or dig a hole at least 6 inches deep for solid human waste. Do not leave human waste exposed or left on leaf litter. Be sure you are at least 200 feet from any water source, campsite, or trail. Pack out all trash/garbage.
Practicing Leave No Trace Principles is required on the gravel bar. Please pack out what you packed in, including toilet paper!
PLEASE remember to lock your vehicle, take valuables with you, and leave nothing in sight. This trailhead has a history of being a bad break-in spot.
Apply for a Permit
Dispersed camping on Redwood Creek gravel bar during high flow is only available for whitewater rafting groups. Permits must be requested by 9:00 am PST at least two days prior to when you would like to backcountry camp on your rafting trip. For example, if you want to raft/camp on January 27th, you need to apply by 9:00 am PST on January 25th to receive your permit. Permit requests are typically downloaded once daily in the morning, so plan accordingly.


Email us your application.

Include the following information in your email. Missing information may result in a delay to getting your permit.
Permit-holder Personal Information

Name
Full Address
Telephone Numbeer
Email

Emergency Contact Information

Name
Relation
Telephone Number

Permit Details

Number of people in your party
Date(s) camping in the Redwood Creek Dispersed Camping Area
Considering sending a copy of your float plan.
You will recieve an email with information about if your permit was issued - or if it was not - within 24 hours. Check your junk / spam folders for an email that ends in "@nps.gov".
Please
e-mail us
if you have any questions or concerns. Please refrain from contacting the park's help line - they may not be able to assist you.
Last updated: January 29, 2021