Expect Isolated Showers and Thunderstorms Friday, with Increasing Chances Over the Weekend

Monsoonal weather patterns have moved into the Grand Canyon area decreasing fire danger. As a result, on Tuesday, July 8 at 8 a.m. fire managers lifted fire restrictions within Grand Canyon National Park. More »
Two Bats Collected in the Park Have Tested Positive for Rabies

One on the North Kaibab Trail and the other at Tusayan Ruin/Museum. Rabies can be prevented if appropriate medical care is given following an exposure. Any persons having physical contact with bats in Grand Canyon National Park, please follow this link. More »
Directions
Where is Grand Canyon?
Grand Canyon is in the northwest corner of Arizona, close to the borders of Utah and Nevada.

The Colorado River, which flows through the canyon, drains water from seven states, but the feature we know as Grand Canyon is entirely in Arizona. Most of the Grand Canyon lies within Grand Canyon National Park and is managed by the National Park Service. Jump to a larger map.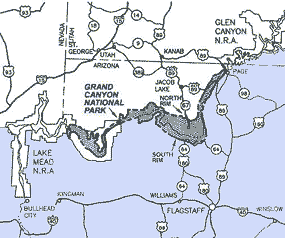 Why is the park separated into
South and North Rims?
A 277 mile long (446 km) canyon separates the park into South and North Rims. The Grand Canyon of the Colorado River is a mile-deep, (1.6 km) and creates a barrier that bisects the park. Even though the average distance across the canyon is only 10 miles/ 16 km, be aware that it is a five-hour drive of 220 miles/ 354 km between the park's South Rim Village and the North Rim Village.

Scenery, climate and vegetation are noticably different between north and south rims because of differences in elevation. It is almost like having two parks in one and it takes time, planning and effort to be able to visit both sides of the Canyon in one trip.
---
The South Rim of the Grand Canyon is open all year and is located on the "Arizona" side of the Canyon. The South Rim receives 90% of the park's visitation.

The South Rim has an airport and rail service and is a 90 minute drive from Interstate 40 and the transportation centers of Williams and Flagstaff, Arizona. A larger city with a major airport, Phoenix, Arizona, is also on this side of the canyon, and is approximately a four hour drive. More...
South Rim Visitor Center:
36°03'32"N 112°06'33"W
---
Download this season's Park Newspaper for the South Rim of Grand Canyon
Park Newspaper
Download the 2014 Autumn (English)
September 2 - November 30, 2014
Autumn South Rim Guide (letter-size)
(Prints on 8.5 x 11" paper 3.5 MB PDF File)

Autumn South Rim Guide (tabloid size)
(Prints on 11 x 17" paper 1.8 MB PDF File)

Contains maps, schedules and information.

South Rim lodging and camping along with most other visitor services within the park are open all year.

Reserve lodging and campsites as far ahead as possible, especially during busy summer and fall months.

Download Autumn South Rim Village Shuttle Bus/ Parking Map
as one large page 22.5 x 17" (1.45 MB PDF file)

---
The North Rim of the park is more remote, and has a
short season
.
Visitor Lodging and Food Service is available from May 15th through October 15
.
The North Rim receives 10% of the park's visitation.
The North Rim is located on the
"Utah"
side of the Grand Canyon and the entrance station is 30 miles south of Jacob Lake on Highway 67. (The actual rim of the Grand Canyon with visitor services is an additional 14 miles south of the entrance station.) There is no airport or rail service to the park. (that means that the North Rim village may only be reached by road).
More...
North Rim Visitor Center:
36°11'51"N 112°03'09"W
---
Download the Park Newspaper for the North Rim of Grand Canyon
Park  Newspaper
Download the
2014 Season (English)
Quick links to information about: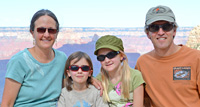 "Traveling Green"
is a great way to help Grand Canyon and other areas you visit reduce carbon emissions, divert and reduce what goes into the waste stream, and to generally help the environment. Go to the Traveling Green page for helpful tips on planning your next green adventure.
Thanks for doing what you can to help protect our environment!


Did You Know?

There are different river trip opportunities through Grand Canyon National Park, including professionally guided raft trips, available to the public and often reserved a year or two in advance; and self-guided, or "private" river trips, made available to the public through a weighted lottery. More...