Interpretive Ranger Programs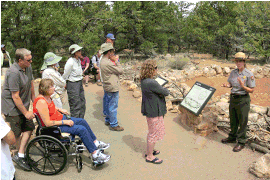 The current program schedule may be downloaded below.
All programs are free of charge.

All outdoor programs are subject to cancellation due to inclement weather or when lightning danger is present.
Spring months at Grand Canyon may bring a variety of weather conditions. It is still possible to receive snow, and you may encounter icy walkways and trails. Please dress for the weather and consider over-the-shoe traction devices for your comfort and safety.

Note: Children must be accompanied by an adult on all programs.


Your phone provides a fun way to learn more about the Park. Listen to park rangers give 2 minute audio tours at various points of interest on the South Rim, from Hermit Road to Yaki Point, and the North Rim. Learn more...
Loading the player...

A Video Visit to Tusayan Ruin and Museum

Located three miles west of Desert View, Tusayan Ruin provides a look into the lives of the ancestral Puebloan people who called Grand Canyon "home" 800 years ago.

Duration:

2 minutes, 46 seconds

Credit / Author:

Brian Gatlin

Date created:

2007-03-17