Expect a Good Chance of Showers and Thunderstorms Through the Week.

Monsoonal weather patterns have moved into the Grand Canyon area decreasing fire danger. As a result, on Tuesday, July 8 at 8 a.m. fire managers lifted fire restrictions within Grand Canyon National Park. More »
Two Bats Collected in the Park Have Tested Positive for Rabies

One on the North Kaibab Trail and the other at Tusayan Ruin/Museum. Rabies can be prevented if appropriate medical care is given following an exposure. Any persons having physical contact with bats in Grand Canyon National Park, please follow this link. More »
Interpretive Ranger Programs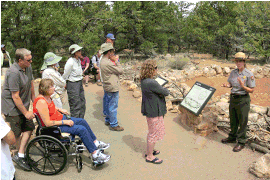 The current program schedule may be downloaded below.
All programs are free of charge.

All outdoor programs are subject to cancellation due to inclement weather or when lightning danger is present.
Spring months at Grand Canyon may bring a variety of weather conditions. It is still possible to receive snow, and you may encounter icy walkways and trails. Please dress for the weather and consider over-the-shoe traction devices for your comfort and safety.

Note: Children must be accompanied by an adult on all programs.

The South Rim Fall Season Ranger Program Schedule is Being Prepared
Check back at the end of August for the fall schedule of programs.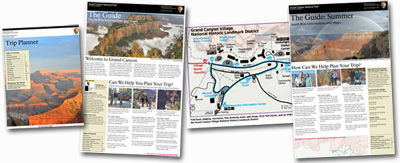 For Additional
Park Information

Download the Park Newspapers
Grand Canyon National Park South Rim Ranger-led Programs
.
Follow our South Rim Ranger-led program feed above.
It displays the schedule of ranger programs and the sunrise/ sunset times for the current week.

Learn how by visiting the Grand Canyon RSS Information page.

---

Your phone provides a fun way to learn more about the Park. Listen to park rangers give 2 minute audio tours at various points of interest on the South Rim, from Hermit Road to Yaki Point, and the North Rim. Learn more...
Located three miles west of Desert View, Tusayan Ruin provides a look into the lives of the ancestral Puebloan people who called Grand Canyon "home" 800 years ago.

Duration:

2 minutes, 46 seconds

Credit / Author:

Brian Gatlin

Date created:

2007-03-17
Did You Know?

President Theodore Roosevelt said of Grand Canyon, "Leave it as it is. The ages have been at work on it, and man can only mar it. What you can do is to keep it for your children, your children's children, and for all who come after you, as one of the great sights which every American should see."