Expect Isolated Thunderstorm Activity Through Thursday. A Greater Chance on the Weekend

Monsoonal weather patterns have moved into the Grand Canyon area decreasing fire danger. As a result, on Tuesday, July 8 at 8 a.m. fire managers lifted fire restrictions within Grand Canyon National Park. More »
Two Bats Collected in the Park Have Tested Positive for Rabies

One on the North Kaibab Trail and the other at Tusayan Ruin/Museum. Any persons having physical contact with bats in Grand Canyon National Park, please call 928-638-7779. Rabies can be prevented if appropriate medical care is given following an exposure. More »
Maps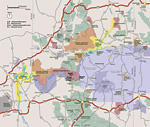 Grand Canyon Area Map
(1.5 MB PDF File) revised 2012.
Shows Grand Canyon National Park in relation to Las Vegas, Nevada, Flagstaff, Arizona, National Forests, Indian Lands, and major area highways.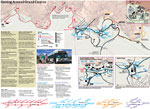 Summer 2014
(May 21 - Sept. 5, 2014)
South Rim Village Transit Map
(2.8 MB PDF File) 4 letter-sized pages
as
one large page
22.5" x 17"
(1.6 MB PDF file)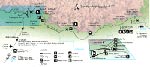 The South Rim - including the
East Rim Drive and Desert View
(237kb PDF File)

Grand Canyon Panorama Map
South and North Rim (1.6 MB PDF File)
Generalized overview. Distant features are at a smaller scale than foreground areas.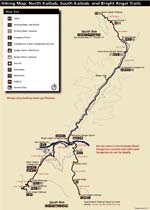 Grand Canyon National Park
Corridor Trails Hiking Map
(246kb PDF File)
This map shows the portion of the park with the most popular overnight hiking destinations.
Maps and guidebooks
for backcountry trip planning and route-finding are available from the
Grand Canyon Association.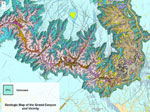 Interactive Grand Canyon Geologic Map
By Arizona Geological Society and USGS




---
North Rim Maps
Lodging & food service available May 15th through October 15.


North Rim Overview Map
(266kb PDF)

2013 Season N. Rim Guide Newspaper
(Prints on letter-size paper: 3MB PDF)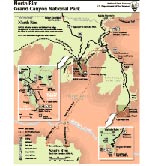 North Rim Detail Map
(289kb PDF File)

Shows an overview of the area with detailed inserts of the important locations.
2014  class  schedule
Grand Canyon Field Institute
2014 Schedule of Classes
(315 kb PDF File)
Topics: geology, ecology, history, archaeology, photography, & more.
The Institute offers guided educational tours at Grand Canyon National Park led by expert instructors while hiking, backpacking, camping, & whitewater rafting.
Click here
to visit their website.

Learning & Lodging
The Grand Canyon Field Institute (GCA) and Xanterra South Rim, LLC offer fun and informative
Learning & Lodging Programs
that combine lodging, meals, and two days in the field with an instructor.
---


Did You Know?

The view from Toroweap Overlook (North Rim), 3,000 vertical feet above the Colorado River, is breathtaking; the sheer drop, dramatic! Renowned Lava Falls Rapid, just downriver, can be seen and heard easily from the overlook. This remote area is located on the northwest rim of the Grand Canyon. More...