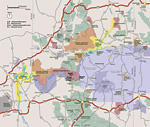 Download for your device or for printing on paper
Grand Canyon Area Map
(2.5 MB PDF File) revised 2/2015
Shows Grand Canyon National Park in relation to Las Vegas, NV, Flagstaff, AZ, National Forests, Indian Lands, and major area highways. Note: HWY 89 between Bitter Springs, AZ and Page, AZ reopened on March 27, 2015, after being closed by a landslide for 2 years.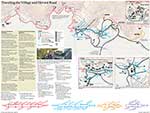 Summer 2015
(May 21 through Sept. 7, 2015)
South Rim Village Transit Map
(1.9 MB PDF File)
letter-size paper (4 pages)
as
one large page
22.5" x 17"
(1.5 MB PDF file)

Grand Canyon Panorama Map
South and North Rim (1.6 MB PDF File)
Generalized overview. Distant features are at a smaller scale than foreground areas.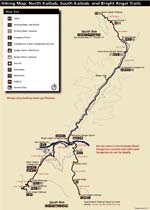 Grand Canyon National Park
Corridor Trails Hiking Map
(246kb PDF File)
This map shows the portion of the park with the most popular overnight hiking destinations.
Maps and guidebooks
for backcountry trip planning and route-finding are available from the
Grand Canyon Association.
---
North Rim Maps
Lodging & food service available May 15th through October 15.


North Rim Overview Map
(266kb PDF)
2015 Season N. Rim Guide Newspaper
(Prints on letter-size paper: 4MB PDF)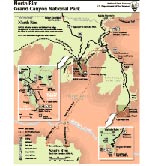 North Rim Detail Map
(289kb PDF File)

Shows an overview of the area with detailed inserts of the important locations.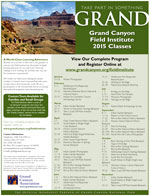 2015  class  schedule
Grand Canyon Field Institute
2015 Schedule of Classes
(1.0 MB PDF File)
Topics: geology, ecology, history, archaeology, photography, & more.
The Institute offers guided educational tours at Grand Canyon National Park led by expert instructors while hiking, backpacking, camping, & whitewater rafting.
Click here
to visit their website.

Learning & Lodging
The Grand Canyon Field Institute (GCA) and Xanterra South Rim, LLC offer fun and informative
Learning & Lodging Programs
that combine lodging, meals, and two days in the field with an instructor.
---