Expect Afternoon & Evening Thunderstorms. Flash Flood Watch Through 9pm Monday

Monsoonal weather patterns have moved into the Grand Canyon area decreasing fire danger. As a result, on Tuesday, July 8 at 8 a.m. fire managers lifted fire restrictions within Grand Canyon National Park. More »
Two Bats Collected in the Park Have Tested Positive for Rabies

One on the North Kaibab Trail and the other at Tusayan Ruin/Museum. Any persons having physical contact with bats in Grand Canyon National Park, please call 928-638-7779. Rabies can be prevented if appropriate medical care is given following an exposure. More »
River Trips / Permits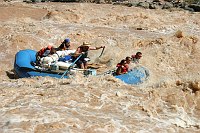 There are different river trip opportunities through Grand Canyon National Park.
1 Day Commercial River Trips - Half-day and full-day smooth water trips on the Colorado River.

2 to 5 Day Noncommercial River Trips - Noncommercial trips that launch from Diamond Creek and takeout at Lake Mead typically are 2 to 5 days in length. Permits for these whitewater trips are available to the public starting one year in advance and are distributed on a first-come first-served basis.
Lees Ferry to Diamond Creek River Trips (commercial and noncommercial) - Motorized and non-motorized whitewater rafting trips which launch from Lees Ferry and take-out at Diamond Creek vary greatly in length. Motor trips usually take a minimum of 7 days to reach Diamond Creek, but half trip options are available for those who wish to hike in or out at Phantom Ranch. Individuals can choose between commercial and noncommercial trips.
Did You Know?

There are approximately 1,737 known species of vascular plants, 167 species of fungi, 64 species of moss and 195 species of lichen found in Grand Canyon National Park. This variety is largely due to the 6,000 foot elevation change from the river up to the highest point on the North Rim. More...