A Warm Day Friday with Light Winds

Expect breezy southwest winds this weekend as a cold front moves north of the Grand Canyon region. Maximum temperatures cool to seasonal normals from Sunday through Wednesday. More »
Bat Tests Positive for Rabies in Grand Canyon National Park

Public Health Alert, October 2014: A bat recently removed from an area along the Colorado River within Grand Canyon National Park has tested positive for rabies. Any persons having physical contact with bats in the park, please follow this link. More »
River Trips / Permits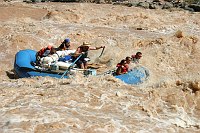 There are different river trip opportunities through Grand Canyon National Park.
1 Day Commercial River Trips - Half-day and full-day smooth water trips on the Colorado River.

2 to 5 Day Noncommercial River Trips - Noncommercial trips that launch from Diamond Creek and takeout at Lake Mead typically are 2 to 5 days in length. Permits for these whitewater trips are available to the public starting one year in advance and are distributed on a first-come first-served basis.
Lees Ferry to Diamond Creek River Trips (commercial and noncommercial) - Motorized and non-motorized whitewater rafting trips which launch from Lees Ferry and take-out at Diamond Creek vary greatly in length. Motor trips usually take a minimum of 7 days to reach Diamond Creek, but half trip options are available for those who wish to hike in or out at Phantom Ranch. Individuals can choose between commercial and noncommercial trips.
Did You Know?

Kolb Studio was once the home and business of the Kolb brothers, pioneering photographers at Grand Canyon. Today you can visit free art exhibits in the auditorium and shop in the bookstore. The studio is located in the Village Historic District, at the Bright Angel Trailhead. Open daily. More...