Visitor Centers, Information and Musuems
The South Rim and Desert View
Open year-round

Grand Canyon Visitor Center
Winter Hours 9:00 am to 5:00 pm

If you are entering through the South Entrance Station, make the Visitor Center your first stop. You can park your car in one of four parking areas, then to see Grand Canyon, take a short walk (or shuttle bus ride) to nearby Mather Point.

From the Visitor Center, it is also possible to Park-and-Ride, to leave your car and board free shuttle buses and ride around the village and out to scenic overlooks.

At the Visitor Center you can:
Find information. Outside exhibits discuss park activities and attractions; hiking, the free shuttle bus system and Park Ranger Programs.
Watch Grand Canyon: A Journey of Wonder, a 20 minute movie that takes viewers on a rim to river and dawn to dusk journey through the park. It tells the story of Native American connections, pioneer history, the Colorado River, Grand Canyon geology, and describes efforts to preserve and protect the canyon as a sanctuary for plants, animals, and humans. Movie starts on the hour and half-hour
Explore exhibits inside, including: interactive trip planners, a large video enabled relief map, and displays of interesting historic artifacts.

Stop

at the Visitor Center Store for books and a variety of Grand Canyon gifts

Learn more.

Rent a bicycle or take a guided bicycle tour, available March through October. Coffee bar and "grab and go" food options available.

Learn More...

Park-and-Ride Leave your vehicle in one of four parking areas and ride free park shuttle buses around the village and out to scenic overlooks..

Learn More...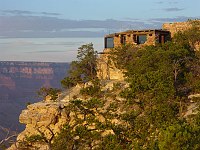 Yavapai Geology Museum (1928)
Winter Hours: 8:00 am to 6:00 pm


View expansive vistas through large windows.
Discover exhibits about the age of Grand Canyon and how it formed.
Touch large relief map of Grand Canyon.
Visit the museum shop for books and gifts.
Ride the Kaibab Rim Route (orange route) to Grand Canyon Visitor Center and scenic overlooks.

Walk east along the Rim Trail to Grand Canyon Village, or west to Mather Point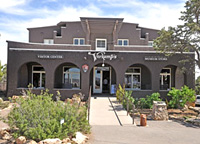 Verkamp's Visitor Center (1906)
Winter Hours: 8:00 am to 6:00 pm
Learn

the history of the Grand Canyon Community. Exhibits focus on what it is like to live and work on the brink of one of the Seven Natural Wonders of the World.

More...

Shop

for canyon-related books and gift items

Ask

Park Rangers and store staff your most pressing questions

Walk

east to Hopi House/ El Tovar Hotel or west along the Canyon Rim Trail to Yavapai Geology Museum.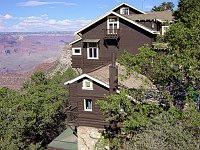 Kolb Studio (1905)
Winter Hours: 8:00 am to 6:00 pm
View Grand Canyon history and art exhibits.

More...

Learn

about

Emery and Ellsworth Kolb

,

pioneer photographers and filmmakers at Grand Canyon.

More...

Walk east through the park's Historic District or west, climbing the Rim Trail to Trailview Overlook.
Hike down into Grand Canyon on the Bright Angel Trail.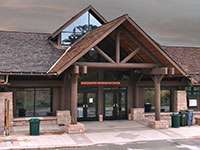 Backcountry Information Center
8:00 am to noon, and, 1:00 pm to 5:00 pm(MST)
---
Desert View
Located 25 miles (40 km) from Grand Canyon Village
Open year-round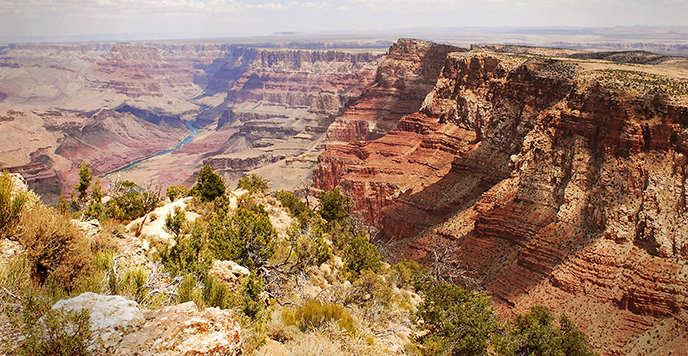 NPS: Kristen M. Caldon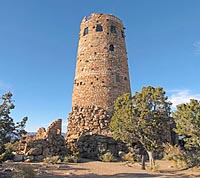 Desert View Watchtower
View Grand Canyon from 70 feet in the air. Watch Video...
Climb the three stories and see artwork on the walls from artist Fred Kabotie.
Learn about the architect of the building, Mary Colter, and her amazing sense of style Learn More...
Find the Colorado River turning north and the Painted Desert extending toward the Navaho and Hopi Indian reservations.
Visit the bookstore. Learn More...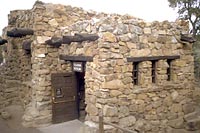 Tusayan Museum and Ruin
Located 3 miles west of Desert View Watchtower
Visit and glimpse Puebloan Indian life some 800 years ago.
View 2,000–4,000 year old artifacts. Learn more...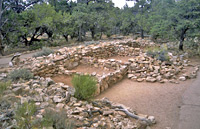 Explore an 800-year-old ruin, a home to Ancestral Puebloans.
Attend a daily ranger-led ruin tours.
Download the Tusayan Museum Trail Guide (821kb PDF file)



---
North Rim
Lodging, restaurants and store are closed for the winter.
Lodging, restaurants and store are open May 15 through October 15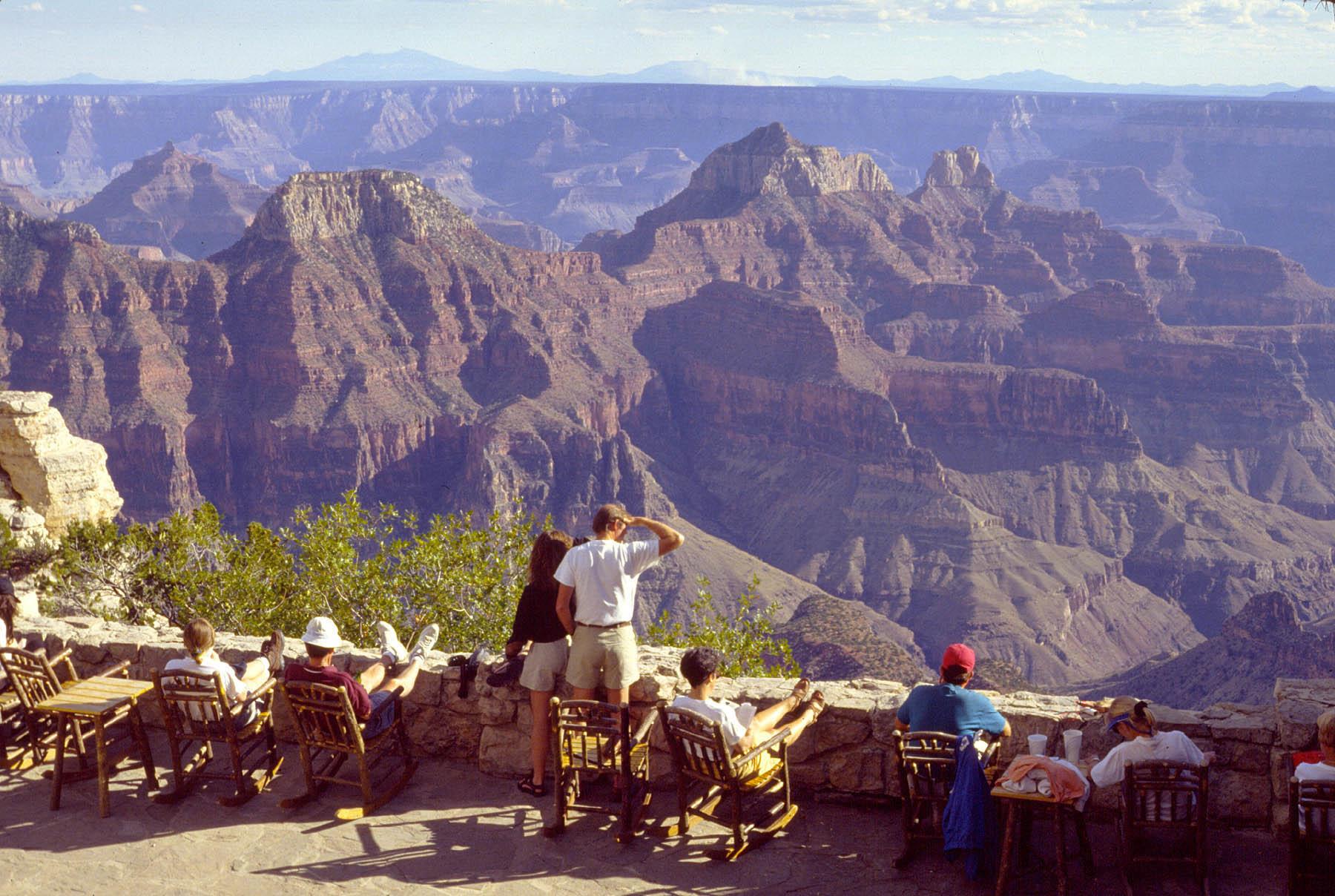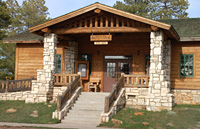 The North Rim Visitor Center (closed for the winter)
Opens May 15 through October 15, 2016
Speak to a park ranger and plan your visit.
Walk a short distance to Bright Angel Point.
Experience the sunset on the North Rim Lodge patio, just a short walk away
Learn about park and regional information, maps, brochures, exhibits, and a bookstore.
Attend a park ranger program.
Download the North Rim Map (289kb PDF File).
The
Grand Canyon Association
, a non-profit park partner since 1932, operates bookstores throughout the park, where your tax-free purchases help support programs and research projects in Grand Canyon National Park.
Verkamps Visitor Center - South Rim

15 Photos

Grand Canyon National Park Historic District: South Rim. The first curio shop opened at the Grand Canyon in 1898. It was a rented tent on the grounds of Bright Angel Hotel where John G. Verkamp sold Indian crafts and curios for Babbitt Brothers' Trading Company. Visitation to the Grand Canyon was not brisk enough to support the business and he closed down after a few weeks, selling his remaining stock to the Bright Angel Hotel. In 1905 he returned to the Grand Canyon to build Verkamp's Curios at its present location next to the Hopi House. The building is a wood-shingled, "modified mission" design with a roof that conducts rainwater to a cistern under the porch. The main floor contains the curio shop with storage rooms in the rear. The second floor contained family living quarters. NPS Photo by Michael Quinn. To plan your visit to Grand Canyon National Park: www.nps.gov/grca/index.htm

Kolb Studio - South Rim

36 Photos

Grand Canyon National Park Historic District: South Rim. During 2013 and 2014 the Grand Canyon Association is in the process of rehabilitating this valuable piece of Grand Canyon History in order to keep it available for generations to come. With the help of donors, improvements include: restoration and stabilization work, repainting and rebuilding of retaining wall and porches. Ellsworth L. Kolb and Emery C. Kolb played an important role in the early development of visitor services to the Grand Canyon. Ellsworth and Emery came to the Canyon in 1902. Ellsworth worked as a bellman in the Bright Angel Hotel. The brothers eventually bought a photographic studio in Williams, Arizona and brought the equipment to the Grand Canyon. Their business started out photographing parties going down the Bright Angel Trail. Because water supplies were limited on the rim of the Canyon, they would photograph the mule passengers then run 4 1/2 miles to Indian Garden where they had set up a photographic lab. Water was available here for processing the film. Then they returned to the rim of the Canyon with the processed pictures ready for the mule passengers on their return. Kolb Studio was constructed on this site from 1904 through 1926. It was a 2 1/2 story structure with the upper level on the rim of the Canyon. This building saw 23 years of expansion and alterations that brought it to its present day appearance. To plan a visit to Grand Canyon National Park: www.nps.gov/grca/index.htm

Yavapai Geology Museum

10 Photos

How old is the canyon? How did it form? The exhibits at Yavapai Geology Museum answer these and other geology questions. Displays include three-dimensional models, powerful photographs, and exhibits which allow park visitors to see and understand the complicated geologic story of the area. The historic building, located one mile (1.6 km) east of Market Plaza, features expansive canyon views. The bookstore offers a variety of materials about the area. Several ranger programs begin here. Open daily 8 am–7 pm The original structure, which was first dedicated in July 1928, was designed by architect Herbert C. Maier. The building was erected on a site selected by a team of geologists for the express purpose of observing and understanding Grand Canyon geology. Maier designed the Yavapai Point Trailside Museum to blend into its setting, and used indigenous Kaibab limestone and ponderosa pine in its construction. Learn more about the museum here: www.nps.gov/grca/parknews/20070524yav_rededication.htm