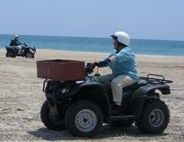 Cars and trucks can be driven on parts of North and South Core Banks. Four-wheel drive is highly recommended for driving on the open beach. It is also advisable to lower the tire pressure to 20 psi or lower. See our tips on beach driving for more information.
All-terrain vehicles (ATVs) and small utility vehicles (UTVs) can also be driven in the areas designated for vehicles. To ensure a safe and enjoyable visit to our beaches, check out the ATV riding rules before you come. These are enforced.
Motorcycles, including dirt bikes, are prohibited on all islands within the park.
Parking
There are three public parking lots on the islands: in the Long Point cabins (North Core Banks), Great Island cabins (South Core Banks), and Lighthouse Complex (South Core Banks) areas.
All vehicles, ATVs, and trailers left unattended for over 24-hours must be parked in an official, long-term parking area and have a valid Cape Lookout long-term parking permit.