ATV Rider Information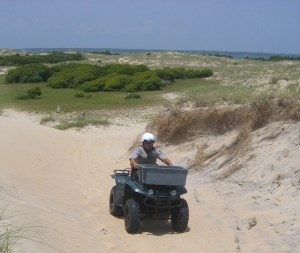 ATV use is only allowed on North and South Core Banks within the boundaries of Cape Lookout National Seashore. For the safety of all visitors, the National Park Service has long established rules regarding the riding of ATVs on the islands.
National Park Service Riding Rules:
All ATV drivers must be at least 16 years of age and have a valid driver's license.

Only utility ATVs may be ridden within the park -- no sport models

ATVs may only be ridden on

designated trails
the open oceanside beach seaward of the dunes and down to the tide line


ATVs may not be ridden within an area closed for the protection of nesting birds and their young or for the protection of sea turtle nests.
Posted speed limits also apply to ATVs.

ATVs left unattended for 24 hours or more must be parked in one of the designated parking areas and must display a valid parking permit.
Cape Lookout National Seashore allows the use of ATVs as a means of reaching a camping spot, to go surf fishing or just to go shelling. We are not an "off-road park" and do not allow racing, jumping, fishtailing, doughnuts and other extreme riding.
The same actions that are prohibited on North Carolina roadways are also prohibited on the beaches of Cape Lookout National Seashore. Please ride courteously so all may enjoy their visit.
In addition to the National Park Service rules, the State of North Carolina also has ATV regulations (effective December 1, 2005) that must be followed while riding on our beaches.
North Carolina ATV Regulations:
Every ATV operator must wear eye protection and a helmet meeting U.S. DOT standards.

The exceptions to the helmet rule do not apply to the beaches of Cape Lookout National Seashore.


Passengers may not be carried on an ATV unless it was specifically designed by the manufacturer to carry passengers in addition to the operator.

Currently (December 2010) there are only three brands - Arctic Cat, Can-Am, and Polaris - which make a multi-passenger ATV.

Modifying any single passenger ATV for an extra passenger does not meet the "specifically designed" section of the law.


All ATVs must be equipped with a brake system, an effective muffler system and a U.S. Forest Service qualified spark arrester, all maintained in good working condition.

An ATV operated at night, from one-half hour after sunset to one-half hour before sunrise, and at anytime when visibility is reduced, must display a lighted headlamp and tail lamp.
For the Young Rider:
You must be at least 16 and have a valid license before you can drive an ATV in the park. (A learner's permit is not acceptable.)

Although North Carolina law allows riders under 16 to drive small-sized ATVs, this is not permitted while in Cape Lookout National Seashore.



Beginning October 1, 2006 - North Carolina law requires that any ATV operator born on or after January 1, 1990 must take and pass an ATV safety course sponsored or approved by the All-Terrain Vehicle Safety Institute.
To find a course near you - visit www.atvsafety.org or call toll free (800) 887-2887.
Last updated: April 8, 2021