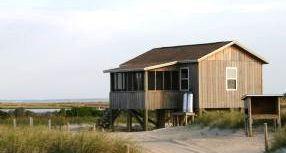 Cabin Rentals
The rustic cabins of Core Banks give you views of pristine beaches, easy access to fishing, and a chance to get away from it all. Each cabin has a hot water heater, propane oven/stove, kitchen with cabinets, table and chairs, and private bath. Visitors need to provide their own linens, bedding, and cookware.
More information can be found on the park's lodging page.
Camping
There are no designated campgrounds in the park and no fees for beach camping. However, groups of 25 or more must obtain a Special Use Permit for overnight camping. More information on camping in the park can be found here.
Permits
Some activities--including weddings, commercial filming or photography, and long-term parking (more than 24 hours)--require special use permits. Applications and information can be found on the park's permit page.