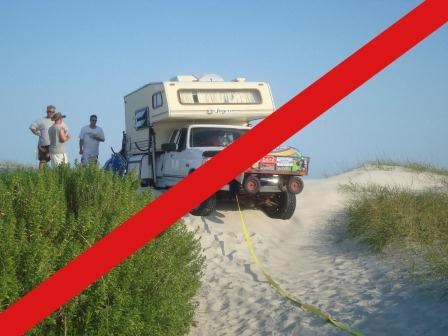 Off-road vehicle users can help insure that these stretches of beach remain available for beach driving by following the regulations and guidelines listed below.
Avoid Damaging Vegetation
Drive only on the ocean side of dunes, on officially marked trails, and in parking areas. (Information on parking permits and a pdf of the application can be found on the Long-Term Parking Permits page.)
Do not drive on or between the dunes, except on marked routes.
The map in the Beach Driving brochure shows the location of the exits connecting the backroad to the ocean side beach.
Drive only on the ocean side beach or back road, not on the Core Sound side beach.
The sand flats on North Core Banks are closed to vehicles except on the posted trail to Portsmouth Village.