South Campground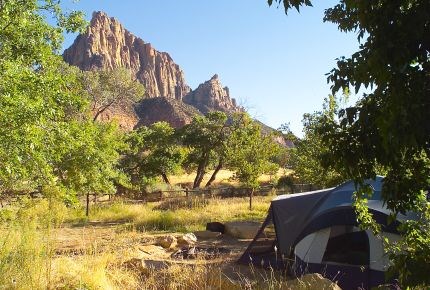 Zion National Park began a limited resumption of operations on May 13, 2020. Camping options are limited. South Campground is temporarily closed until further notice.


South Campground is located ½ mile from the South Entrance. There are 117 campsites (including three wheelchair accessible).

South Campground Accessibility
South Campground has three flat sites, but no accessible facilities such as restrooms or trails. Campers staying in South Campground can travel .3 miles to the Watchman Campground to utilize accessible restrooms if necessary.

There are no hook-ups available in this campground; a dump station with potable water is available for campers. Generators are allowed from 8:00 a.m. to 10:00 a.m. and from 6:00 p.m. to 8:00 p.m.

Hammocks are allowed in the campground with the following guidelines: Must be over the footprint of the campsite, limited to trees 10 inches in diameter with adequate padding around the tree and only 2 hammocks are allowed to be suspended from the same tree.

Campsites are $20 per night for individual campsites and $50 for group sites. Owners of an Interagency Senior/Golden Age or Interagency Access/Access Pass receive a 50% discount on individual campsites. There is no discount on group sites. There is no discount on camping fees for an Interagency Annual Pass ($80 pass).
Shaded/tree sites can only accommodate vehicles with maximum height of 12 feet 6inches (3.84 meters).
The new group sites can accommodate a minimum of 7 people and maximum of 15 people; up to 5 vehicles (which can include an RV, trailer, pop-up camper, or utility trailer); and a maximum of 6 tents. Check the map at the campground kiosk for the location of these sites (indicated as Group Site A, B, C, or D).

South Campground Map and Regulations

Call 435-772-3256 for additional information on camping.

Return to the Campgrounds in Zion page.
Last updated: May 22, 2020