Canyoneering Regulations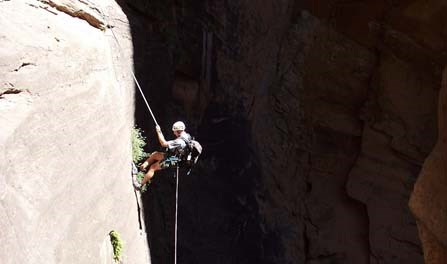 You can help preserve and protect the canyons of Zion for future generations by following park regulations and Leave No Trace principles.
Wilderness Permits
Permits are required for all technical canyoneering trips within Zion National Park and all trips into the Left Fork of North Creek (Subway).
Permits may be picked up the day before, or the day of your trip at the Zion Canyon Visitor Center or Kolob Canyons Visitor Center.
Permits must be carried with you and shown upon request.
Plan Ahead and Prepare
Know the current Flash Flood Potential rating. Flash floods in narrow slot canyons can be fatal.
If bad weather threatens, do not enter a narrow canyon. Continuously evaluate the weather and adjust plans to keep you and your group safe. Have a back-up plan.
Ensure that your group is self-reliant and aware of the risks involved with canyoneering.
Rescue is not a certainty. Your safety is your responsibility.
Experience and Ability
Have a route description, map, compass, and the ability to use them to locate the correct route for your trip.
Everyone in the group should have the proper equipment, skill level, and physical ability to successfully complete each trip.
Everyone in the group should have the ability to belay, ascend, create extra friction, and evaluate anchors.
Everyone should be prepared to spend additional time, travel after dark, spend the night if necessary, and survive on their own.
Group Size Limits
The maximum group size for The Left Fork (Subway), Orderville, Keyhole, Pine Creek, and the Virgin River Narrows is 12 people. The maximum group size for all other canyons is 6 people.
A group is any number of people sharing the same affiliation (e.g., club, scout troop, colleagues, family, friends, etc.) that enter a canyon or trail on the same day, even if they have multiple permits.
A minimum group size of 2 people is recommended for all technical canyons involving the use of rope, webbing, or other device for descent or ascent.
Group size limits are strictly enforced. Permits will be denied and violators will be cited if limits are exceeded.
Structured and Guided Activities
Structured and/or formally guided activities facilitated by educational, commercial, or like organizations are authorized to occur only on frontcountry trails.

Such activities are not authorized to take place in park Wilderness areas. (Primitive and Pristine Zones)
Travel on Durable Surfaces
Travel on well-established trails. Hike in canyon drainages and on slickrock whenever possible.
If you must leave the trail, avoid stepping on Biological Soil Crusts. It can take decades to regrow and can be destroyed by a single step.
Dispose of Waste Properly
Be prepared to pack out human waste, toilet paper, and hygiene products. All human waste must be carried out of all Wilderness areas and all narrow canyons in waste disposal bags.
Carry out all trash, including wrappers, apple cores, fruit peels, nut shells, and toilet paper. Dispose of all waste in a proper trash can or dumpster. Recycle when possible.
Do not leave fixed ropes in canyons and pack out any abandoned ropes that you find including old and damaged materials.
Leave What You Find
Leave rocks, plants, and other natural objects as you find them.
Protect the canyon walls, trees, and rocks from graffiti and vandalism. Do not build or destroy rock cairns that are used to mark trails and routes. If placed incorrectly, they can mislead others, cause unnecessary damage, and lead to potential injuries.
Avoid Bolting
Bolts should only be placed as a last result. Only use a bolt if there are no other safe options for creating an anchor. Power drill use is prohibited.
If bolts are used, they should be placed so that they will last for many years and will avoid scarring on the rock caused by rope pulls.
Use subdued colors for hangers and slings.
Be Considerate of Other Visitors
Respect other canyoneering groups and protect the quality of their experience.
Prevent bottlenecks. If a faster group catches up to you, allow them to pass.
Let the natural sounds of the canyon prevail. Avoid loud voices and noises.
Protect The Wilderness
Wilderness is a rare wild place where one can retreat from civilization, reconnect with the earth and find healing, meaning, and significance. Knowledge, respect, and understanding for these wild and undeveloped places will ensure that they remain spectacular for years to come. To learn more visit the National Park Service Wilderness page and Wilderness Connect.
Leave No Trace
While canyoneering and hiking through Zion, please show respect for your national park and your fellow visitors by following each of the Leave No Trace principles.
Last updated: July 1, 2022