Academic Fee Waivers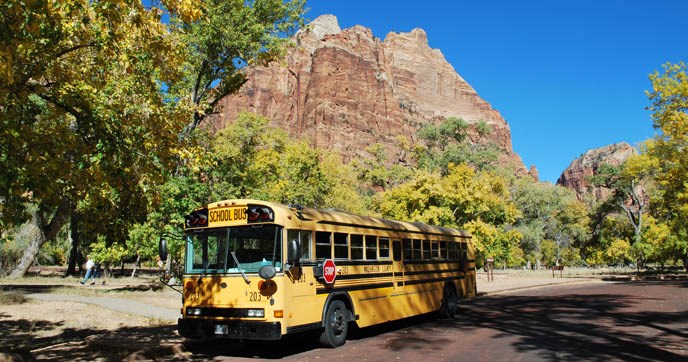 Academic Fee Waiver Information
National Park Service regulations allow school groups and other approved national and international academic institutions to obtain a waiver of park entrance fees, provided the visit is for educational or scientific purposes, and the resources or facilities that the group intends to use support those purposes.
Academic fee waivers are not granted automatically. Applicant groups must demonstrate that they qualify for the waiver. There are three requirements (listed below) that the group must meet to qualify for an academic fee waiver: eligibility, educational purpose, and relevancy of park resources or facilities.
Requirement #1 - Educational Purpose
Applicants must provide a written statement confirming that the visit supports a specific curriculum for which academic credit is offered. If the group is on a commercial tour, the applicant must state how the tour supports the curriculum.
Requirement #2 - Relevance of Park Resources
Applicants must provide a written explanation identifying the park resources and/or facilities that will be used to support the educational purpose of the visit, and how they are relevant to that purpose.

Requirement #3 - Eligibility
Applicants must prove they are an academic or scientific institution by presenting one of the following types of documentation:
A statement confirming educational or scientific tax exemption from the IRS or the applicant's national, state, or local tax authority; or

A statement from an academic institution that meets one of these eligibility standards confirming that the group is visiting for the purpose of providing transferable academic credit based on a curriculum; or,

A statement confirming accreditation or recognition as an educational institution from a qualified national, regional, state, or local authority.
Completed applications along with required documentation must be submitted via e-mail.
Email: Zion_Fee_Waivers@nps.gov
All applications must be received more than 30 days prior to your anticipated trip.
Fee Waiver Requirements, Application and Instructions


Home Schools
Home schools may be granted fee waivers based on the course of study following the procedures above, as long as they meet your state requirements for home schools. A copy of your state's department of education requirements may be requested if you are out-of-state.

If your group does not meet the three requirements your group may be considered as a Non-Commercial Organized Group. Youth 15 years of age and younger would be exempt from fees.

Groups that do not qualify for an academic fee waiver will be charged the appropriate entrance fee. The entrance fee for non-commercial organized groups is $20.00 per person for all individuals 16 years of age and older. Zion Annual Pass, Interagency Annual, Interagency Senior, Interagency Access, Golden Age, and Golden Access Passport holders and their immediate family members (parents, spouse, and children) do not have to pay the per person entrance fee.

Parking
Zion National Park has a mandatory shuttle early Spring through late Fall and some holidays for the Zion Canyon Scenic Drive. Groups arriving in vehicles other than buses will need to park and ride the shuttle. In order to ensure consistency with group size limits on hiking trails, one bus per school is permitted to park at the following locations, with the maximum total number of buses from all schools visiting at the same time indicated by (#): Zion Human History Museum (2), Zion Lodge (4), Grotto Picnic Area (2), Weeping Rock (2, not over 19 feet), Temple of Sinawava (2). All other parking locations in Zion Canyon Scenic Drive are inaccessible to buses.

Zion Mount Carmel Tunnel
All vehicles at or above 94" wide (7'10"), and/or 136" high (11'4") require one-way traffic control for passage through the Zion-Mount Carmel Tunnel. The fee for this service is $15.00.

Wilderness Trail Use
Structured and/or formally guided activities facilitated by educational, commercial, or like organizations are authorized to occur only on frontcountry trails. Such activities are not authorized to take place in park wilderness/back-country areas (Primitive and Pristine Zones).
Last updated: May 4, 2022