Academic Fee Waivers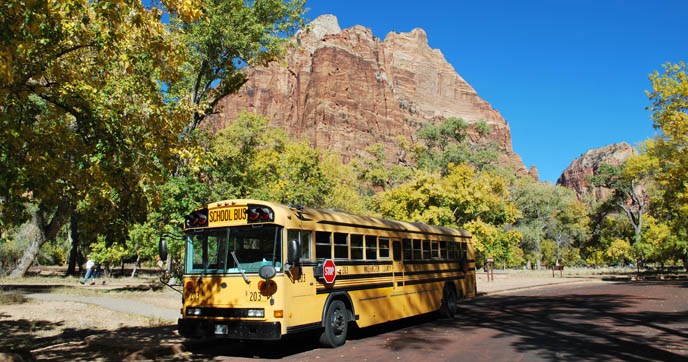 Applying for a fee waiver
National Park Service regulations allow school groups and other approved national and international academic institutions to apply so that they do not have to pay the
park entrance fee
. The National Park Service considers applications and may approve a request if the visit is for educational or scientific purposes and the resources or facilities that the group intends to use support those purposes.The National Park Service does not grant academic fee waivers automatically. Applicants must show that they qualify for a fee waiver. There are three requirements (listed below) to qualify for an academic fee waiver:
Criteria #1 - Eligibility
Applicants must prove they are an academic or scientific institution by presenting one of the following types of documentation:

A statement confirming educational or scientific tax exemption from the IRS or the applicant's national, state, or local tax authority; or
A statement from an academic institution that meets one of these eligibility standards confirming that the group is visiting for the purpose of providing transferable academic credit based on a curriculum; or,
A statement confirming accreditation or recognition as an educational institution from a qualified national, regional, state, or local authority.
Criteria #2 - Educational purpose
Verify how this visit supports a specific curriculum for which academic credit is offered. For example, attach a course syllabus/description, course catalog, lesson plan, letter detailing the educational purpose, etc., and/or describe below.

A course syllabus, copy of the course catalog, or a handbook may satisfy this requirement.
Criteria #3 - Relevance of park resources or facilities
Identify the pertinent park resources and/or facilities and detail how they are relevant to support the educational purpose of the visit (attach letter or describe below).
Read These Requirements Before You Apply for an Academic Fee Waiver
Visit logistics
Having a fee waiver does not guarantee parking in Zion. 

The National Park Service provides the free, Zion Canyon Shuttle System from early-Spring through late-Fall. Groups who arrive in vehicles other than school busses or motorcoaches will have to park individual vehicles and board the free shuttle. 

If your group is using a bus or motorcoach, you may be able to park in Zion Canyon or at an oversize vehicle space near the Zion Canyon Visitor Center, Zion Human History Museum, or Kolob Canyons Visitor Center (not shuttle service at Kolob Canyons).
In order to limit the number of people from a single school group on park trails at any given time, at each parking area, one bus per school may park at a time. This means that if your group is traveling in two or more buses, you need to park each bus in different places at different times. School groups are not allowed to park multiple buses from a single school in one parking area at the same time.

If you encounter other school groups on your visit, some parking areas can accommodate busses from different schools at the same time. Here is the (#) of busses allowed in our parking lots at one time:
Zion Human History Museum (2)
Zion Lodge (4)
Grotto Picnic Area (2)
Weeping Rock (2, vehicles must not exceed 19 feet in length)
Temple of Sinawava (2)
All other parking locations in Zion Canyon Scenic Drive are inaccessible to buses.

You may also be able to park in the oversize vehicle lot at the Zion Canyon Visitor Center, and the same rule (that one bus per school may park at a time) also applies there.
All vehicles at or above 94" wide (7'10"), and/or 136" high (11'4") require one-way traffic control for passage through the Zion-Mount Carmel Tunnel. The fee for this service is $15.00.

Oversized vehicle drivers must pay this fee even if you have an academic fee waiver.
Submitting an Academic Fee Waiver Request for a Field Trip
Before you send the form, read the requirements above so that:
Your plans account for the appropriate number of chaperones for your group size.

You submit all of the required documentation to show that your group is eligible for a fee waiver.

You have a plan to comply with park requirements regarding bus or vehicle parking and group size limits on trails.

You are aware of requirements for oversize vehicles to go through the Zion-Mt. Carmel Tunnel.
At least 30 days before your trip, fill out our fee waiver form and email it to zion_fee_waivers@nps.gov with the appropriate supporting documentation.
Form Guidance
Zion is required to use this Department of the Interior standard form for field trip academic fee waivers as well as for other purposes. Learn which parts of the form you need to fill out if you are applying for us to waive the park entrance fee for a field trip.
Section 1: Contact Information
Required: Every applicant must share contact information.

In the box labeled "Describe Need," please include your group's proposed itinerary.
Section 2: Group Details
Required: Every applicant must share your group details.

Read above for requirements, and be especially mindful of your group size and the number of chaperones you will bring. You need:

| | | | | |
| --- | --- | --- | --- | --- |
| Chaperone # : Student # (grade level) | College | 9th-12th | 6th-8th | K-5th |
| Minimum | 1:30 | 1:15 | 1:10 | 1:7 |
| Maximum | 1:20 | 1:10 | 1:5 | 1:3 |
Sections 3 and 4
Not for field trip academic fee waivers.
Section 5: Academic Fee Waiver
Required: You must fill this section of the form out and share documentation to demonstrate your qualification for a fee waiver.
Email us completed forms
We will send you an email when we receive your form and after we review it to confirm group details.
Email your form to the park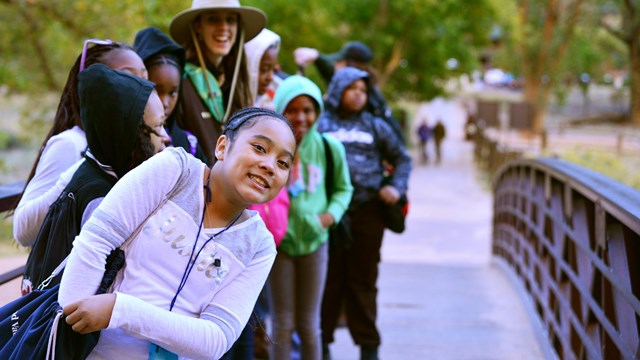 Self-Guided Field Trips
Find out what you need to know about bringing your class to Zion.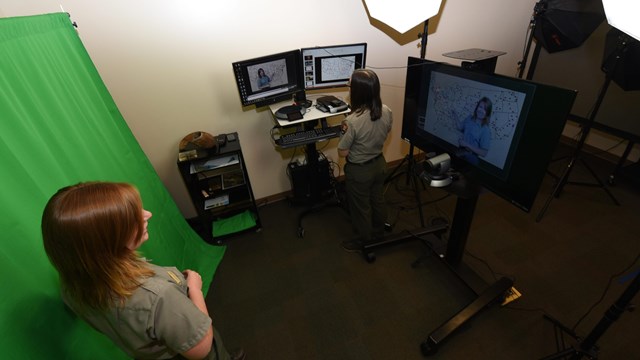 Distance Learning Programs
Join a Zion National Park ranger in real time to learn about the National Park Service and what makes Zion National Park unique.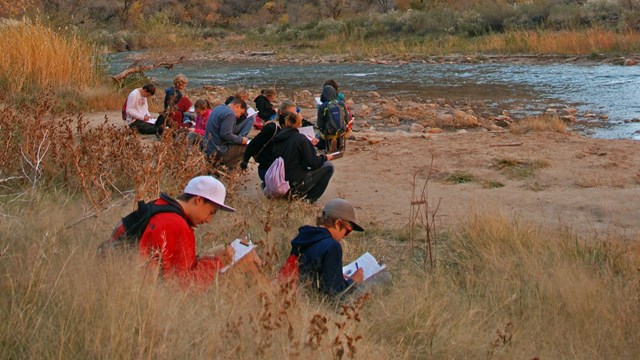 Curriculum Materials
Bring Zion into your classroom with our on-site curriculum-based activities.
Last updated: March 21, 2023