News Release
Zion National Park Prepares for Busy Labor Day Weekend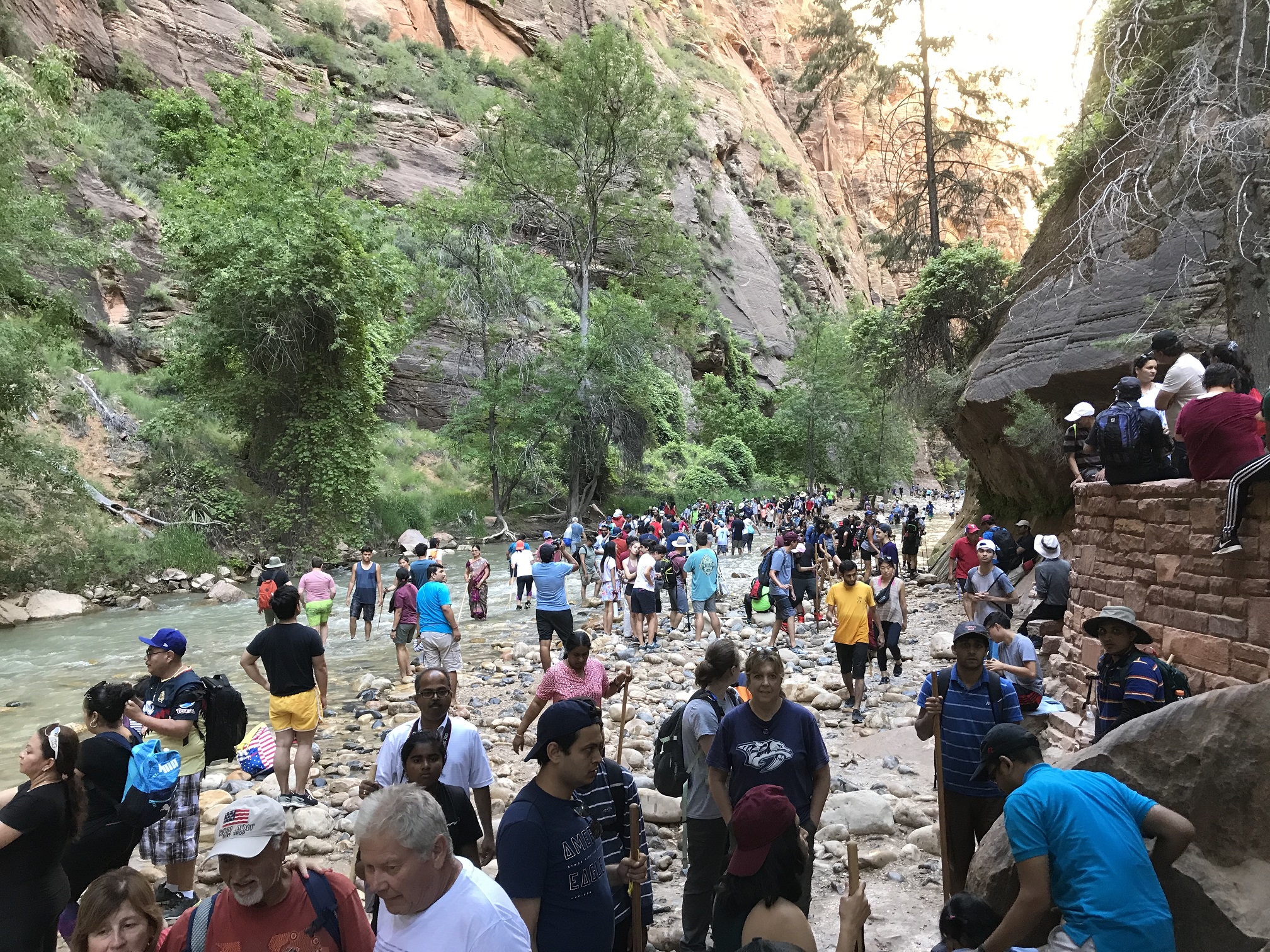 News Release Date:
August 28, 2019
Contact: Eugenne Moisa, 435-772-0172
SPRINGDALE, UT – Zion National Park is expecting a busy Labor Day weekend Friday, August 30 through Monday, September 2, 2019. As our nation honors American workers, many will visit Zion and other National Parks across the country. Visitors to Zion should expect some queues and congestion within the park. Those with flexible plans are encouraged to visit before Friday or after Monday to avoid crowds.
Both campgrounds in Zion Canyon are on a reservation system and are already fully reserved for the weekend. Campground and lodging options are available in the gateway communities surrounding the park. Please plan your trip accordingly.

Zion Canyon Visitor Center and other parking areas in the park fill by 9:00 a.m. Additional parking is provided in the gateway community of Springdale.

Zion Canyon shuttle runs from 6:00 a.m. through 9:15 p.m. The shuttle leaves the Visitor Center every 4 minutes with a capacity of 68 visitors. Wait times are expected to be between 30 minutes to 1.5 hours.

Several Zion Canyon trails and the Weeping Rock area (Shuttle Stop 7) remain closed due to rockslides. Upper and Middle Emerald Pools, Hidden Canyon, Weeping Rock, and East Rim/Observation Point via Weeping Rock shuttle stop are all closed. The Kayenta Trail is partially opened, only accessible via The Grotto area (Shuttle Stop 6).

The line for hiking Angels Landing that often forms at Scout Lookout will be managed from the West Rim Trailhead at The Grotto, similar to Memorial Day and 4th of July weekends this summer. Managing the number of hikers off the steep trail will allow each to have a safer and more enjoyable visitor experience on the trail. Those waiting will enjoy more shade, access to flush restrooms and water filling stations at the trailhead prior to starting the hike. Hikers will depart the trailhead at a rate of 6 people every 3 minutes, or 120 people per hour. Over 4th of July weekend, lines peaked at approximately 3 hours.
Monsoon season runs from mid-July to mid-September. Flash floods are unpredictable and can occur from storms some distance away though skies appear sunny overhead. Check the weather forecast or stop by park Visitor Centers for up to date information. Your safety is your responsibility.
Last updated: August 28, 2019