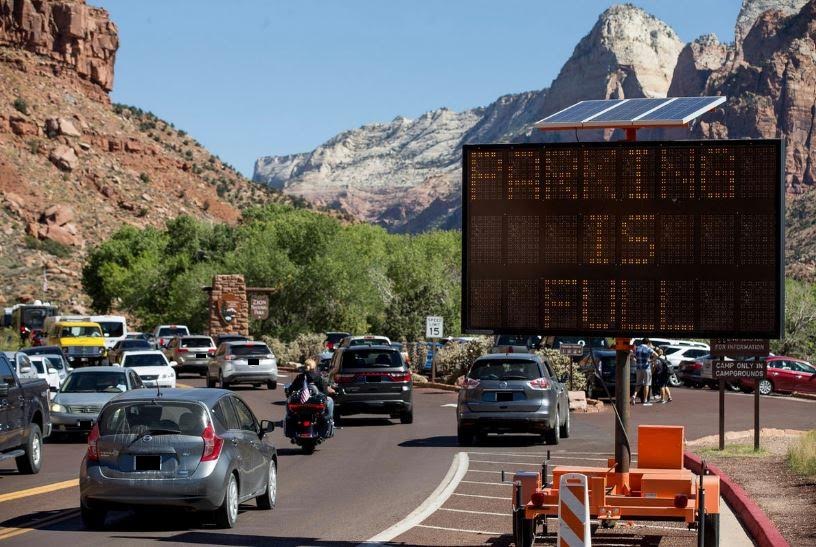 News Release Date:
October 1, 2018
Contact: Aly Baltrus, (435) 772-0160
Contact: Shauna Ertolacci, (435) 772-0144
SPRINGDALE, UT – Today, the National Park Service announced the signing of the South Entrance Fee Station Reconfiguration Finding of No Significant Impact (FONSI). The FONSI records the decision of the National Park Service (NPS) to redesign the South Entrance Fee Station and adjacent roadway in order to decrease park entry wait times for vehicular traffic and reduce localized vehicle congestion while simultaneously improving employee safety, correcting faulty culverts, and supporting the NPS Green Parks initiative to Be Energy Smart by installing a photovoltaic system. This action is described as Alternative B in the Environmental Assessment (EA) released for public review in August 2018. The Environmental Assessment (EA) and associated FONSI documents, to include the Errata and Non-Impairment Determination, are available on the NPS Planning, Environment & Public Comment (PEPC) website at: https://parkplanning.nps.gov/zion.
"We look forward to implementing this project to enhance visitor service and provide for employee safety in this area of concentrated automobile traffic." said Superintendent, Jeff Bradybaugh. 
The public scoping period for the South Entrance Fee Station Reconfiguration EA occurred from January 30, 2018 to March 1, 2018. Thirty-five (35) comments were received from the public and considered by park management in the development of the EA. The EA was released for public review on August 20, 2018 and the NPS accepted comments through September 3, 2018. Twenty-six (26) responses were received during the comment period. All comments on the EA were examined by park management and were considered in the development of the FONSI and Errata documents. 
Requests for digital or hardcopies of the FONSI, available on a limited basis, may be submitted by writing to: Superintendent, Zion National Park ATTN: South Entrance Fee Station Reconfiguration FONSI Request, 1 Zion Park Blvd., State Route 9, Springdale, UT 84767. You may also contact the ZION Environmental Protection Specialist by email at zion_group_project_compliance@nps.gov or by phone at (435)-772-0144 to request a copy.