News Release
Waste Removal Operation Will Close Angels Landing Trail And Scout's Lookout For Two Half Days In November.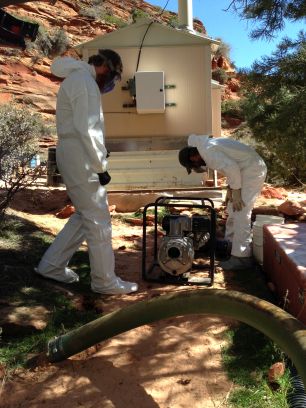 News Release Date:
November 1, 2017
SPRINGDALE, UT – The Zion Trail Crew and Fire Management staff, will be removing waste from the evaporative toilets at Scout's Lookout on two different days in November. The first half day closure will take place on Monday November 6, 2017 from 7 a.m. to 1:00 p.m., then again on Thursday November 9, 2017 from 7 a.m. to 1:00 p.m. The operation to remove the waste requires the use of a helicopter, so safety precautions in the form of trail and road closures will be in effect.
On both days of the operation, Angels Landing, and the West Rim Trail will be closed between the West Rim / Kayenta Trail junction, and the Patio, just above Scout's Lookout. Flaggers will be stationed on the Scenic Drive, in the area of Big Bend, for periodic road closures during fly overs. All traffic, including shuttle buses will be delayed during the two days of operations.
Recommended alternative hikes during this closure period, are Hidden Canyon and Observation Point Trails, which can be accessed from shuttle bus stop 7, Weeping Rock
Last updated: November 2, 2017