News Release
Two Major Technical Rescues Serve as Safety Reminders for Visitors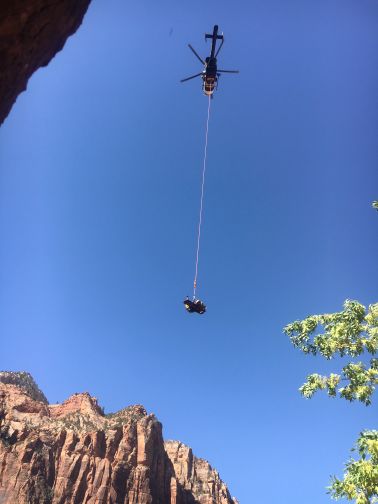 News Release Date:
August 1, 2018
Contact: Aly Baltrus, 435-772-0160
SPRINGDALE, UT – The two Search and Rescue (SAR) call-outs yesterday, July 30, 2018, are good reminders of the need for visitors to take trip planning and their safety seriously. Both incidents occurred in the Left Fork of North Creek, on a popular permitted route known as "The Subway".
One group disregarded and mocked a ranger's advice when they picked up their permit. The ranger recommended they bring a rope and multiple harnesses for at least one of the rappels, but the leader of the group, who had been there before, said that they could cross the log and find an easier way down. When the ranger reported that the log was washed out last year and recommended the gear, the group dismissed the information and left. Later, rangers received a report that a member of the group had a knee injury at the top of the last rappel. Since the log that made it easier to cross the creek was gone, members were making a 6-7 foot jump. One person had landed badly. A medic and two others responded and spent Monday night with the patient. A helicopter from the Grand Canyon was brought in for a short-haul operation this morning.
Another group displayed poor decision making, wore inappropriate footwear, and lost the route several times. After getting lost early in the day, they reached the "Subway" feature late Sunday night and spent an unexpected night in the canyon. In the morning, they got lost again, passing the exit route, and continuing downstream. At some point they decided to try to climb a cliff face to reach the road. When heat exhaustion set in, they activated their emergency locator and reported a heat related illness. SAR responders were able to locate the group. After administering fluids, rangers assisted the group back to the trailhead.
"Visitors need to take their safety seriously and act responsibly," says Superintendent Jeff Bradybaugh. "Park Rangers are here to advise and assist visitors planning challenging trips in the backcountry, but ultimately preparations and proper equipment is the visitor's responsibility. Given the number of fires throughout the West and the assignment of aviation assets to them, it was fortunate that the Grand Canyon helicopter was able to respond quickly and that the first group had an emergency beacon, but that is not always the case. Please prepare carefully and plan ahead for unexpected events that might occur in this wonderful, but at times, unforgiving landscape."
Last updated: August 2, 2018