News Release
Time to catch a ride in Zion National Park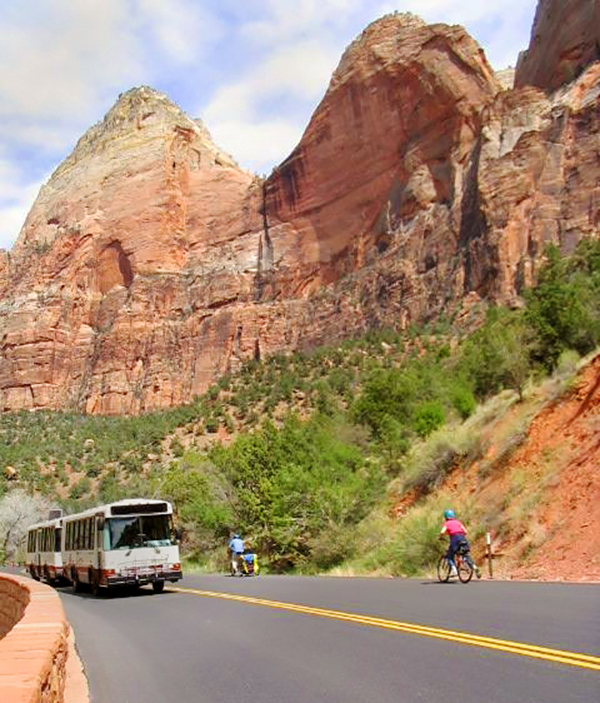 News Release Date:
February 18, 2022
Contact: Jonathan Shafer, (435) 772-0145
SPRINGDALE, Utah – Zion National Park is resuming weekend operation of its free shuttles starting on President's Day Weekend. Every year, the National Park Service (NPS) adjusts shuttle schedules and campground availability to reflect the seasons. Here is what you need to know to plan your visit this winter and spring: 

Shuttle service resumes in Zion Canyon February 19-20 and 26-27 and March 5-6 and 12-13 
Shuttle service will resume in Zion Canyon on weekends. 

Weekend service is a continuation of a pilot program instituted by Zion in recent seasons.  

During these weekends visitors cannot drive personal vehicles on Zion Canyon Scenic Drive. 

The Springdale Shuttle will not run. 

Face masks are required on the shuttle. 
 Weekday personal vehicle access in Zion Canyon 
Visitors can drive personal vehicles on Zion Canyon Scenic Drive Monday through Friday. 

The last scheduled day for personal vehicle access this spring is Friday, March 18. 

Plan for limited parking; when parking in Zion Canyon is full, the NPS may temporarily close the road. 
Daily shuttle service in Zion Canyon and the Town of Springdale resumes for the 2022 season on Saturday, March 19  Plan to park at the Zion Canyon Visitor Center or in the Town of Springdale after shuttle service resumes. Visitors parking in Springdale can walk or ride the free Town shuttle to the park's pedestrian entrance. 

Winter and spring camping
Watchman Campground
Open year-round 

Make reservations on recreation.gov 
South Campground 
Opens Sunday, March 13. 

Make reservations on recreation.gov starting on February 27.
Learn more at www.recreation.gov or by calling l-877-444-6777. We encourage you to plan ahead and make arrangements for where you will stay before you arrive at the park.  Lava Point Campground is closed until later in the spring.  

Visitor Center, Wilderness Permit Desk and Park Store hours 
Zion Canyon Visitor Center (Outside Information Desk) 
Opens 8 a.m. and closes at 5 p.m. every day. 
Wilderness Permit Desk 
Open from 8 a.m. to 10 a.m. and from 3 p.m. to 4:30 p.m. 
Park Store – Managed by Zion Forever 
Opens 8 a.m. and closes at 6 p.m. every day. 


 
Kolob Canyon Visitor Center (Outside Information Desk)  
Open 8:00 a.m. and closes at 5:00 p.m. every day.  

Need to know 
No matter when you visit Zion National Park, plan ahead by checking for updates at nps.gov/zion. Whether you ride a shuttle or drive your own car in Zion Canyon, be prepared.
Parking lots fill-up early year-round. 

Watch out for pedestrians and bicyclists if you are driving.

Dress in layers and consider using traction devices because weather can change quickly and your safety is your responsibility.

Stay on trails and avoid walking in the road.

Ride your bike on the road or the Pa'Rus Trail. Bicycling is not allowed on any other trails in the park. If you are riding in the road, you must stop to let buses pass you.

The NPS may temporarily close roads if traffic is congested or there is nowhere for drivers to park. 

In general, fewer people visit Zion on weekdays than weekends. Consider arriving early or after 3 p.m. to avoid the busiest times of day. 
Plan ahead and prepare 
If you cannot find parking in Zion or if all of our campsites are full, research nearby communities and public lands to learn about other recreational activities and lodging in the area.  Always recreate responsibly and respect private owners' property and facilities. Please do not gather in large crowds and be mindful of social distancing or wear a face-mask if social distance cannot be maintained. Follow Leave No Trace practices everywhere in the park and be sure to pack out all your trash. 
Last updated: February 18, 2022