News Release
Zion National Park Announces The Release Of The Finding Of No Significant Impact (FONSI) For Bighorn Sheep Management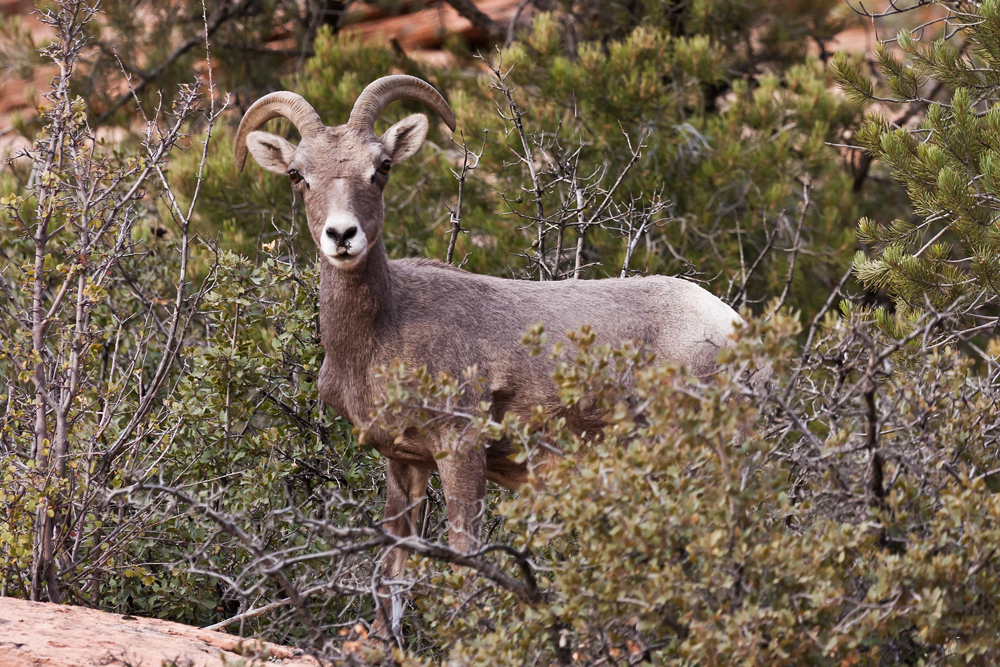 News Release Date:
October 31, 2017
Contact: Cassity Bromley, (435) 772-0188
Contact: John Marciano, (435) 772-7848
SPRINGDALE, UT - Zion National Park announces the signing of the Bighorn Sheep Management Finding of No Significant Impact. The FONSI records the decision of the National Park Service, to partner with the Utah Division of Wildlife Resources, to manage the Zion desert bighorn sheep population as a healthy herd, and as part of a larger metapopulation. Decreasing the risk of disease transmission through population assessment, density reduction, and capture activities, will provide healthy sheep to supplement diminishing populations within the species' historic range, and protect the opportunity for current park visitors, and future generations, to enjoy wild bighorn sheep in their native habitat. This action is described as Alternative B in the Environmental Assessment (EA), released for public review in October 2017. The FONSI, EA, and Errata documents are available on the NPS Planning, Environment & Public Comment (PEPC) website at: https://parkplanning.nps.gov/zion.
The public scoping period for the Bighorn Sheep Management EA occurred from February 13, 2014 to March 19, 2014 where 19 scoping comments were received and considered by Park management. The EA was released for public review on August 25, 2017 and the NPS accepted comments through September 25, 2017, where 67 review comments were received. All comments on the EA were reviewed by Park management and were considered in the development of the FONSI and Errata documents.
Requests for digital or hardcopies of the FONSI, are available on a limited basis. Requests can be submitted to: Superintendent, Zion National Park ATTN: Bighorn Sheep Management FONSI, 1 Zion Park Blvd., State Route 9, Springdale, UT 84767; or email at e-mail us.
Last updated: November 2, 2017