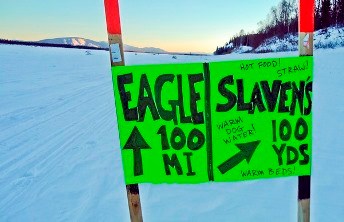 Mittens and parkas hang by the wood stove to dry. Bacon and eggs sizzle on the griddle. A slumbering traveler's contented snores drift downstairs from the bunkroom. Around a table laden with food, a few souls – unacquainted until just a few hours ago – nurse mugs of coffee while comparing notes on trail conditions. Ten below - perfect traveling weather so far, but there are rumors of overflow upriver.
Viewed from outside, the rectangle of lantern light is warm and inviting amidst the vast, midnight landscape. Chores complete at last, a weary musher bids goodnight to his traveling companions, who are already curled up, noses to tails, on beds of straw. Mukluk soles crunching in dry, packed snow, he trudges toward the cabin, from the dark toward the light, the cold toward the warmth, the solitude of the country toward the companionship of strangers.
Undoubtedly, this timeless scene would have been a familiar one to Frank Slaven, who built his roadhouse on the banks of the Yukon River in 1935. In this case, however, our musher is not long-distance mail carrier Ed Biederman, stopping en route from Circle to Eagle in the 1930s, but one of fifteen Yukon Quest International Sled Dog Race mushers, stopping en route from Fairbanks to Whitehorse (via Circle and Eagle) in 2014. And in this case, his hosts are not Frank Slaven and his contemporaries but five National Park Service employees representing Yukon-Charley Rivers National Preserve.