News Release
Yosemite National Park's Andrew Davenport Wins Prestigious Aviation Award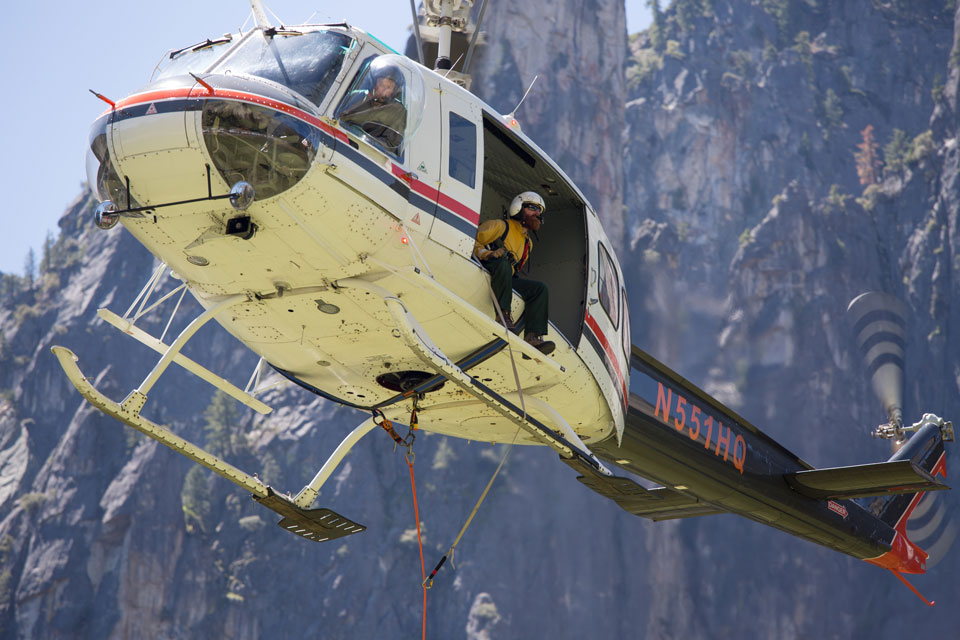 News Release Date:
May 31, 2018
Assistant Helitack Foreman wins Wright Brothers National Aviation Safety Award
Yosemite National Park congratulates Assistant Helitack Foreman Andrew "Boots" Davenport as the 2018 winner of the National Park Service Wright Brothers National Aviation Safety Award. This is a rare National Park Service award given annually to aviation specialists who exemplify excellence in the field of aviation safety.
Andrew Davenport was nominated by his peers for his impeccable commitment to his job which ensures the safety of his co-workers, local community, park visitors, and national firefighting community. Andrew dedicates his time and energy during the busy wildfire and search and rescue seasons to provide expertise and supervision for seven-day coverage for the helicopter in Yosemite National Park. His peers from multiple agencies, supervisors, and management throughout Yosemite National Park recognize Andrew's personable leadership style, his positive attitude, willingness to collaborate, and commitment to safety on the job.
During the 2017 fire season, Andrew's critical decision making skills were instrumental while responding to multiple inter-agency incidents, including the Detwiler Fire, South Fork Fire, Empire Fire, and several highly technical search and rescue operations. Andrew has also worked to better integrate the NPS and the U.S. Forest Service short-haul programs as an extraction tool to help save lives while working on an active fireline.     
"We are proud to honor and recognize Boots for his professionalism, leadership, and commitment to safety in the Yosemite Fire and Aviation Program, stated Yosemite Chief Ranger Kevin Killian. "The NPS Wright Brothers National Aviation Award recognizes outstanding individuals in the field of aviation and Boots Davenport embodies all of the qualities that this award recognizes both in the air and on the ground."   
The NPS Wright Brothers National Aviation Safety Award is open to any individual or organization in the aviation community who shows exemplary qualities in the area of aviation safety. This award recognizes an individual or organization who proactively promotes an open-minded attitude in the prevention of aviation mishaps and accidents, works diligently to correct and improve aviation safety, and effectively communicates the actions and results to others.
Last updated: May 31, 2018