Photos & Multimedia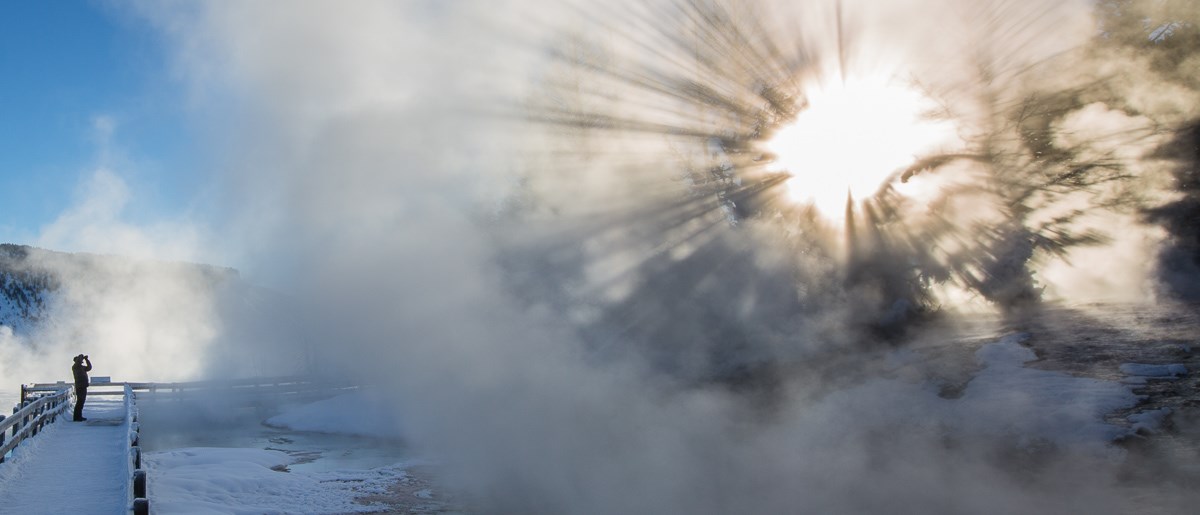 Webcams
We have a collection of webcams providing views in and around Mammoth Hot Springs, Mount Washburn, Old Faithful, the North Entrance, and the West Entrance. Watch the Old Faithful Geyser live webcam, which streams real-time video of Old Faithful eruptions and wildlife in the Upper Geyser Basin. View traffic conditions at the North and West entrances.
Photos
Thousands of full-size, public domain images are available on our Flickr site, and new images are added regularly. We also offer galleries of still images from the park's photo collection here on our website.
Videos
Our website contains hundreds of videos. Our video library features public domain video clips that are free to download. Looking to learn more about park features? Check out the Inside Yellowstone series, which features short clips about many of the park's attractions. Are you planning a trip? The Visiting Yellowstone collection will help get you started. Want to dive deeper into issues facing the park? Yellowstone In Depth offers a series of mini-documentaries covering topics in greater detail. You can also immerse yourself in many aspects of the park in our Minute Out In It series, or dive into our Q&As about some of the more complex management issues facing the park. Finally, be sure to subscribe to updates from our YouTube channel.
Sounds
Enjoy the sounds of Yellowstone. Our sound library features natural sounds recorded in the park. We also offer audio postcards about life in Yellowstone, a podcast about the sound of science, and our 1610 AM traveler's information broadcast (which is packed with great advice).
Virtual Tours
Our virtual tours will take you to historic Fort Yellowstone, Norris Geyser Basin, the Grand Canyon of the Yellowstone and much more. Most consist of a series of captioned photographs and do not require browser plugins or other software.
Interactive Features
Tour the Old Faithful Virtual Visitor Center and visit the Nez Perce National Historic Trail in our collection of interactive features.
More Information
Last updated: March 29, 2017