Mary Ann M'Clintock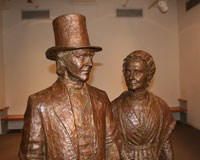 Mary Ann M'Clintock (1800-1884) was born to Quaker parents. She married Thomas M'Clintock, a druggist and fellow Quaker, in 1820, and they lived in Philadelphia for seventeen years. During that time Mary Ann gave birth to four daughters, Elizabeth, Mary Ann, Sarah, and Julia and a son, Charles. She was recognized by her fellow Quakers as a minister and leader. By 1833 M'Clintock was a social activist when she along with Lucretia Mott and others, became founding members of the Philadelphia Female Anti-Slavery Society.
In 1836 the family moved to Waterloo, New York, where they would join a network of Quaker abolitionists that included Richard and Jane Hunt and George and Margaret Pryor, Mary Ann's half-sister. They lived in a house owned and built by Richard Hunt at 14 East Williams Street, and ran a drugstore and school in one of Hunt's commercial buildings behind their house on Main Street in Waterloo.
In 1842, at an annual convention of the American Anti-Slavery Society held in Rochester, New York, Thomas and Mary Ann became founding members of the Western New York Anti-Slavery Society and helped write its constitution. They were joined by Frederick Douglass, Jane and Richard Hunt, Isaac and Amy Post, George and Margaret Pryor.
Mary Ann became an organizer of the First Woman's Rights Convention when she joined a group of friends on July 9, 1848, in the front parlor of the Hunts' home. She hosted a second planning meeting at her house on July 16, where she, Elizabeth Cady Stanton, and possibly several others drafted the Declaration of Sentiments that was read, discussed, and ratified in the Wesleyan Chapel.
While living in Waterloo, Mary Ann and Thomas M'Clintock became very active in the local Hicksite Quaker community, the Junius Monthly Meeting. In October of 1848 they led several hundred members of the Hicksite community to form the new Progressive Friends or Friends of Human Progress. Thomas and Mary Ann served as clerk and associate clerk at nearly every yearly meeting while they lived in Waterloo.
Last updated: February 26, 2015