Richard P. Hunt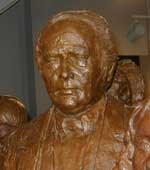 Richard Pell Hunt was born September 2, 1797, the fifth child of Richard Hunt and Mary Pell Hunt. His parents were Quakers from Pelham, Westchester County, New York. When Hunt came to Waterloo in 1821, he became part of the knot of local Quaker families--most of them from New Jersey or southeastern Pennsylvania--affiliated with the Junius Monthly Meeting of Friends in Waterloo. He was related by blood or marriage to at least eight other signers, including his two sisters (Lydia Mount and Hannah Plant), a niece (Mary E. Mount Vail), and all four of the M'Clintock family signers.
Unlike most of these Quakers, however, he was also allied by economic and family ties with the small network of men responsible for the village's basic economic development. Not coincidentally, by mid-century, he was also the richest man in Waterloo. In 1850, he owned $40,000 worth of real estate. At his death six years later, according to the Dun and Bradstreet credit ratings, he was worth $100,000.
Some of Hunt's wealth included several farms. As a land speculator, he made forty-three land purchases in Waterloo and Seneca Falls between 1823 and his death in 1856. He also owned 960 acres in LaSalle County, Illinois. In fact, reflecting his own rural values, Hunt continued to call himself a farmer throughout his life.
But, as a prime investor and Secretary of the Waterloo Woolen Factory, he was also a major industrialist. And with the new Hunt Block, the first of three business blocks that he would construct in downtown Waterloo, he expanded into commercial development. From 1833 to 1844, Hunt was a director of the Seneca County Bank in Waterloo. He also owned stock in the Waterloo Ontario Wayne Plank Road, the Waterloo and Fayette Plank Road, the Seneca Falls and Waterloo Gas Light Company, and the Michigan Central Railroad.
Hunt's rise to wealth took place in the context of Waterloo's own growth. Early land speculators attracted wealthy investors from eastern New York, including Richard's own father, who purchased several tracts of land in the Waterloo area in the mid-18-teens. Waterloo's largest land owner, however, was Elisha Williams, from Hudson, New York. Williams was a contemporary of Daniel Cady, and, like Cady, he was one of the most influential lawyers in New York State. His career spanned the formative years of constitutional and legal development. Also like Daniel Cady, Williams was an avid investor of western lands. In 1807, Williams purchased 640 acres of land on the north bank of the Seneca River, all of it part of the Cayuga Reservation at Scauyes, in what would become the village of Waterloo.
Williams himself continued to live and work in Hudson, New York, so he employed a local man to administer his Waterloo lands. From 1812-1815, Martin Kendig, who made pewter spoons and distilled liquor, acted as Williams' agent. About 1815, Williams sold a half-interest in his Waterloo lands to Reuben Swift, one of his Hudson neighbors, who moved to Waterloo as a full-time administrator.
Elisha Williams and Reuben Swift showed their civic-mindedness and promoted village growth by donating the village park, the county courthouse ("an elegant brick building"), and the cemetery. They also began to develop the industrial potential of the village. Before 1812, Williams constructed a power canal along the Seneca River, and the following year, he incorporated this canal into the Seneca Lock Navigation Company's transportation canal. In 1816, Williams and Swift built a grist mill along this canal. These Waterloo Mills were reputed to be the largest grist mills in western New York. In 1820, Martin Kendig also used water power from the Seneca River to operate a carding and fulling mill.
Thus, when Richard P. Hunt first came to town in 1821, he found a boom town. From nine houses in 1815, Waterloo had grown to more than two hundred buildings and five hundred people, with two flour mills, two saw mills, two fulling mills, a distillery, a scythe factory, six taverns, and seven stores, six lawyers, about eighty houses, and five hundred residents.
When the Erie Canal was completed north of Waterloo, in 1825, growth in Waterloo slowed. With the completion of the Seneca and Cayuga Canal in 1828, however, connecting the village with Seneca Falls and with the Erie itself, Waterloo regained its momentum. Economic growth was sustained by industrial development in the 1830s and by the completion of the railroad in 1841. In all of this development, Richard P. Hunt played a leading role.
In 1821, Hunt and a partner opened a dry goods store--Hunt and Hoyt-- in the Eagle Tavern. At the same time, he began to purchase land. Between 1823 and his death in 1856, he bought forty-three tracts of land in Seneca Falls and Waterloo. He also bought 960 acres of land in LaSalle County, Illinois.
In 1823, Hunt married Martin Kendig's daughter, Matilda, and allied himself with one of the major families in Waterloo. Although Matilda Kendig Hunt died in 1832, Hunt continued to prosper economically.
In 1829, Hunt made a move that reflected his growing wealth. He sold his interest in the Kendig dry goods store and moved to a new house at the east edge of the village, where he owned much land. This house symbolized Hunt's arrival as one of the three most important men in Waterloo's economic history. In form, Hunt's house was a large, Federal-style brick structure. It reflected two similar houses, one built by Reuben Swift in 1815-16 in the middle of the village of Waterloo, and one built in 1815 by Martin Kendig just west of downtown. People called Swift's house the "Mansion House," and it was filled with all the finest furniture, including gold-rimmed mirrors imported from France. Kendig's new home was not quite as elaborate as the Swift's Mansion House, but it boasted its own fancy touches, such as the Palladian window in the center of the second story.
Hunt built the third local house in this pattern. In detail, Hunt's dwelling was virtually a replica of the Mansion House itself, certainly
built in conscious imitation of it. It incorporated the same unusual pedimented porch roof of the Mansion House, with four Ionic columns flanking the front door. At the time that he built his new house, Richard P. Hunt may have taken over the management of Elisha Williams' land. An ailing Williams himself moved into the Mansion House in 1829, and he may have enlisted Richard P. Hunt's help to replace the absent Reuben Swift. If so, the new Hunt house symbolized Richard P. Hunt's emerging status as land owner and village developer, representing not only Hunt-Kendig family wealth but perhaps also that of Williams and Swift.
Hunt's major focus in life were his many business interests. He did, however, also support local political, cultural, and reform concerns. In 1829-30, he became the first supervisor of the Town of Waterloo. He was a Trustee of the Waterloo Academy. In 1843, he also gave $100--one of the largest contributions--to help build the Wesleyan Chapel in Seneca Falls. He was also a consistent supporter of anti-slavery, connected with the radical wing associated with William Lloyd Garrison and Quakers rather than with political abolitionists. In 1840, he sent Garrision a bolt of olive wool cloth, "free from the taint of slavery," made at the Waterloo Woolen Mills, so that Garrison, as a delegate to the World Anti-Slavery Convention in London, could wear a suit made entirely free from slave labor. Abolitionists such as Gerrit Smith, Oliver Johnson, and Garrison himself wrote to Hunt in the 1840s. He was Vice-President of an American Anti-Slavery Society Meeting in Rochester in 1842, and local legend suggests that the Hunts' house was a way-station on the Underground Railroad.
Richard P. Hunt was married four times. After Matilda Kendig's death on August 17, 1832, he married Ann Underhill in February 1834. Ann died only five months later, on July 4, 1834. Sarah M'Clintock, Thomas M'Clintock's niece, became Hunts' third wife in September 1837. She bore three children--Richard, (July 4, 1838), Mary M (1839), and Sarah M (1841)--before her own death on March 29, 1842, age thirty-five. In November 1845, Hunt married Jane Clothier Master, from Philadelphia. They had three more children--William Master (born October 6, 1846), Jane M. (born June 23, 1848), and George Truman (born April 18, 1852). Infant daughter Anna T. died in the early 1850s.
Richard P. Hunt died at home after a long illness on November 7, 1856, only sixty years old. He was first buried in the Quaker cemetery in Waterloo but later moved to Maple Grove Cemetery.
Sources:
Primary Sources
Dun and Bradstreet credit ratings, Baker Library, Harvard.
Files of Betty Auten, Seneca County Historian.
William Lloyd Garrison to Richard P. Hunt, May 1, 1840, Garrison Papers, Boston Public Library.
Gerrit Smith to Richard P. Hunt, October 28, 1842, Elizur Wright Papers, Library of Congress.
Oliver Johnson to Richard P. Hunt, n.d., enclosed in Johnson to [?] Jackson, December 8, 1847, Garrison Papers, Boston Public Library.
1850 Census
John Becker, comp. Some Waterloo Citizens of Yesterday (Waterloo, 1950), unpublished typescript which is partly based on an article in the Waterloo Observer [sic], June 21, 1876.
Gravestones, Quaker Cemetery, Waterloo. Sarah M'Clintock Hunt's gravestone identifies her death date as May 29, 1842. Records of the Junius Monthly Meeting of Friends note it as May 30, 1842. Weltha Bacon Woodward, Bacon-Woodward Pedigree identifies it as November 29, 1842.
Junius Monthly Meeting, "A Record. . . 1815-1863," Swarthmore College.
Joni Masuicca, "Hunt-M'Clintock Notes" and "Deeds of Richard Pell Hunt,Seneca County, N.Y., Grantee," typescripts, WRNHP.
Barbara Pearson, "Architectural Survey: Women's Rights National Historical Park," National Park Service, March 1984, includes "Inventory of Richard P. Hunt Estate," Probate File #572, Surrogate's Office, Seneca County Courthouse, Waterloo, December 8, 1856 and "Inventory and Appraisement of the Personal Estate of Jane C. Hunt," Probate File #2214, Surrogate's Office, Seneca County Courthouse, Waterloo, February 7, 1890.
Weltha Bacon Woodward, Bacon-Woodward Pedigree of Paternal Branch, Vol. I, Series VI, unpublished typescript (1968), Waterloo Library and Historical Society.
Wesleyan Methodist Church, "Records," microfilm, Cornell University.
Printed Materials
John Becker, History of Waterloo.
Friends' Intelligencer, 13 (1857), 569. Obituary for Richard P. Hunt.
Historic Resources Survey, Village of Waterloo, Seneca County, New York, Prepared by the Preservation Planning Workshop, College of Architecture, Art, and Planning, Cornell University (1982), 149-151, 209- 214, 230-233.
History of Seneca County (Philadelphia: Everts, Ensign & Everts, 1876), reprinted by W.E. Morrison, 1976, opposite p. 81, 83-6.
Liberator, January 6, 1843.Horatio Gates Spafford, Gazetteer of the State of New York (Albany, 1823), 260.


-Judith Wellman, Historian
Historical New York
Last updated: February 26, 2015