White Sands Visitor Center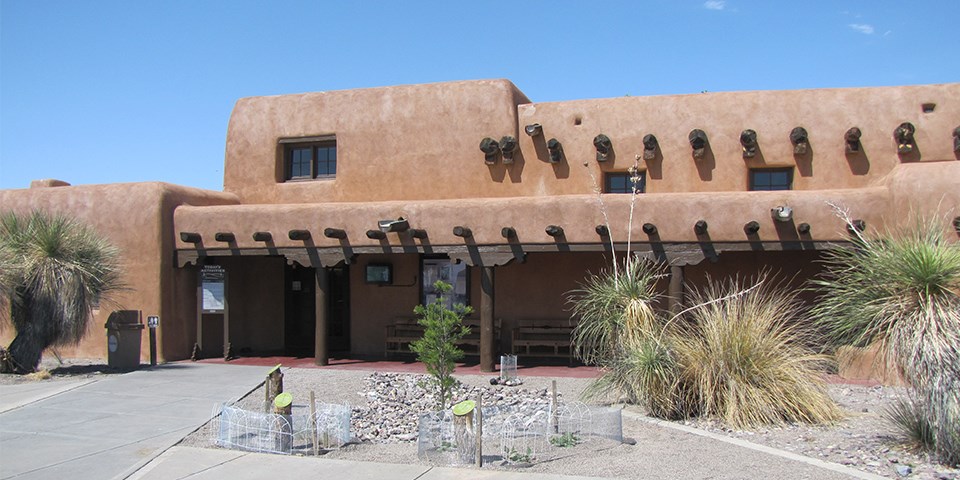 Visitor Center and Gift Shop
Restrooms
The main restrooms located next to the visitor center structure are open from 9:00 am to 5:00 pm. Additonal restrooms are available along Dunes Drive.
Visitor Center
The visitor center and park's store are open with park rangers available to answer questions. The museum exhibits and theater are open.
Gift Shop
The gift shop has two entrances, one from the visitor center courtyard and the other are double doors facing the north parking lot. The interior of the gift shop is three rooms with merchandise fixtures placed on the floor. The spacing between merchandise fixtures exceeds 36 inches wide, with the proper turnaround radius at cash registers.
Amenities
Located in the visitor center breezeway, park rangers will be offering an information table to ask your park questions or pick up Junior Ranger books. In addition, the park store, Western National Parks Association, will be selling a small amount of the park's most popular souvenirs. Remember, you do not need to stop at the visitor center to pay the park fee or get a brochure - you'll do that at the park's entrance station along Dunes Drives.

The visitor center and gift shop are open 364 days a year, closing only on Christmas Day. Hours of operation vary by season. Fill up your water containers at the visitor center area; there is no water available in the dunefield. Please visit the Western National Park Association's online park store.

White Sands Trading Company gift shop will be offering table service for water, snacks, sleds, and an assortment of souvenirs.
The nearest restaurants and gas stations to the monument are located in the town of Alamogordo, 13 miles northeast of the park on US Highway 70.
Pets
You are welcome to bring pets to the park. Animals are not permitted in the visitor center or gift shop, with the exception of service animals. Do not leave pets unattended or locked in your vehicle. Please use the pet waste stations located on the western side of the visitor center parking lot and west side of gift shop parking lot.
Museum Exhibits
Are open the same hours as the visitor center.
Park Film
The 17-minute park film plays every 30 minutes beginning at 9:00 am to 4:30 pm. Spanish and audio description versions are available on request. Please see front desk for any information related to versions of the movie.
Historic Visitor Center
The interior of the visitor center presents various examples of artistry in construction and furnishings, such as decoratively carved corbels, benches and chairs, and individually crafted tin lighting fixtures.In 1990, the visitor center and adjacent seven buildings, also built between 1936 and 1940, were officially designated as the White Sands National Park Historic District. Set in a landscape of native plants, the historic district preserves this unique architectural style and is a tribute to the plans of the architects and the fine artisanship of the WPA workers.