Sledding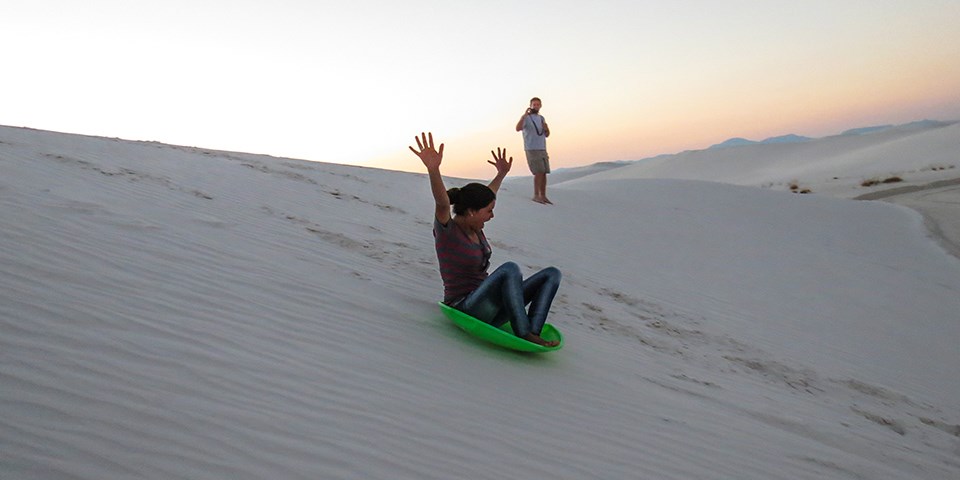 Sledding on the beautiful soft sand at White Sands National Park is a popular activity and great fun for children and adults alike. Unlike snow, sand is not slippery and sledding down the face of a dune can take some practice unless you have the correct equipment, know proper techniques and use safety precautions.
Waxed plastic snow saucers work best and can be purchased at the park's gift shop. You may also bring your own sleds. Choose a dune with a gently sloping face and a level run-off at the end so that you can come to a halt safely. Be aware of where the dune slope meets the desert floor. While the dune sand is soft, the area at the base of the dune can be very hard, and unintentional injuries are surprisingly common. Make sure the sledding path does not cross the roadway or parking areas and is free from hazards such as vegetation, hard clumps of sand, or other obstructions.

The area around the interdune boardwalk trail is off limits to sledding activities.
To get the most out of this exhilarating experience, sit or lay on the sled, with your feet pointing downhill.Sledding head first increases the risk of injury and should be avoided. Do not stand up while sledding.
As with any sport, adult supervision of children is advised.Children ages 5 to 9 are most susceptible to injury. Parents of young children should not let them sled alone. Older children should be coached on how to check for hazards.

Check out our video on how to best go sledding at White Sands.


Last updated: July 12, 2023