Accessibility
One in four adults in the United States lives with some form of disability. White Sands National Park is dedicated to providing acessible options to all visitors with mobility, cognition, hearing, or vision impairments.

Reducing and removing barriers for physical access to buildings and spaces is a big part of accessibility. But it's also about addressing a person's functional capacity to participate in the experiences that White Sands has to offer. Visit our specific acccessibilty pages to discover how best to have an accessible experience at White Sands National Park for those hard of hearing, are blind or have low vision, or require physical accessibility needs. Check below to see how how White Sands makes the park accessible to all.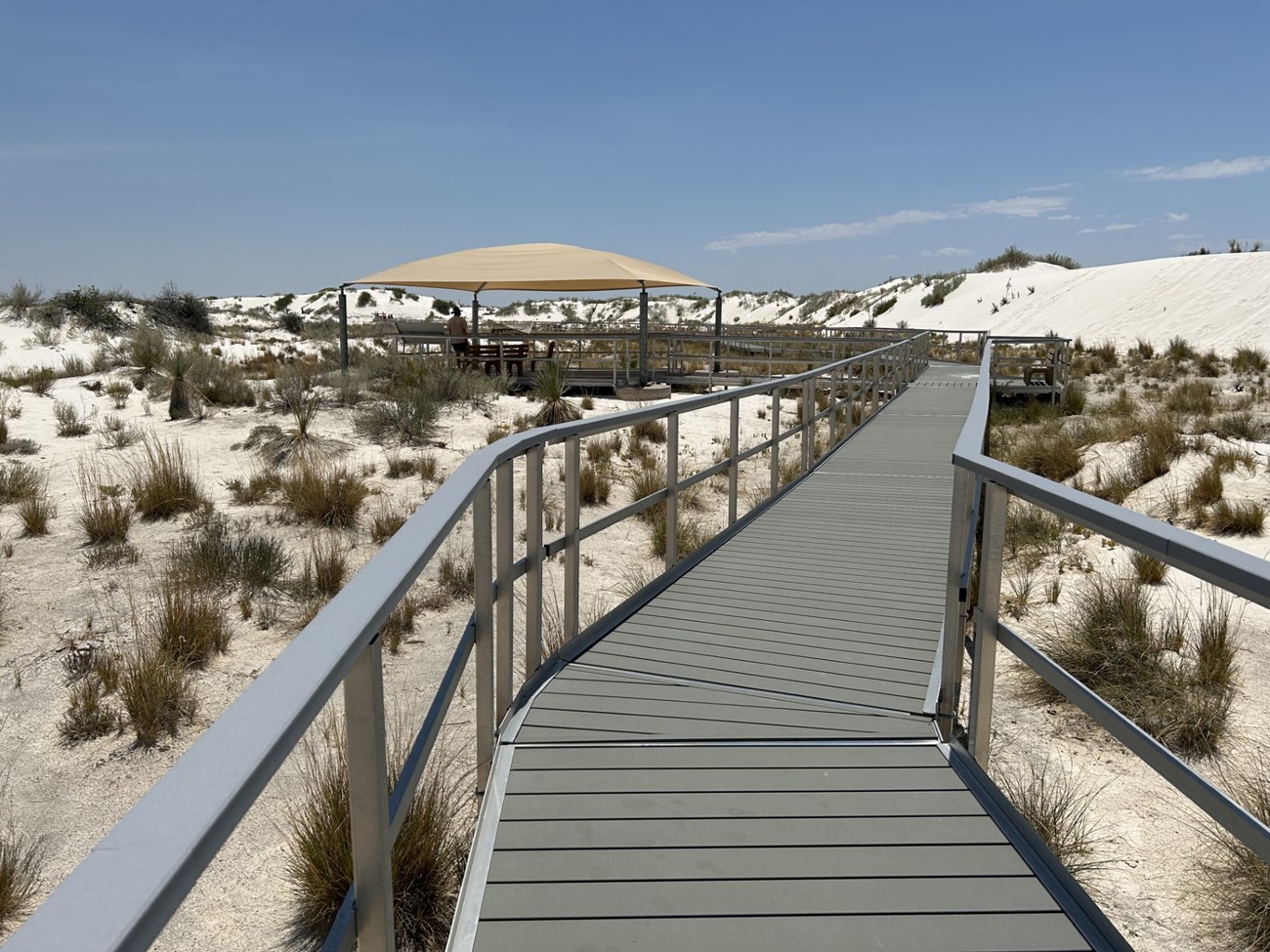 Access Pass
U.S. citizens or permanent residents who are permanently disabled may be eligible for the Interagency Access Pass. This free, lifetime admission pass is valid at National Park Service, Bureau of Land Management, US Fish and Wildlife Service, US Forest Service, US Army Corps of Engineers, and Bureau of Reclamation sites.
Must be obtained with valid identification
Does not cover or reduce special recreation permit fees or fees charged by concessioners
Service Animals
Service animals are allowed in all park facilities and on all park trails unless closed by order of the superintendent. National Park Service policy defines a service animal as a dog that has been individually trained to do work or perform tasks for the benefit of an individual with a disability, including a physical, sensory, psychiatric, intellectual, or other mental disability. The tasks performed by the animal must be directly related to the person's disability. Emotional support, therapy, comfort or companion animals are not considered service animals.

Under the ADA, National Park Service policy, and park regulations, service animals must be harnessed, leashed, or tethered, unless (1) these devices interfere with the service animal's work or (2) the individual's disability prevents using these devices. In those cases, the individual must maintain control of the animal through voice, signal, or other effective means. Service animals must also be housebroken.

Make sure you have enough water for yourselves and your service animal while visiting the park. Please pick up after your service animal and dispose of waste appropriately at trash receptacles located throughout the park.
NPS Park App
The NPS App is the new official app for the National Park Service with tools to explore
more than 400 national parks
nationwide. Find interactive maps, tours of park places, on-the-ground accessibility information, and much more to plan your national park adventures before and during your trip.
The free app is currently available for iOS and Android devices.


Last updated: September 5, 2023