Things To Do
Whiskeytown offers a wide variety of recreational opportunities for you and your family year-round. Kayaking, sailing, fishing, swimming and waterskiing are some of the favorite activities one can experience within the cool, clear waters of Whiskeytown Lake.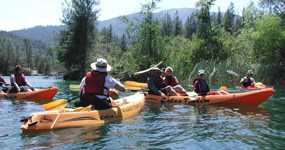 You can visit shaded picnic areas, or the Camden House Historic District to learn about how the area played a part during the Gold Rush era. Hike to waterfalls, old-growth forests, or drive a 4-wheel drive vehicle to the summit of Shasta Bally. Pitch a tent and camp at one of our primitive campsites.
Plan a visit to Oak Bottom Campground, beach and marina operated by Whiskeytown Marinas LLC. The concession offers year-round camping and boat moorage/slip rentals at Whiskeytown and during the summer season offers boat rentals, a snack bar, hot showers, and a marina store.
Learn about why Whiskeytown National Recreation area is important enough to be included with Yosemite and the Lincoln Memorial as part of America's National Park System. Join us for our ranger-led programs such as our ever popular kayak tours, day hikes, goldpanning and special evening programs.

Last updated: August 7, 2020